Good news: in its latest update, build 20190, Windows 10 offers better management of PC graphics cards. If you have two GPUs, you can now specify how each application should use which GPU. An option that gamers should particularly appreciate, but not only…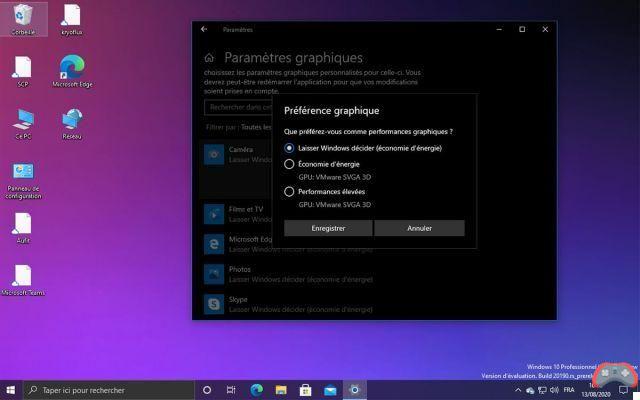 Microsoft has just rolled out the Windows 20190 10 build for users of the Windows Insider program and, as usual, this update offers some relevant new features. In particular, there is a small application that highlights all the latest features of Windows 10 (so as not to miss anything), but also and above all an option allowing you to control the resources of each graphics card, application by application.
Windows 10 lets you manage your graphics card usage, app by app
If you have two GPUs in your configuration and you are gamers, this is a feature that should interest you. In its latest build version, Windows 10 now lets you decide which GPU should be used by default for each application. Microsoft explains this feature on its blog this way: "If you want even more control, we've also added the ability to specify exactly which GPU you want an application to run on using the new option to specify the GPU".
This new option is accessible from the Windows 10 display configuration. To access it, go to the options Parameters > Displays and Signage > Graphics settings of Windows 10, or right-click on the desktop and select the function Display settings. It therefore allows you to determine the priority given by the system to this or that GPU in your configuration and above all to do so according to the applications.
For each application, you have different options: let Windows decide, or choose between energy saving or high performance. A feature that can obviously be useful with video games, but also with photo or video editing software, with cryptocurrency mining applications, etc.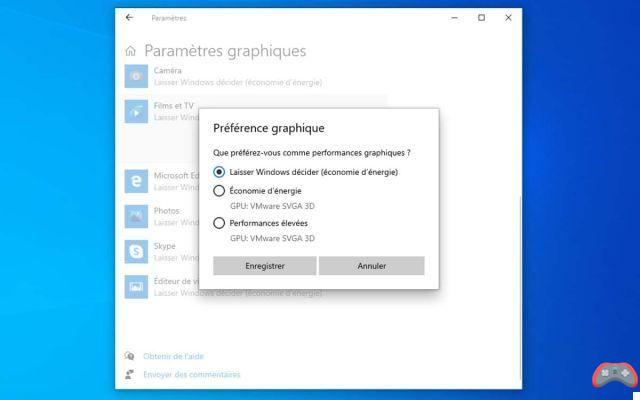 Windows 10 informs you about the latest installed features
Another small novelty of build 20190: the highlighting of new features of Windows 10 via the Tips application. According to Microsoft, many users miss out on new Windows 10 features once the system is updated. This feature allows them to discover all the innovations made to the OS using a small visual and explanatory text.
This feature can be activated from the options Parameters > System > Notification and actions. Note that it is currently reserved for English-speaking users of Windows 10. We hope that it will soon arrive in the language of Molière.
Also read: Windows 10 finally cleans up graphics card driver conflicts
How to Access Windows 20190 Build 10
The update in question is, for the moment, reserved for Windows Insider users. Remember that to be part of it, just go to Windows 10 Settings (using the key combination [Windows] + [I], for example), then click on the following functions: Update and security > Windows Insider Program > Start. Also remember to select the Dev Channel, in order to take advantage of the latest build.
Finally, one last point that should be mentioned regularly: the update in question may show signs of instability. We strongly advise you to install it on a PC you use occasionally. Alternatively, if you don't have a second PC, you can also install the build on a second partition or a second hard drive on your daily computer, or even install it in a virtual environment.
All these new features should logically be found in the Windows 20 2H10 update, which will be deployed in the fall of 2020.