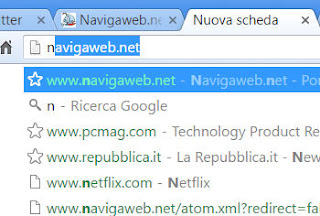 Almost all modern browsers including
Chrome and Firefox
have a handy feature to find things faster,
the suggestions on the address bar
.
The suggestions come not only from the search engine, but also from the history.
Se quindi si è già visitato nei giorni passati il sito , basterà scrivere la lettera n per trovare, tra i suggerimenti veloci, il sito .
Chrome and Firefox remember every address you enter on the address bar so you don't have to type it twice.
The undesirable effect of this feature is that if you write, for example, the letter P or the letter X, they can appear in site suggestions that you would not want to be present in the suggestions.
This is especially true if there is a possibility that the computer will also be used by other people.
Furthermore, incorrect or badly written addresses may appear among the suggestions, which would occupy useless space that could be occupied instead by useful addresses.
ALSO READ:
Disable autofill in Chrome and Firefox
The final solution for this type of problem can be to delete the browser history, depriving yourself of all suggestions, even the useful ones.
Much easier,
to delete unwanted or useless suggestions that appear in the address bar of Chrome and Firefox
, it can be
select that tip using the arrows
keyboard and then
to press
buttons together
Shift-Delete
.
This deletes the site or the search made from the address bar from memory so that it never appears in the suggestions again.
The same process can be repeated to clear any suggestions that you don't want to appear in Chrome or Firefox.
For
normal text boxes
, the search boxes of the websites and the boxes for logging in, the procedure is the same, only instead of Shift-Del just select the suggestion with the arrows and then press on Del.
Notare che su Chrome alcuni suggerimenti di ricerca non sono legati alla cronologia, ma sono automatici e generati da Chrome stesso e non si possono cancellare con il metodo visto sopra.
Si possono però disattivare questi suggerimenti automatici in Chrome
walking
in Impostazioni
(dal tasto con tre pallini in alto a destra), poi nella sezione
You and Google
, press on
Synchronization and Google services
per poi disattivare l'opzione
Completamento automatico ricerche e URL
.
ALSO READ:
Use the CTRL and SHIFT keys to navigate faster on each browser