Google Drive offers more backup options than just transferring your important files to the cloud. You can make a real-time backup of all or part of your PC / Mac using the Backup and sync tool.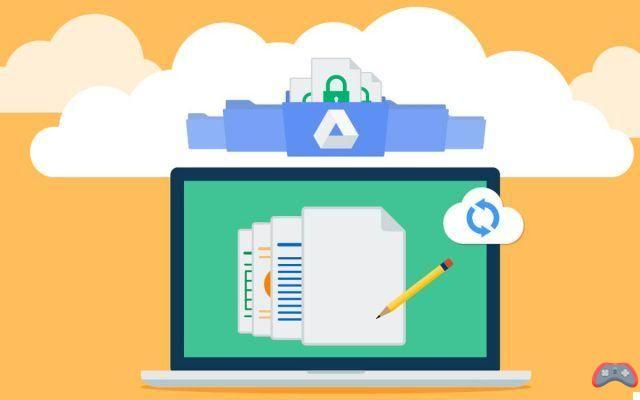 Google launched the tool Backup and Sync in 2018. The latter replaces Google Drive on PC and Mac and allows you to back up your data. You have probably already tried in vain to search for a file saved in a "safe place" somewhere on your computer and never find it. It probably disappeared after inadvertent deletion or virus infection. And you are also not safe from a sudden death of the hard drive or SSD which could cause you to lose your important data.
This is why it is recommended to perform regular backups on a rescue disk. As an alternative to physical backups, the Cloud is a safe and durable way to protect your data. Thanks to its backup and Sync tool, Google makes it easy to back up and sync large amounts of data to Google Drive. Like what is possible with OneDrive, Dropbox and many other competing cloud services.
Google Drive backup: how to synchronize all or part of your computer's data
Start first by downloading the Backup and Sync tool from this page. Install it on your computer and sign in with your Gmail account.
Once connected, you will have to choose the folders that can be synchronized via Google Drive. You will understand: you are not required to back up the entire hard drive. It is possible to select only important folders.
By default, Backup and Sync offers to back up the contents of folders Documents, Pictures et Computer (which is none other than the Office). You can be more selective or conversely back up the entire hard drive. But this last option is logically valid if you subscribe to a Google Drive subscription with a comfortable storage space.
You get 15 GB free, which should be enough to save most of your important documents, even your photos and videos. If you need more, here are Google's offers for cloud backup:
100 GB for 1,99 euro per month
1TB for 9,99 euros per month
10 TB for 99,99 euros per month
20 TB for 199,99 euros per month
30 TB for 299,99 euros per month
In case the multimedia files are quite large, you can, just below the selected folders, check the option High quality which will reduce the size of the images while maintaining good quality. While it was possible to sync your photos for free in this format, Google is ending unlimited and free backup of photos and videos from June 1, 2021. And if you still want to keep the original format, check the second option (Original Quality). In both cases, the occupied space counts towards Drive's 15 GB of free storage.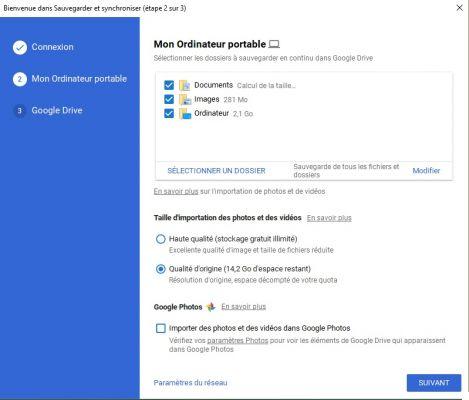 By selecting the option Import photos and videos into Google Photos, you tell backup and sync to sync images and videos backed up to Google Photos. Click next. In step 3, you are offered to synchronize your My Drive data (on Google Drive) with your PC. By doing so, any files saved in this folder on Google Drive will also have a local copy on your computer.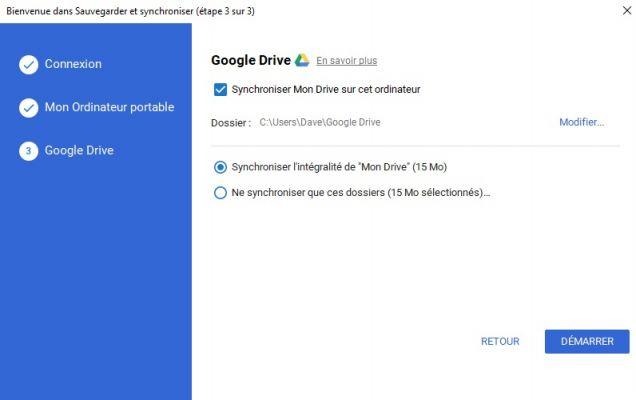 Then click Start at the bottom right to start the backup and synchronization process. Needless to say, the file transfer speed depends on the speed of your internet connection. Once the process is complete, log in to your Google Drive account on the web to check for the backed up folders and files.
The editorial advises you:
How to recover deleted messages on WhatsApp?
iPhone: how to recover deleted messages?
Android: how to transfer your SMS and MMS to a new smartphone
The ability to speed up or slow down a video on YouTube can be very useful. It was possible to do this in the web version of the platform for a while...Google Chrome includes a reading mode that allows you to consult a page in optimal conditions. The functionality, however, is hidden in the bowels of the browser. In this tutorial,…Google Chrome records everything you do while browsing the web. If you want to browse without leaving traces, here's how to clean up your browsing history. The Messages application on Android offers you the possibility of sending SMS, MMS and also RCS chats from a PC or Mac. To use this feature, just…