Whether it is to transfer them to a new phone or simply to keep them safe, you can perfectly backup the SMS of your Android mobile and thus recover your most precious messages.
Even if SMS have lost their popularity in the face of many instant messengers such as WhatsApp, Messenger or Signal, they are still widely used, all generations combined. Especially since we can send without counting with the current telephone plans, and this, without the need for a mobile Internet connection or Wi-Fi. And if a lot of texts – if not most – are limited to innocuous remarks, some turn out to be precious, because they contain important, useful or confidential information that deserves to be kept – one may thus wish to keep traces of discussions with a loved one, out of nostalgia. And of course, we may also want to find all these conversations in the event of a phone change or reset.
Unfortunately, most SMS applications – and in particular those installed by default on telephones, such as the essential Messages from Google – do not have a backup function. And the few apps that offer this option, such as Mood or Pulse, generally reserve it for their paid version.
Luckily, there are easy and free solutions for backing up — and even restoring — text messages to an Android phone. The most radical method is to use the full phone backup function, via the services associated with your Google account – the one you use on Android – or your phone manufacturer's account – Samsung, Xiaomi, Huawei, etc. The procedure is simple, but it includes all your data (SMS, apps, photos, documents, etc.). To back up only your text messages, it is better to use specialized and free applications, such as SMS to text or SMS Backup & Restore, which offer more targeted functions. Not only will you be able to save your messages and restore them when needed, but you can also easily consult them on a computer, which can be very practical.
How to save SMS with account backup?
If your SMS app does not allow the backup and restoration of your SMS, you can rely on solutions related to the manufacturer of your phone or Android. But it will be all your data that will be saved at the same time: SMS, photos, contacts, etc. There is no filtering possible.
Open your phone's settings from the home screen or from notifications.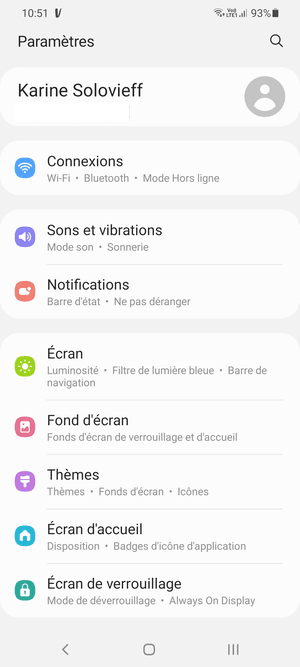 Press magnifying glass icon or the button Search. In the search field, type safeguard.
The search results are displayed. Press on Accounts and backup or an equivalent.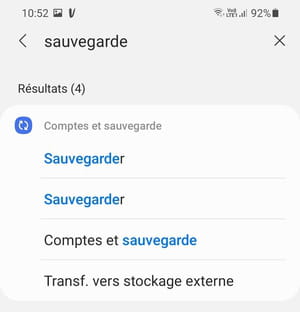 A new screen loads. You can then use the backup solutions specific to each mobile phone manufacturer.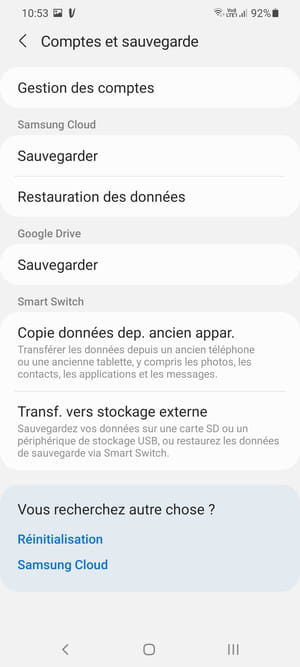 If you change your phone, all you have to do is identify yourself with your Google account or the manufacturer's account so that all your data is automatically restored.
How to backup SMS with SMS to Text?
To easily and quickly recover SMS on an Android phone, the ideal is to use SMS to Text, an old free application, minimalist and in English, but very easy to use and terribly effective. It is no longer distributed on the Google Play Store, but you can easily retrieve and install it as an APK. If you don't know how to proceed, read our practical sheet Installing an APK file on an Android mobile. Please note, SMS to Text only backs up the texts and smileys of the SMS, not the images or videos contained in the MMS.
Installer SMS to Text
Launch a web browser on your phone and download the file in APK format.
Download SMS to Text for Android
Then open your download folder with your phone's file manager – which may be called Files, My files or File manager, for example, depending on the brand of your mobile – to find the APK and install the app.
Press SMS to Text.apk to start the installation.
An alert message appears warning you of the blocking of the installation. This is normal, Android blocks the installation of APKs from the Google Play Store by default. Press on Parameters to change this setting.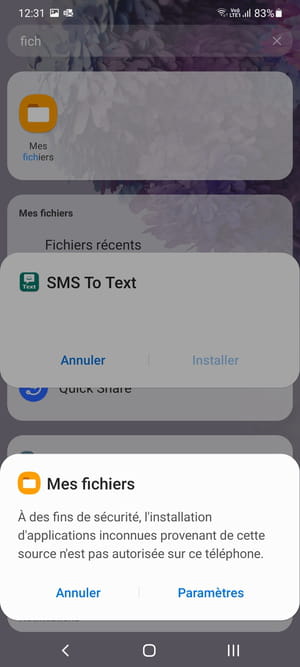 A new screen for Installing Unknown Apps will appear – title and layout vary by phone. Activate the switch on the line Authorization from this application – or an equivalent.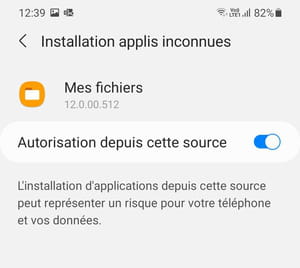 A confirmation window appears. To push on Installer.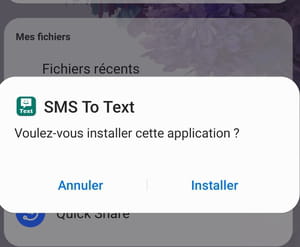 Once the app is installed, tap Open to launch it.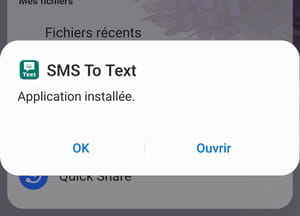 To work, SMS to Text needs access to your contacts, your SMS and your storage. Grant the requested permissions and press Continue at the bottom.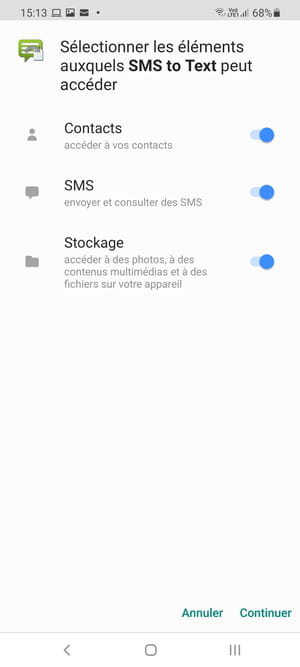 A message may appear informing you that the version of SMS to Text was made for an older version of Android and may not work on your phone. No problem, it will still work. Press on OK.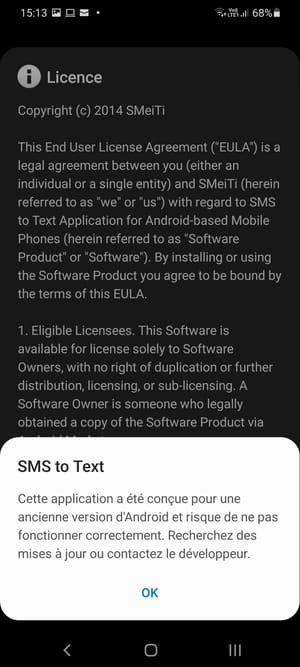 Finally accept the user license.
Backup text messages
After installation, launch SMS to Text. Stripped not to say austere, the app's main menu is both simple and clear. By default, no filter is applied. The app can save all the text messages it finds on your phone, indicating their number at the bottom.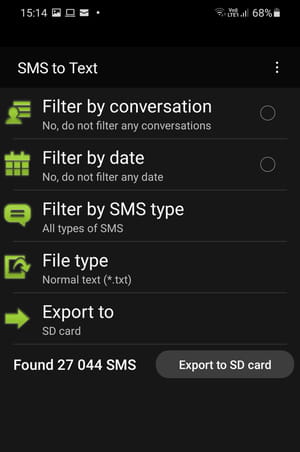 To save all your text messages in text format, press Export to SD card.
A small window titled Save as appears. It shows the location of the backup – by default, in the SMStoText folder located in your phone's main storage. The editable field indicates the name given to your backup file. By default, it is of the sms_yearmonthday type. Leave it as is or press the field to give it a more explicit name with the keyboard. Then press OK to start the backup.
A mini window is displayed, indicating the progress of the operation, which is very fast. It closes automatically when the backup is complete.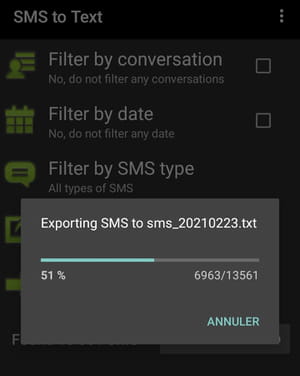 One of the great advantages of SMS to Text is to offer several options to fine-tune the backup. You have two filters for this: one for conversations, the other for dates.
If you don't want to keep a particular conversation, tap Filter by conversation.
A list of all your chats appears. Select the one you want to save. The main menu reappears. All you have to do is give an explicit name to this conversation, press OK.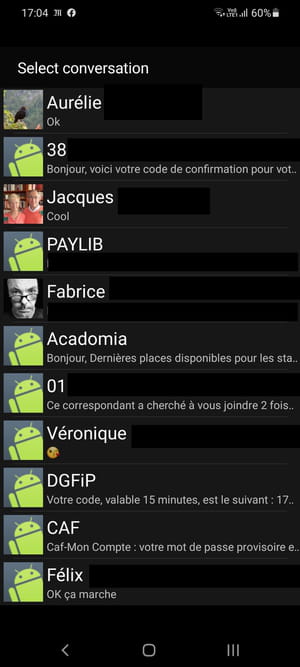 Whatever your choice for SMS (all or a conversation), you can add a filter by dates. Press on Filter by date, A new page appears with three choices. Press on Preset range to choose a predefined period (last 7 days, last 30 days, previous month, etc.). You can instead press Start date and End date to define a start date and an end date respectively in a calendar.

.

The only other SMS to Text setting is for the backup file format. Press on File type to choose plain text (*.txt) or CSV (*.csv), a standard format where data is separated by commas.
Once the file has been saved in your phone's main memory, you can send it to yourself by email to save it elsewhere, or transfer it to a computer by connecting your phone via USB. Whether in TXT or CSV, you can easily open and consult it with the software installed as standard on your PC or Mac. Conversations are listed in chronological order, with incoming and outgoing messages and the phone numbers of your contacts. You are free to sort them, extract certain information, etc.
Restore backed up SMS
Of course, SMS to Text allows you to retrieve your archived messages on a new phone.
Send your backup file by email to your new mobile and or transfer it via USB.
Install SMS to Text on your new mobile, as explained above.
Open SMS to Text and tap the three small dots at the top right of the screen.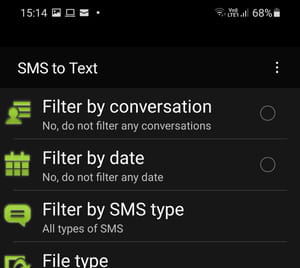 In the menu that appears, tap Import SMS.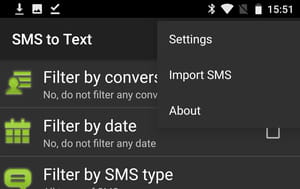 Browse your phone's storage space and tap your backup file.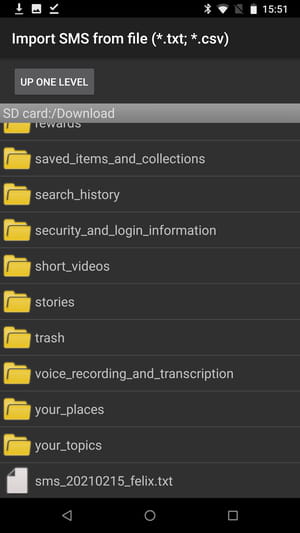 A warning message appears because SMS to Text must replace your default SMS app, the time to import the messages. Accept by pressing YES.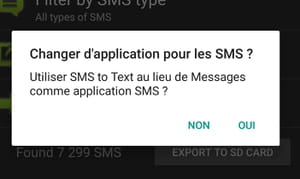 Validate again by pressing OK, on the next screen.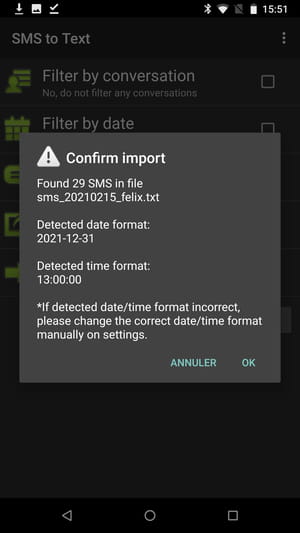 When the import is complete, SMS to Text offers to restore the original SMS app as the default app. Accept by pressing YES.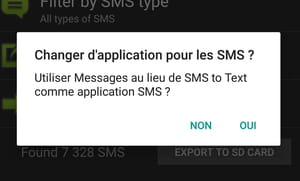 Your old messages are now available in your SMS app.
How to back up your SMS with SMS Backup & Restore?
SMS Backup & Restore is unarguably the best-known message backup app for Android. Free and in French, it is more complete and a little more complex than SMS to Text. But, in addition to SMS, it also allows you to save MMS and the call log, to send them to a cloud-type online storage service such as OneDrive or Google Drive, and to schedule automatic backups. With many options that we will not discuss here – such as the possibility of precisely choosing the conversations to save – it is logically longer to configure.
Configure SMS Backup & Restore
Download and install SMS Backup & Restore from the Google Play Store.
Download SMS Backup & Restore for Android
After installation, launch SMS Backup & Restore.
On first use, the SMS Backup & Restore home screen offers to perform your first backup immediately. Press the green button Set up a backup.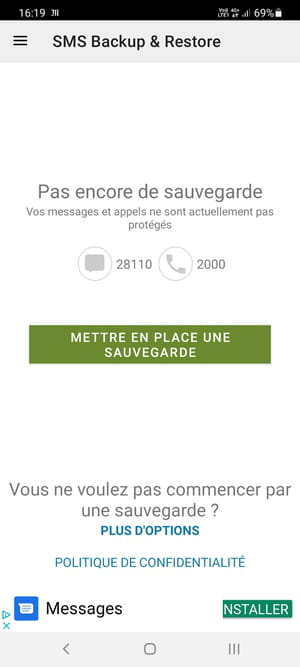 A new configuration screen appears. Press on Start now. Then grant access permissions to the app when requested.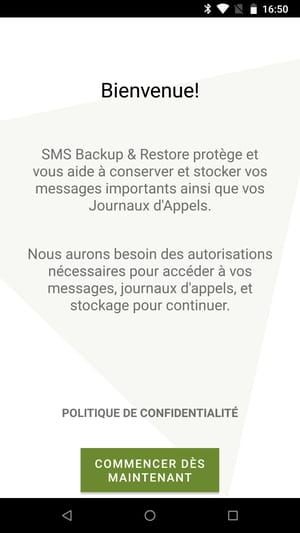 Leave the settings as they are to back up your text messages and call logs. Press on Next at the bottom of the screen.
The next screen allows you to choose the destination of your archive. There are several online storage services you can choose from. Activate the switch next to the name of the service of your choice.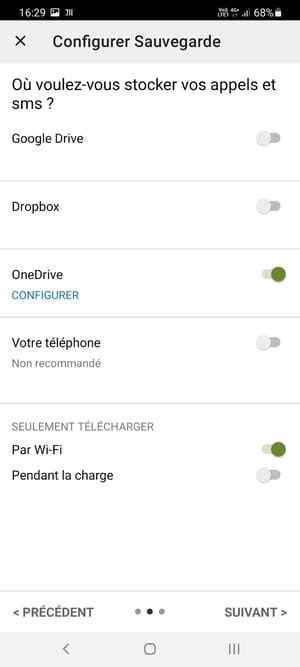 The service configuration screen is displayed. Press on Open a session up.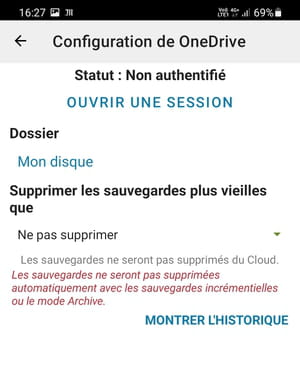 In the case of OneDrive and Google Drive, a menu appears to select the permissions granted to the app. Check the box in front of Only access SMS Backup & Restore's own folder, then tap OK.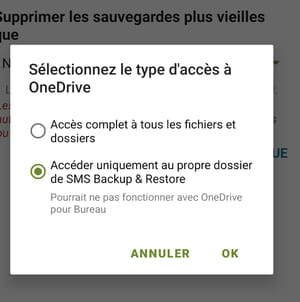 The following screens are used to identify you to the selected service with your username and password. Go to the end of the procedure. Back in SMS Backup & Restore, tap Save to keep the settings.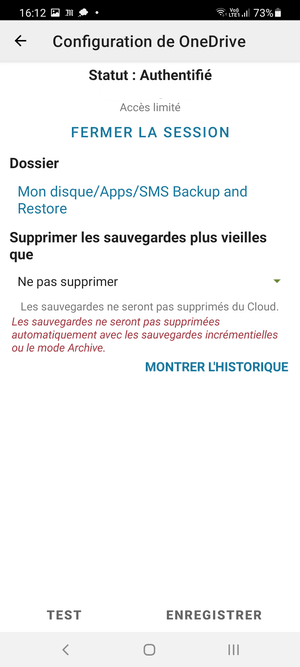 The setup screen reappears. If you wish, you can also add a backup to other cloud services. In this case, enable the switch next to the name of the service of your choice and repeat the identification steps.
When everything is configured, press Next, downstairs.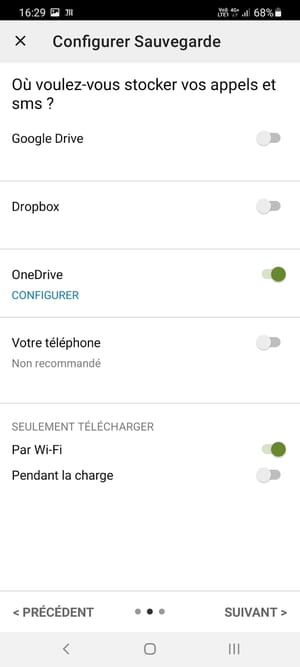 A new screen appears to automatically schedule backups. Press the frequency that suits you (for example Every week).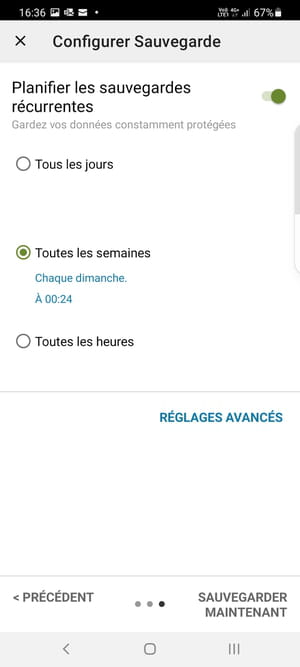 To start your first backup immediately, press Save now at the bottom of the screen.
You can then follow the progress of the backup, which is done very quickly.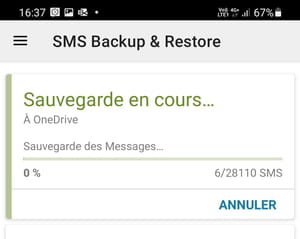 When the transfer is complete, your backup is archived on the designated space.
Restore a backup
To recover your messages and call log on a new phone, download and install SMS Backup & Restore on the new device.
Launch SMS Backup & Restore and grant necessary permissions when prompted.
The SMS Backup & Restore home screen appears. Press on the three lines on the top corner left.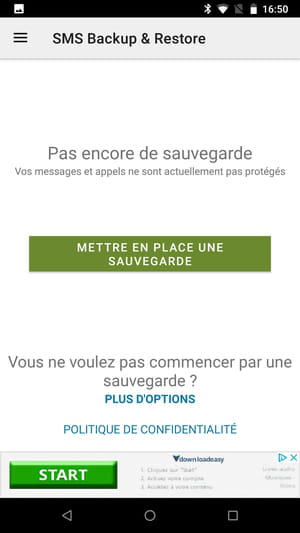 In the menu, press Restore.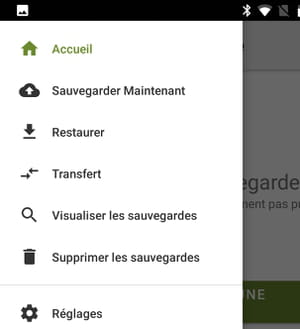 A new screen appears. Select your backup location.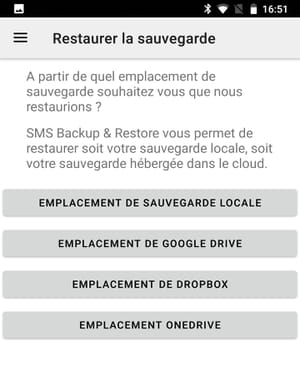 In the case of OneDrive and Google Drive, a menu appears to select the permissions granted to the app. Check the box in front of Only access SMS Backup & Restore's own folder, then tap OK.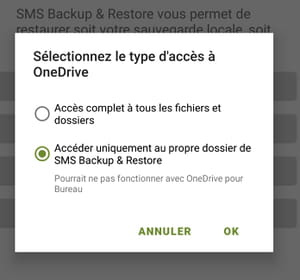 A new screen appears with the list of the last backups made. Press on Restore at the bottom of the screen.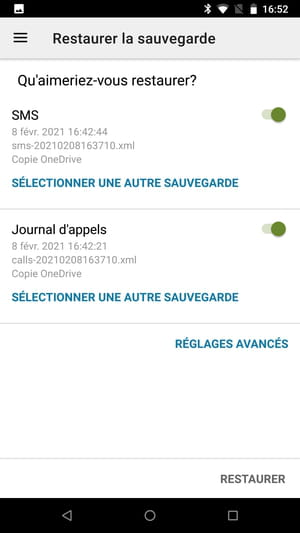 The download starts as confirmed by the menu that appears and allows you to follow its progress.
A new menu appears explaining that the app must replace the application defined in the system to manage SMS. Press on OK, And then YES on the next screen.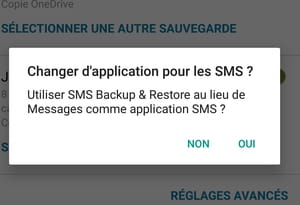 When the download of your archive is complete, a new menu will appear informing you of this. Press on Close.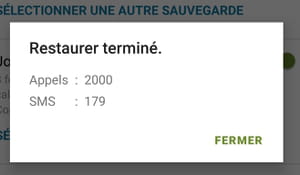 SMS Backup & Restore reminds you on the next screen to remember to put the app of your choice back as the default SMS app. Press on OK.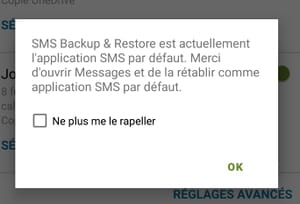 Simply launch the application of your choice for sending SMS and the system displays a message asking you to confirm whether this application should be used by default. Validate by pressing YES.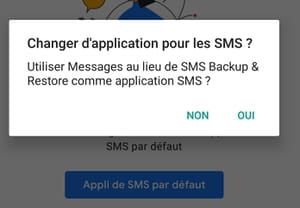 Your saved SMS and MMS appear in your app.
View a backup
With SMS Backup & Restore, you can easily view computer backup.
With your usual browser, connect to the online storage service on which you made your backup.
Navigate to the folder containing your archive and download the file to your computer. It is in XML format (text with balsies).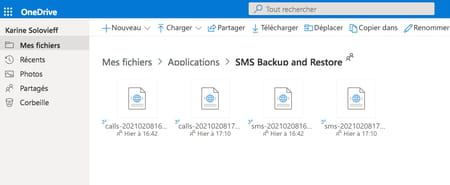 To view the messages and photos contained in this file, it is best to go through your browser. Go to the special page of the SMS Backup & Restore site dedicated to this function. Everything is in English, but understandable.
On the page that opens, click Select.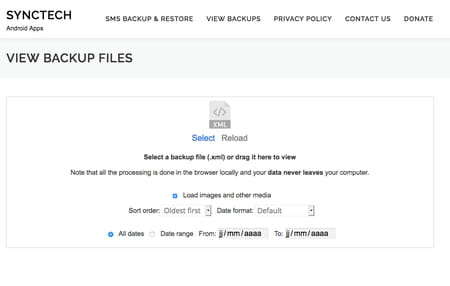 Browse your computer to the folder where you downloaded your file, and validate by clicking on Open.
Wait for the file to load in your browser. The list of all saved conversations is then displayed in the left column of the page.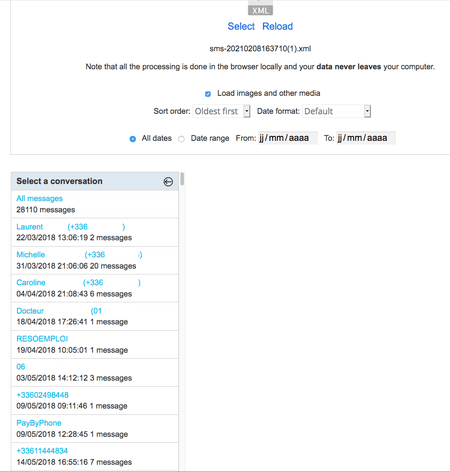 By default, the order of presentation is chronological, from the oldest conversation to the most recent, and over the entire saved period. You can change these settings in the upper part of the browser.
To display the most recent first, click the drop-down menu next to Sort order and choose Newest first.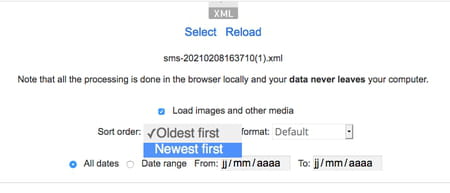 To select a specific time period (for example, last year), click Date Range then on both boxes dd / mm / yyyy to set dates using a calendar. Then click on Reload higher on the page to apply your settings.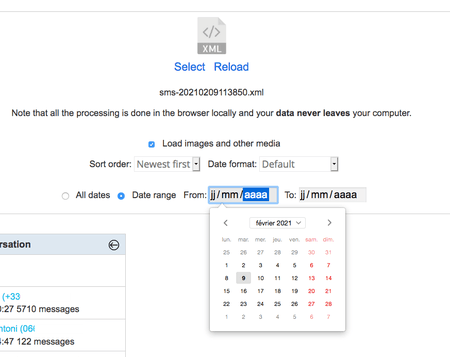 To browse a conversation, click her name dans la colonne de gauche.
The right part of the window, displaying four columns: the first specifies whether it is a message received (received) or sent (sent), the second indicates the date and time, the third the name and correspondent's phone number, and the last message content, with text and photos.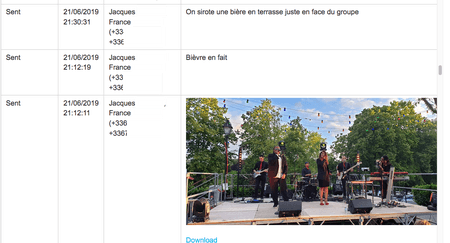 To recover a specific photo, click Download under the thumbnail.
To print the conversation, with all the messages and photos, click on the link Print going to the top of the page.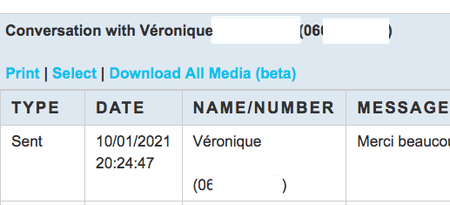 Back up SMS on Android: how to archive them
Contents With system backup With SMS to Text With SMS Backup & Restore Even if SMS have lost their popularity in the face of many instant messengers such as WhatsApp, Messenger or Signal, they are still very...