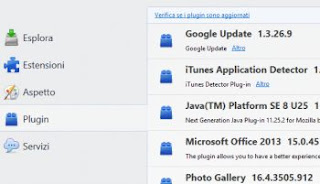 We have said in the past that the safest browser is the updated one, whatever it is, without making too many distinctions between Edge, Firefox, Chrome or Safari which, from the point of view of vulnerabilities, are quite strong and difficult to exploit to hijack a computer. The security problems of browsers derive from external plugins, which are not extensions but add-ons that allow browsers to open certain contents such as videos or animations.
Since, after some time, these
plugins continue to cause problems and are less and less important
and necessary, the time has come to advise
removal, uninstallation or, at the very least, deactivation
.
Browser plugins are the easiest and most immediate target for anyone looking for vulnerabilities in computers
.
Firefox uses a plug-in system called
NPAPI
derived from Netscape Navigator, Internet Explorer uses the infamous control
ActiveX
, known for its security issues while Chrome uses a system called
PPAPI
, designed to provide additional sandbox protection, but not good enough to protect users from vulnerabilities. Fortunately, modern sites and the latest browser versions have made these plugins much less important than they were a few years ago. For example, it is increasingly difficult to come across a site made in Java that is the plugin most affected by cyber attacks.
Even the Flash Player is less and less used, especially after Youtube has permanently eliminated it from its videos in favor of HTML5 technology that does not require any plugins.
Plug-ins are therefore destined, sooner or later, to disappear completely from the web.
ALSO READ:
Change browser options changed by malware, extensions and adware
To have more security on the browser and while browsing the internet, it is therefore worth deactivating or removing obsolete, old and almost useless plugins.
To see the list of plugins installed on each browser and disable them
, proceed as follows.
-
In Google Chrome
you can see the list of installed plugins by opening a tab with address chrome: // components /.
You can also open the same page by pressing the menu button at the top right, go to Settings -> Show advanced settings -> Content settings (Under Privacy) -> Disable individual plugins.
-
InFirefox
click the menu button, go to Manage Add-ons and select Plugins.
-
In Internet Explorer
click on the menu button at the top right, go to the Add-ons Manager and select the "Toolbars and Extensions" list.
From here, click under the word Show in the lower left corner and choose All Add-ons.
-
With Safari
click on the Safari menu, select Preferences, click on the security icon, then on the Settings button to the right of "Internet plugins"
-
Opera
it's like Chrome, except the page to open in a new tab is opera: // plugins.
From these pages it is only possible to disable the various plugins, not to remove them.
This is because plugins are not browser-specific extensions but actual integrated programs.
To remove plugins from browsers
need
uninstall them from your computer
by going to the Windows Control Panel and opening the utility to uninstall programs.
From the list, locate the plugin names and remove them.
I
plugins that can be removed
to have a safer browser are:
-
Silverlight
: today there are very few sites that require it, and it is no longer necessary to watch videos from RAI and Mediaset sites that have switched to Flash (RAI) and HTML5 (Mediaset).
-
Java
: I have said in the past to disable Java to avoid security problems and this is more true today than yesterday.
Java Applets have practically disappeared from the modern web and if this demand is still met, it would be better to give up seeing that site rather than putting this cancer in your body.
Even if you need to have the Java program installed on your PC (for business applications or to play Minecraft), the plugin does not need to be active on your browser.
-
Flash
: Flash has always been the most important plugin for every browser because it allows, among other things, to open streaming videos, especially from Youtube.
Today many video sites use HTML 5 and, recently, Youtube has eliminated the requirement of the Flash plugin for watching its videos.
The problem is, it has become insecure and full of security vulnerabilities, so it's better
disable Flash on all browsers
.
- Other useless plug-ins are Google Earth, QuickTime, RealPlayer, Windows Media Player, VLC, iTunes Detector.
- Finally, there are plugins that are almost viruses and therefore it is worth checking with an automatic tool called ADWCleaner, which identifies and removes them automatically.
For those who intend to leave, such as, in addition to Flash, support for PDFs, Unity Player for online games, Chrome remote desktop and so on, it is important
check that the plugins are up to date
.
Un
final tip
: on the browser used daily (for example Chrome), it is worth disabling almost all the plugins so, as well as being safer, it will also be lighter and faster. The plugins that can be used from time to time, can remain on another browser (for example Firefox), using it when you have to open a site that requires them.