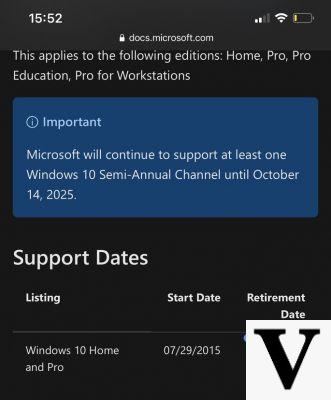 Everything has a beginning and everything has an end, even in the IT world where, in recent days, there has been an important end: that of Microsoft's official support for the Windows 7 operating system, which took place on January 14 2020. This operating system, in fact, was put on sale for the first time in October 2009 and the official support has exceeded ten years.
Also Windows 10, born in July 2015, will one day be overtaken by a successor. But Microsoft's official support for this operating system will not end anytime soon: it will still last until at least 2025. This is because Microsoft's policy for supporting operating systems provides for a formula 5+5: the first five years are of standard support, which Microsoft calls "Mainstream", the following are of "Extended" support. To these two formulas is added the so-called "Unified Support" for companies, which Microsoft offers for a fee. Even during the "extended" support some requests for user assistance may involve a payment, so to really understand when official support will end to Windows 10 we must first explain the differences between "Mainstream" and "Extended" support.
Microsoft Mainstream and Extended Support: The Differences
For the first five years of an operating system's life they are defined by Microsoft as "Mainstream" and include:
Request to change the design and functionality of the product
Security updates
Non-security updates
Supporto "Self-help"
Paid support
During this period the support requests are free in most cases and Microsoft releases monthly security updates, as well as two major biannual updates.
The next five years of the operating system's life are covered by "Extended" support, which includes more or less the same things as the Mainstream except for requests to change product features and non-security updates (which are covered by Unified Support, if any).
All this, then, is governed by the so-called "Modern Lifecycle Policy" which requires Microsoft to release monthly and semi-annual updates and for the user to install them.
Microsoft support on updates
Every new one Semi-annual update released by Microsoft is covered by 18 months of support, starting from the date of publication of the update. Consequently, to give an example, the Windows 1909 update 10 (the so-called "November Update" of 2019) is covered by Microsoft support until May 2021 (for the Home version of Windows, the Enterprise and Education versions have support longer). Who still has Windows 10 in version 1903 (ie the "May Update" of 2019) enjoys official support until December 2020. By December 2020, however, Microsoft will have released at least two more semiannual updates with an additional 18 months of support for each. In May 2021, it will have released three. In this way, therefore, keeping your operating system constantly updated is also the most effective way to keep Microsoft's extended support active.
When the official support for Windows 10 ends: the dates