The first broken iPhone X has appeared on video on the internet! Marketed since Friday, November 3, 2017, it fell the day before, from the hands of a clumsy Chinese worker. He and his colleagues were preparing for the official launch of Apple's latest smartphone at their retail store in China. Luckily for him he hadn't bought it, because the price of repairing the iPhone X screen is particularly high!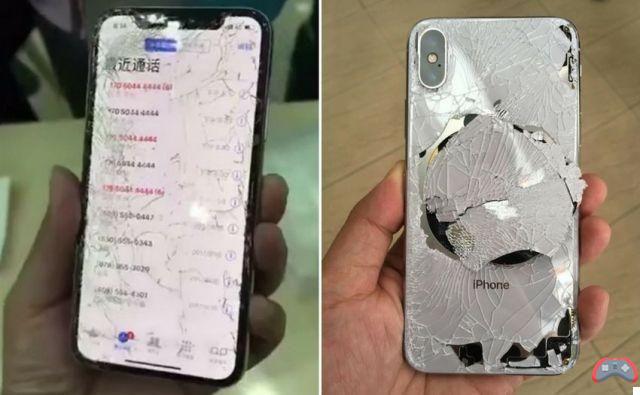 Here it is, the very first iPhone X broken. In this audiovisual media, we discover the latest Apple smartphone completely cracked after a clumsy did it fall. The clip was reportedly shot at a retail store in China on Thursday, November 2, 2017, hours before the official iPhone X launch.
A clumsy person has already dropped the iPhone X and broke it, in video
In the images below, filmed in a retail store in China, the iPhone X is broken, but still on. The front and back glasses are covered in cracks, but it still seems to work. The iPhone X uses the same glass material as the iPhone 8, which is considered the hardest and most durable for a smartphone, but you have to remember that glass is still glass and if it falls, there is a high risk of it breaking!
In the aftermath, buyers of the iPhone X have posted photos and videos of this kind on social networks, showing the new model cracked, even completely broken, after an unfortunate fall! For them, the pill may be more difficult to pass because, after having paid the high price of the iPhone X, relativized by Tim Cook who compares it to that of a coffee a day, they will have to pay more 300 euros to replace their screen! Find out the condition of the iPhone X that was in the hands of this clumsy person.
The editorial advises you:
6G will be 100 times faster than 5G, China already in pole position
Smartphones: Germany is campaigning for 7 years of updates and spare parts
According to a survey conducted by SellCell, 79% of iPhone users want Touch ID back on their smartphones. According to a study conducted by the American company SellCell, 79% of…Some users have noticed significant autonomy concerns with the latest update for iPhones, iOS 14.2. A handful of iPhones updated to iOS 14.2 encounter major problems… The iPhone X completely changes the way of managing multitasking because of its huge borderless screen and therefore the absence of a physical Home button. So close a…Here are the best applications optimized for the iPhone X screen, designated by DisplayMate as the best screen on the market, even if the notch at the top of the smartphone is a stain. Many…