By default, messages sent on Messenger by people who are not your Facebook friends are hidden. Fortunately, you can find them to see who wrote to you and not miss an important missive.
Facebook's instant messaging service allows you to chat with contacts from your address book – your friends – Facebook. Other users who are not part of it can also send you missives if they found your account on the social network. However, when someone who is not friends with you on Facebook writes to you on Messenger for the first time, their message does not appear in your usual chats: it automatically goes to another section of Messenger. You may receive a notification, but if you delete it a bit too quickly, you won't find the message – or rather the request to get in touch with you through Messenger – in the service's thread. These are messages that Facebook knowingly filters to prevent you from being annoyed. They can come from people you don't know at all and who aren't friends with any of your friends, but they can also be spam or advertisements from Pages.
While this filtering feature is useful for preventing intrusions from strangers, it can also cause you to miss potentially important messages. It is therefore advisable to consult these messages regularly, as well as the section dedicated to spam in your mailbox to check that a legitimate message has not been blocked by an overzealous filtering algorithm. The handling differs depending on whether you are using the web version of Facebook or the Messenger mobile application, but it is still very simple. Note that notifications are then displayed normally when you start chatting with a user who is not friends with you.
How do I access hidden Messenger messages from a computer?
You have two options for checking your messages on Messenger from a PC or Mac: using the Messenger app or using Facebook from a web browser. However, accessing all hidden messages (including spam) can only be done with the web browser.
With your usual web browser, go to Facebook and log in with your credentials if you do not automatically access your account. Click on the icon of Messenger at the top right of the page.
In the pane that expands, click the three suspension points. In the panel that appears, choose Invitations by message.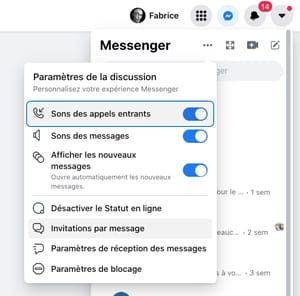 A list of messages you probably haven't accessed so far is displayed. Check if the name of one or more of the senders is familiar to you. You can read the messages addressed to you without fear. Its sender won't know until you reply.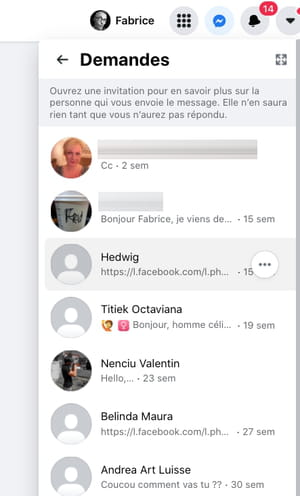 Other messages also remain blocked by Facebook Messenger, which considers them to be spam. To check it, scroll down the list of hidden messages to the bottom and click on See spam.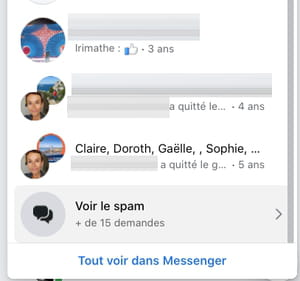 A new list of messages that you haven't seen appears.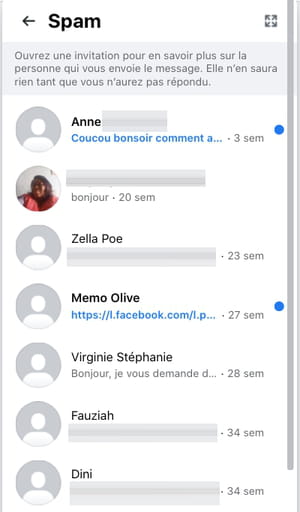 As before you can view the content of the missives without fear. To avoid being bothered by someone, click I don't want to be in contact with XXX at the bottom of the message. Then click on Block.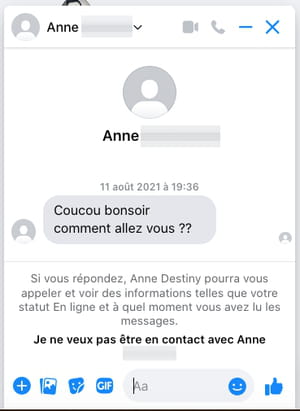 How to access hidden messages from Messenger on a smartphone?
To access messages filtered by Facebook on the version of Messenger on iOS or Android, the manipulations differ slightly.
Open the Messenger app on your smartphone. Press on your profile picture at the top left of the interface. A settings page appears.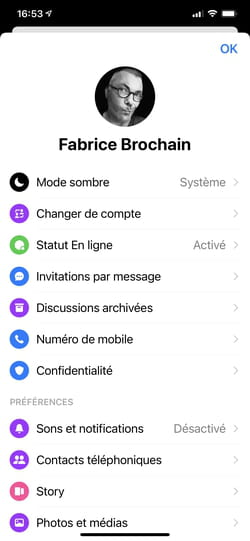 Press the menu Invitations by message. A new page defaults to the section named You May Know. It contains messages that probably didn't reach you or for which you ignored a notification.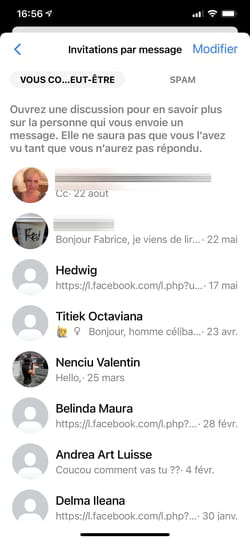 You can open messages without fear. Their senders won't know you've read them unless you reply. You can also block the person by pressing the eponymous button or delete the message.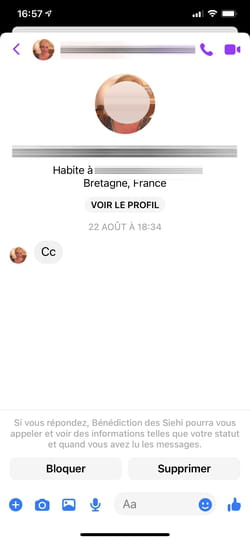 To clean up and delete several attempts to contact you at once, go back to the message list. Press the button Edit at the top right of the screen. All that remains is to select the desired messages and confirm by pressing Remove at the bottom of the screen.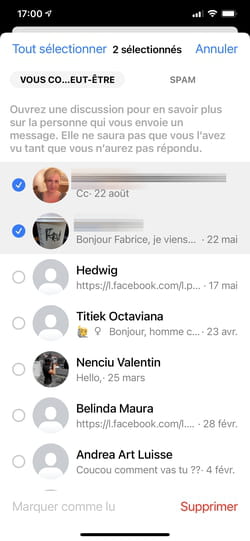 Also access other messages hidden by Messenger because they are considered spam by pressing the section Spam at the top of the message list.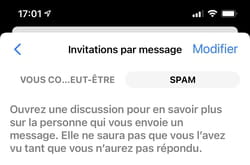 A new list appears. Again you can open each message without fear, block people or even delete missives individually or in batches as before.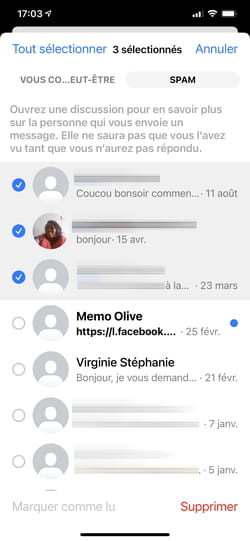 Filtered messages on Facebook Messenger: how to access them
Contents From a computer From a smartphone Facebook's instant messaging service allows you to chat with contacts from your address book – your friends – Facebook. Other users who don't...