Google offers iPhone 13 users to turn iOS 15 home screen into Android smartphone home screen. For that, the search giant advises to use the widgets of Google services and to abandon the native applications of Apple.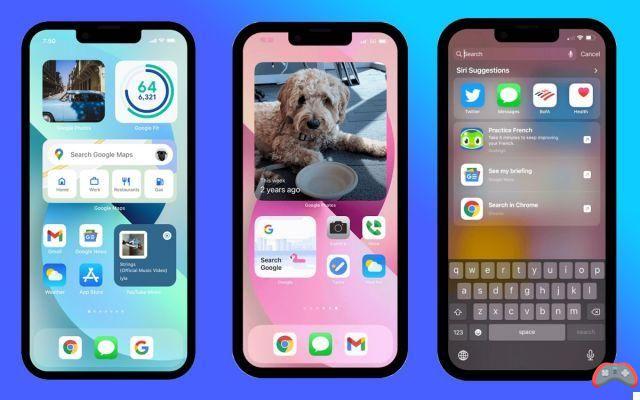 In a blog post published on September 27, 2021, Luke Wroblewski, the director of Google in charge of iOS, offers iPhone 13 users to install "the best" of Google services on their new iPhone. The manager focuses first on the many widgets offered by Google on iOS.
Apple ushered in the arrival of widgets last year with iOS 14. Unsurprisingly, widgets made their comeback with iOS 15, the latest OS update. This feature allows you to display shortcuts on the iPhone home screen.
Google advises to ditch Apple apps like Safari
As Luke Wroblewski points out, it is possible touse iOS 15 widgets to display Google apps on the home screen of the iPhone 13. He notably suggests placing a Google Maps, Google Photos or even Google Fit widget there. "With the right combination, you'll never even have to leave your home screen," says Luke Wroblewski.
If you primarily use the iPhone 13 in a work setting, Google recommends leaning on solutions like Google Calendar, Gmail, and Google Drive right on the home screen. This way you will stay focused on your work. At this point, the iOS 15 screen starts to look very much like that of an Android smartphone.
The blog post recommends using the smart battery. This widget displays an application, chosen from a list, depending on the time of day and user actions. "A smart stack of Google widgets will help you better organize your home screen," says the manager.
Subsequently, the framework goes even further by advising iPhone 13 users toditch native apple apps for those of Google. He therefore recommends dropping Safari for Google Chrome. "You can take advantage of Google's benefits by setting your default browser to Chrome," says Luke Wroblewski.
The framework specifies that Chrome fully integrates with Spotlight, the search engine built into the iPhone. "When you search for something using Spotlight, Chrome helps you get the right results," concludes the leader, visibly anxious to convince iPhone 13 users. Will you listen to Google's advice? We are waiting for your opinion in the comments.