Snapchat is testing a new TikTok-inspired feature as the Chinese app faces blockage in the United States after being banned in India. It is in this context that Snapchat announced the arrival of a feature dear to its competitor: new options will allow you to add music to small video clips published on the platform.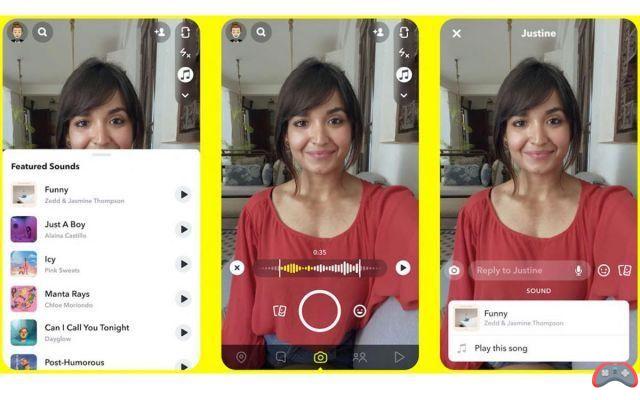 Social networks have become a lawless zone where everyone shamelessly copies the best features of competitors. Snapchat, which has been the victim of this on numerous occasions, does not intend to remain the only turkey of the farce. The new preferred target is none other than TikTok, which is now the focus of all attention. Snapchat tackles the new darling of young people. The application is testing a new option that allows add music tracks to Snaps, one of the flagship features of TikTok.
Snapchat is getting a little closer to TikTok
The principle is the same. In Snapchat, users will be able to tap into a "robust" catalog of music to add songs to their videos before or after capture. Snap Inc, the company that publishes the application, highlights partnerships with several heavyweights in the music industry, including Warner Music Group, Warner Chappell, Universal Music Publishing Group, to name a few.
When your friends discover a new Snap with music, they can swipe up on the screen to view album cover, song title and artist name. A "Play this music" link will also be available. Clicking it will open a web view to listen to the full song on streaming platforms like Spotify, Apple Music or SoundCloud.
In this regard, Snapchat will work differently from TikTok where clicking on the link takes users to a page with other clips that have used the same sound. Snapchat's new feature will launch in English-speaking markets this fall. Tests have already started in Australia and New Zealand.
Snapchat as a good opportunist
This new functionality arrives in a particular context. TikTok is under threat of outright banishment in the United States. After Huawei, the application could become the next collateral victim of the showdown between the Trump administration and China. Once again, the United States relies on the argument of Chinese espionage. TikTok is indeed accused of sending a ton of user data to China. Information that would be directly transmitted to the Chinese Communist Party according to US Secretary of State Mike Pompeo.
TikTok's salvation is now linked to the acquisition of part of its activities by Microsoft. The Trump administration recently gave its approval for a transaction on the condition that it be concluded before September 15, a fairly short deadline for such an operation. It goes without saying that TikTok is not really in a good position and this situation could lead some users to turn to alternatives. Snapchat is ready to welcome them with open arms.