It will soon be possible to listen to music on a Wear OS smartwatch without the need for a smartphone. Among the compatible applications, we find in particular Spotify and YouTube Music. This new function will be offered with all watches equipped with the version of Wear OS jointly developed by Samsung and Google.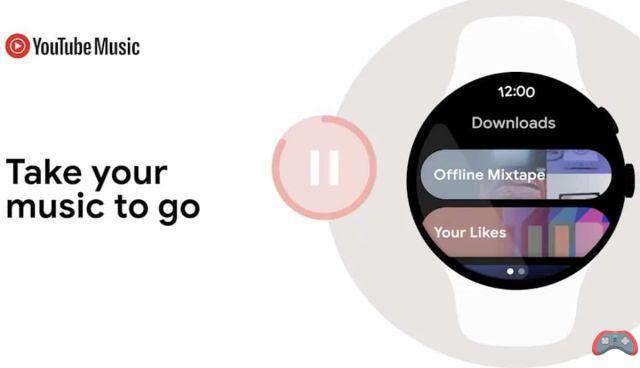 We reported it yesterday in our article dedicated to Wear OS: Google is developing the new version of the operating system for smartwatches with Samsung. It will not only animate the next connected watches from the Korean firm, including the Galaxy Watch 4 which has been the subject of many rumors in recent months, but also the next smartwatch that Fitbit will develop. This will be Fitbit's first watch since its acquisition by Google.
Read also – OnePlus Watch: the always-on screen reduces the autonomy of the watch by 50%
During the Google I/O keynote, which we followed with interest last night and of which you can find a complete summary in our columns, the Mountain View company promised that the new Wear OS will offer more functionalities and uses. . Some apps like Maps, Assistant et Pay will be improved, while others will emerge. This will be particularly the case for YouTube Music.
Listen to music on a smartwatch without a smartphone
The interest of YouTube Music in a connected watch is obviously not to watch video clips on a screen that measures less than 2 inches, but tolisten to playlists stored in the watch in the background, without using a smartphone. Then simply connect wireless headphones, such as Pixel Buds.
Good news that is double, since access to internal storage will also be offered to third-party developers. Thereby, Spotify announces now that a new application, developed for this new version of Wear OS, will arrive soon. It will take advantage of Tiles widgets and will offer offline music listening without a smartphone.
It is therefore a new feature that arrives in Wear OS. It already exists at Apple, as well as at Huawei and Honor (with the Honor Watch GS Pro for example). Today, it does not exist natively in Wear OS. You have to download an app from the Play Store and manually transfer MP3 files to the watch storage. The application will read the files it detects. With YouTube Music and Spotify, everything will be easier.