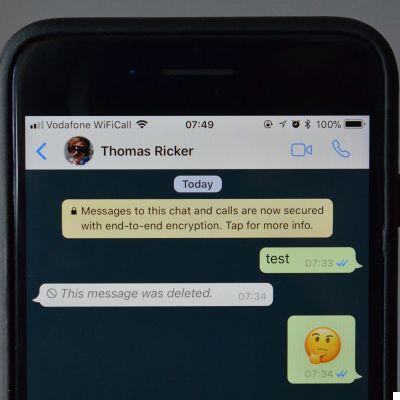 Every once in a while, we send a message and realize seconds later that it wasn't necessarily a good idea. For those often awkward moments, WhatsApp adds a face-saving feature. Well almost.
As social interactions are often very complex, there are many times in life when you wish you hadn't expressed something. And if that's not too possible out loud, it's already a little more so on social networks and other instant messaging. At least on services that integrate the possibility of retracting, as with the 7 minutes now allowed by WhatsApp to change your mind and delete a message. Enough to take the time to think about another turn of phrase in order to better stick to what the people who contribute to a given conversation can expect.
However, if the function is attractive on paper, it is perhaps a little less attractive in reality. Because in case of deletion of a message, WhatsApp indicates in the flow of the conversation that it has been removed. It will therefore be impossible to avoid questions about the nature of the incriminated message and there will be many cases where it will be necessary to justify the process.
In any case, it is better to continue to think carefully about what you write to someone to avoid finding yourself in a problematic situation. If in speaking, it is often said that it is better to turn your tongue seven times in your mouth before speaking, making sure to turn your thumbs seven times before writing something on the messengers can be just as useful advice. , even if we are offered seven minutes to backtrack.
to read also: 3
Net life
WhatsApp loses one of its co-founders
Brian Acton, technical director of WhatsApp, which he created with Jan Koum, is leaving the ship to embark on a more personal adventure...
4 years ago