Update 06 / 09 / 2018: As Android Authority reports, the rollout of the dark mode feature for YouTube on Android has accelerated and the option is becoming available to more users. You can follow the short tutorial below to try it out.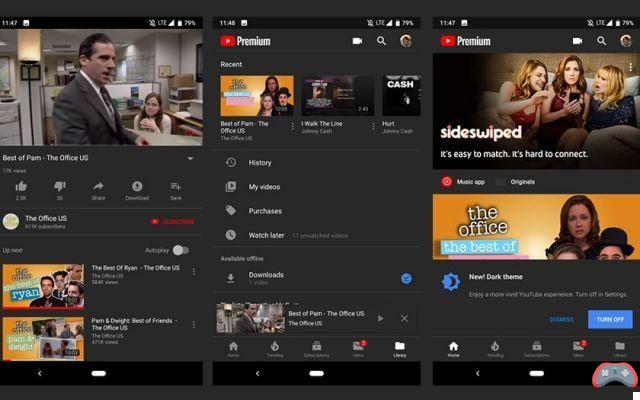 Youtube on Android finally has a dark mode! Several months after its arrival on iOS, the famous "dark mode" finally arrives on all Android smartphones. We explain how to activate it on your phone.
According to our colleagues at 9to5Google, dark mode is currently being rolled out to Android smartphones. A few days after solving the Youtube playback bar bug, and rolling out the long-awaited incognito mode (or private browsing), Google continues to improve its famous application.
Youtube: here's how to activate dark mode on Android
According to the first feedback, the dark mode works exactly the same way as on iPhone. Note that the theme is rather dark gray than black, underlines 9to5Google. For activate night mode on Youtube on your Android smartphone, do the following:
Open l'application Youtube (yes, that makes sense)
Click on your profile picture (top right)
See you in the general settings
Select Dark Theme (just below Remind me to take a break)
Voila, the dark mode is activated!
To return to normal, simply uncheck the Dark theme box
This new mode is still currently being deployed on Android. We have not yet received the option to activate it on the smartphones we tested. The dark mode should not take long to appear for all users in the world, assures 9To5Google. The site is counting on a full deployment in the coming days. What do you think of this new mode, intended to relieve your eyes during your night walks on Youtube?