The Messages application on Android offers you the possibility to send SMS, MMS but also RCS chats from a PC or a Mac. To use this feature, just follow the steps in this tutorial.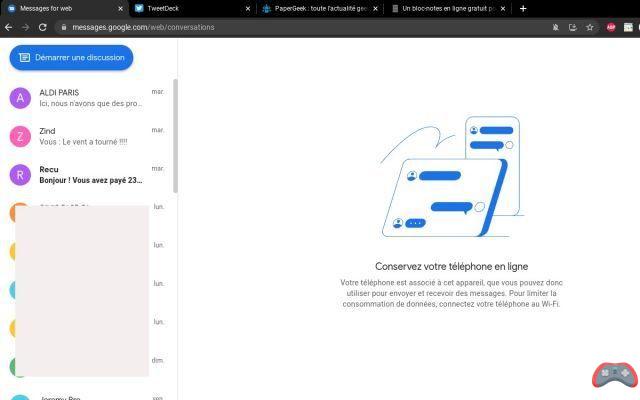 You spend most of your days on your PC or Mac and would like to be able to read and reply to text messages directly on the computer? This is quite possible thanks to the Messages application of Android which allows you to have access to your messaging on a browser. What makes your life much easier when you have your nose in your PC since you will no longer have to switch to your smartphone to access your SMS, MMS or RCS messages received.
In the past, users could run only through a third-party application. But sending SMS to another device is now a native option. And activating this feature is child's play, as you will see in this little tutorial. As a reminder, you can also read and send your WhatsApp messages from a PC or Mac.
Lire aussi >> Android: how to program the sending of an SMS
How to send text messages from your PC using Android Messages
Messages is Google's Android application for sending SMS and MMS, but also RCS messages (which allow you to benefit from chat features). It is possible to open it on a browser if your smartphone is on and has WiFi or mobile data. Nothing surprising in itself since it is the GSM network of your operator via the SIM card which is used to receive and send the SMS.
Download the Messages app from the Play Store if you don't already have it.
DOWNLOAD THE MESSAGES APP FROM THE PLAY STORE
Make it the default application for SMS/MMS by going to Settings > Apps > Default apps.
Open the app then tap the three vertical dots in the upper right corner.
Then press the option Pairing the device.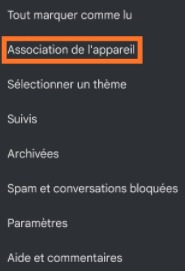 On the computer, go to messages.android.com from a web browser.
Return to your smartphone and open the QR code reader to scan the code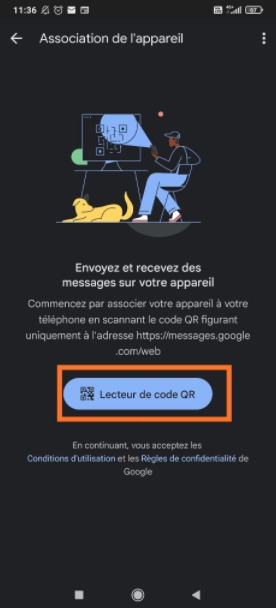 Align the QR code on the PC screen with the camera lens of your smartphone. The link should be done in a fraction of a second.
Don't forget to activate the option Remember this computer so that you don't have to repeat the process at every connection.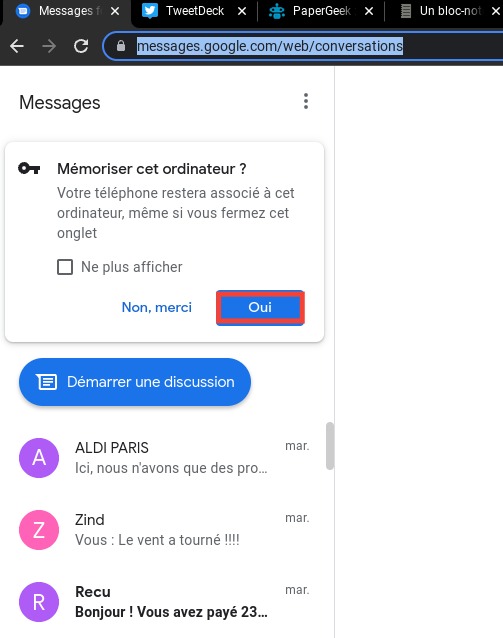 The editorial advises you:
Android: how to transfer your SMS and MMS to a new smartphone
WhatsApp: 20 hidden features that will make your life easier
WhatsApp Web: how to read and send your messages from a PC or MAC
The ability to speed up or slow down a video on YouTube can be very useful. It was possible to do this in the web version of the platform for a while...Google Chrome includes a reading mode that allows you to consult a page in optimal conditions. The functionality, however, is hidden in the bowels of the browser. In this tutorial,…Google Chrome records everything you do while browsing the web. If you want to browse without leaving a trace, here's how to clean up your browsing history. You have an image and want to find the source or find out more about the object it contains. It's easy thanks to reverse image search which consists of…