Our smartphones are now part of our life and part of our life is on it. Normally, only the owner of the phone uses it, but the reality is quite different. A friend who wants your phone to call someone? Your child who wants it to play a game? Your beautiful and tender wants to watch your messages?
I will teach you how to secure everything you want on your phone by applying a mandatory passage through the password box. Don't worry, all your compromising photos, secret messages and the rest of your dark intentions will be safe.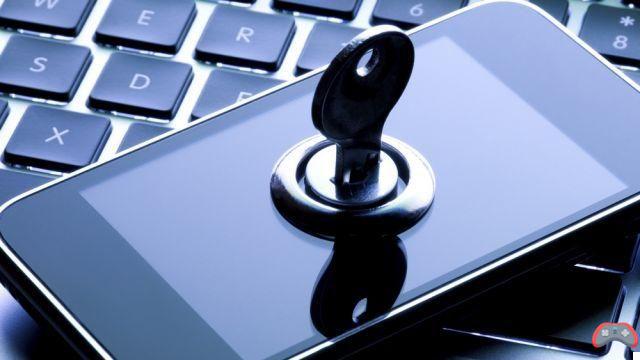 The solution that I will propose to you will pass through an application, this one will allow you to configure a password and to choose the elements which you wish to lock. You can lock many things like your apps, installing and uninstalling apps, access to phone settings among others.
How to secure your applications with a password?
I will first tell you how to configure your application without security concerns. Next, I will describe to you step by step how the application and the lock mode work. Finally, I will give you other possible options.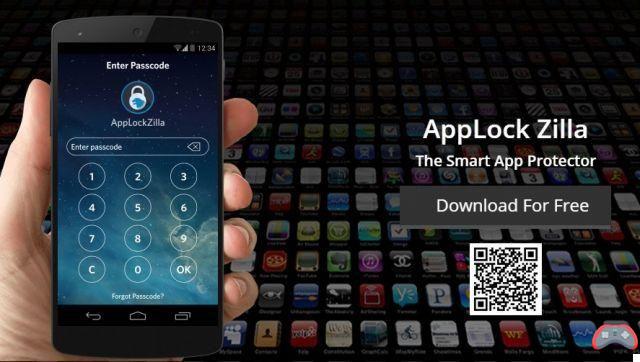 Getting Started: Setting Up the Application
Installer AppLock Zilla: Smart Protector

Launch AppLock Zilla: Smart Protector
Type a password (x2), this is the one that will be used to unlock your applications
Choose your favorite recovery solution
If you forget your password, it is recommended to choose one of the two options at the bottom. The first does not allow you to find your password, the second allows you to send it back to the email address indicated and the third lets you configure a question and an answer to be able to recover it.
You have now configured the application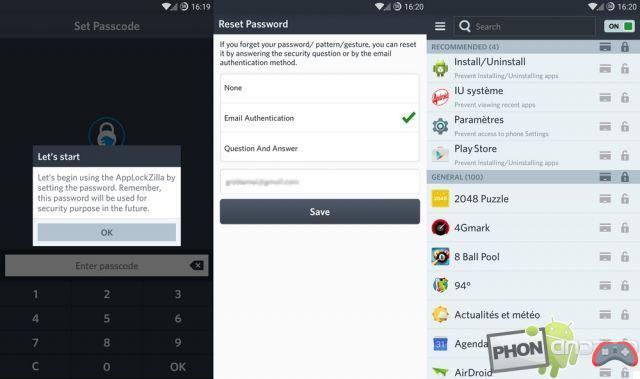 Method to lock an application
We are already at the second part, now that you have configured your application, you will only have to select the elements you want to lock. For this method I will proceed in the simplest and most effective way, other means of locking are possible.
Once on the app, select items to lock by pressing the padlock icon
You are faced with the complete list of your applications as well as 4 separate items. These 4 elements allow you to block the installation and uninstallation of applications as well as access to the phone settings.
Once selected, the item(s) will have a green, closed padlock icon
Your app is now locked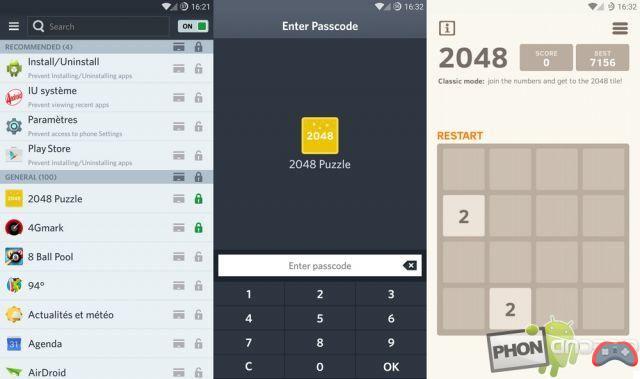 Beyond the free version, there are two profiles, the first allows you to lock an unlimited number of apps, but does not allow access to all features. The second allows access to all features, but just to lock a limited number of applications.
Otherwise, there is the pro version, this unlocks all the features to be able to use them on an infinite number of applications. The pro version is, of course, paid for at a price of €1,79. If you really need security, don't hesitate.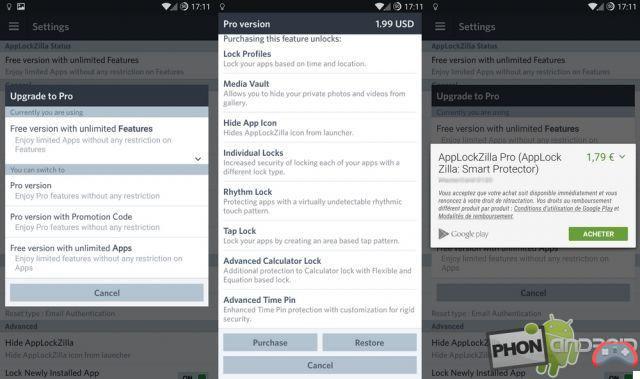 This application is full of resources, it also has a number of themes. Another thing, you can also create profiles, profiles that can automatically change depending on time or location. Last point, you can also prevent access to WiFi, mobile data and Bluetooth. A safe for your media is also available.