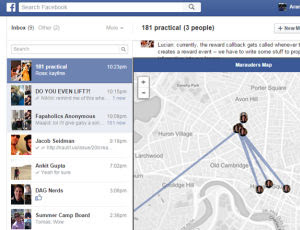 A Cambridge student developer has created a Chrome extension that works much like Harry Potter's Marauders map, to find out
where friends write to us using Facebook Messenger
.
The extension allows you to
see every move of the friends you are chatting with via the Facebook messaging app
or even from your PC so you can locate them and know where they are exactly.
This trick is not a hack that exploits particular Facebook bugs, but a simple extraction of data allowed by Facebook Messenger where you can decide whether or not to send our position.
If this option is activated, then the other person can know where we are and using the map locate us exactly.
UPDATE: It is officially possible
Follow your friends' movements on Messenger
to know where I am at all times.
After installing the extension
Marauders Map su Google Chrome
(it no longer works), you can then open the Messages page https://www.facebook.com/messages and notice the appearance of the world map at the bottom left.
At this point, just click on one of the conversations in the list on the left for
see the location from which he wrote to us
the person you were chatting with.
If you select a group conversation, you will see the location of each person on the map.
The extension works fine although still a bit flawed.
Sometimes it may be necessary to wait before seeing people's faces on the map or reload the page.
It is also not necessary to switch from one conversation to another quickly, otherwise you will not see any positions.
Messenger's web interface and retrieves data from messages sent via Facebook Messenger with location sharing enabled.
The extension does not do a location tracking, but reads the data shared with Facebook Messenger, if the location sharing option is active.
The extension is therefore unable to know the location of those who do not use Messenger or who have disabled the option.
Considering that the vast majority of your friends know nothing about location sharing, it will be very easy
find out where they wrote to us
scrolling through the various past conversations and you can
find out where they are now just by starting a chat from Facebook Messenger
.
Basically to know where a person is
If you want to prevent sharing of your location in Facebook Messenger, disable the blue location icon when writing a message or go to your phone settings and prohibit access to your Facebook Messenger location or geo-location.
ALSO READ:
Hide Facebook profile and make yourself invisible