The fragmentation of Android versions leads to many inconsistencies in emojis that evolve with each version of the OS. To limit inconsistencies at this level on its social network, Twitter has decided to launch its own emojis instead of using those that are integrated into user devices.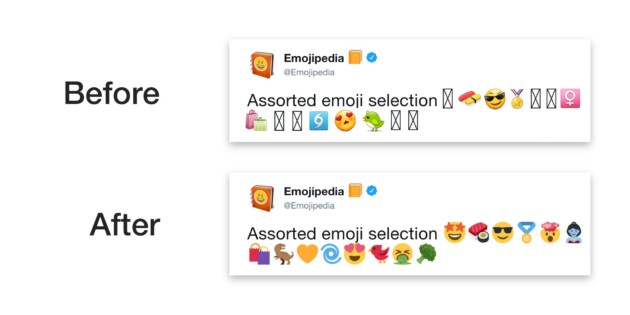 Image source: Emojipedia
The fragmentation of versions, a problem regularly mentioned when talking about the weaknesses of Android, is more than ever a reality. According to the most recent statistics, almost half of users have a version dating, at best, from 2014 with Lollipop.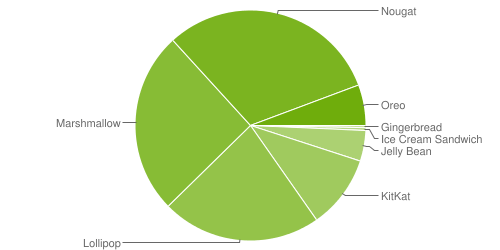 May 2018 statistics provided by Google
Although initiatives are taken to limit defragmentation in 2018 such as Android One, Android Go or Project Treble, the figures speak for themselves. There are about as many users on Android Oreo, the latest version released several months ago, as there are on Android KitKat released in … 2013. These version disparities necessarily lead to inconsistencies between devices.
Emojis, collateral victims
Minor novelty, but very present: with each version of Android, emojis are reviewed and corrected and new ones are added. Problem: users of older versions of Android cannot see emojis that do not yet exist on their version of the OS.

Emojis Samsung Experience 8.5 vs Emojis Twitter, source : Emojipedia
Thus, on social networks, it is impossible for some users to have all the emojis contained in the publications. When we understand the difference between "Not at all? ", " Not at all ? and "Not at all?" (this one makes no sense), the absence of certain emojis can lead to a misinterpretation of a message.
Twitter to the rescue
Aware of the impact of Android fragmentation on emojis in tweets, Twitter decided to act. Indeed, until now, the social network exclusively used the faces included in the operating system of the device, even if it means leaving a crossed out rectangle when it does not know a symbol present in a tweet.
Now, emojis missing from older systems (from Android 4.4 KitKat to Android 7.1 Nougat) will be replaced by Twimojis, a set of symbols created for this purpose using emojis from the web version of Twitter. This new feature is already in place on the Twitter application of the terminals concerned.
Phew! Samsung finally corrects its discordant emojis?

Samsung is appreciated by its users for the quality of its products and its brand image. But there is one thing that clearly does not favor Samsung's popularity...