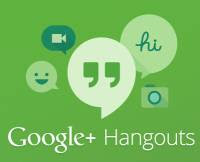 From the ashes of Google+ came one of Google's best applications, Hangouts, a service of
messages and video calls usable via the web from any PC, and an app for Android and iPhone
.
Now you no longer need to log into Gmail to use Hangouts, just open its website:
hangouts.google.com/
.
The new Google Hangouts application replaces the old Google Talk
and the Google+ Messenger becoming, in fact, the free chat and messaging application of Google competing with Facebook Messenger, Whatsapp, Viber, Skype etc.
You can use Google Hangouts from any computer
by connecting to the website
or even
to Gmail
, by pressing the camera button located on the right column, where you can see the online contacts in chat. The application is fast, free and with a very smooth and quality videochat function.
NOTE: Google Hangouts will soon be replaced, in 2022, by
Google Chat, to be activated in Gmail
.
Google Hangouts
you can use it from your PC without installing anything
to chat, text and video, from Gmail and Google+
or even by installing the
application for Google Chrome
which appears as a chat and videochat box on the right side of the browser. Once installed, the extension ensures that the user stays in touch with friends
even when Google Chrome is closed
. If you choose to stay connected permanently, the extension activates as soon as your computer is turned on as a system app (with an icon in the system tray as well), ensuring you never miss a message.
Of course, to use Google Hangouts you need to sign in with a Google or GMail account.
To start a new chat session (or Hangout), simply type a contact's name at the top of the window. You can chat with one person or start a group video conference. The button at the bottom left is for chatting during a video call. In the text message chat, you can also send photos or one of the 850 available emoticons or smileys. From the settings menu, accessible from the button at the top right with three dots, you can share your screen and put it in full screen. Press to configure the chat windows to always stay on top of the other windows.
On the mobile side,
Google Hangouts is an application for Android phones and for iPhones
which prompts you to confirm the phone number.
It therefore also becomes an app for sending SMS and, above all,
With Google Hangouts is you can make calls from PCs and smartphones at very low rates
Google Hangouts per iPhone
: Since there has never been an official Google Talk client for iOS, this application is new. The iOS app allows you to stay in touch with friends and make video calls with any person. With group Hangouts, you can communicate via video with up to ten participants at the same time. To start a chat, tap the '+' icon from the top bar and start choosing contacts. Chat history can be found by tapping the gear icon in the top bar. From the same settings screen you can postpone notifications and manage requests received or block users. It is possible to share photos directly from the iPhone camera or photos already saved in the camera roll.
Google Hangouts per Android
Samsung phones and Android smartphones For Android, the new Hangoout application is an update that replaces Google Talk. On Android, the app settings are accessible on the main screen. Unlike the iOS app, Google Hangouts for Android has a button to send Google emoticons, smilies and smileys.
Google Hangouts Meet
it is the same Hangouts app, with the difference that it is an application reserved for Google Suite subscribers. The main difference is that Meet allows you to make video conferences with up to 250 people together (normal Hangout allows you to make group video calls of up to 10 people)
READ ALSO: Google Duo, for free calls and video calls from PC and smartphone