A father has taken to falling asleep with his AirPods on his ears. But one fine day, he swallowed one of the headphones in his sleep. The missing Apple earphone was found stuck in his esophagus. This is not the first time users have inadvertently swallowed AirPods.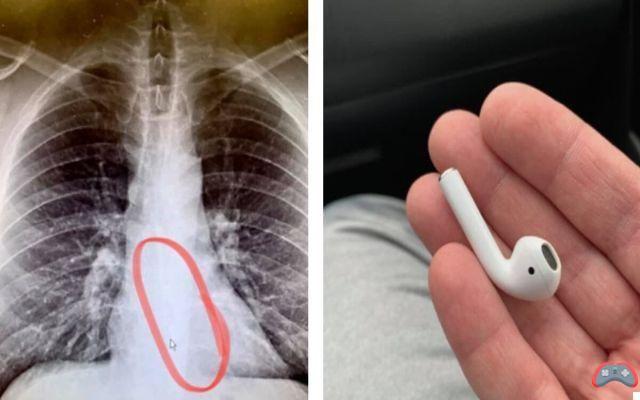 Our colleagues from ValleyCentral, a local media in the United States, tells the story of Bradford Gauthier, a father who found himself with an AirPods in the stomach. That day, the man tried to swallow a large glass of water when he woke up. In vain.
Bradford Gauthier indeed met difficulty swallowing and ingesting liquid. He quickly realized that one of his AirPods was not stored in its charging case. The young father used to sleep with headphones on to listen to soothing music.
Related: Apple to Launch AirPods Pro Lite, Apple Glass and AirTags in 2021
Do not fall asleep with your AirPods on your ears
In consultation with his wife and eldest son, Bradford Gauthier concluded that one of his precious AirPods had ended up in his belly. "At that point, my son and my wife had the idea that I might have swallowed it. They raised the idea jokingly at first," explains Bradford Gauthier, interviewed by ValleyCentral.
To get to the bottom of it, the little family went to the emergency room of the nearest hospital. An X-ray confirmed the suspicions of the Gauthier family: an AirPods was well lodged in the esophagus, preventing water from flowing normally. "The gastrointestinal doctor said that it was extremely rare for a blockage not to be painful or seriously uncomfortable," testified the American.
The doctors quickly carried out an endoscopy, a rapid intervention which consists of inserting a tube into the esophagus, in order to remove the device. "It never occurred to me that sleeping with headphones was dangerous," admits Bradford Gauthier. Once removed from its belly, the earpiece has started to work properly again. Only the microphone encounters misfires.
It's not not the first time that an AirPods ends up in the belly of its owner. During Christmas 2020, a 7-year-old American child accidentally swallowed one of the wireless headphones. A few months earlier, a young Taiwanese man swallowed an AirPods in his sleep, just like Bradford Gauthier.
Source: ValleyCentral.com