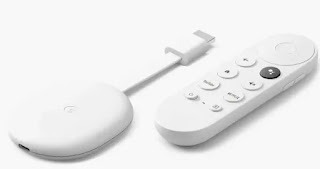 Google has announced a new Chromecast, this time very different from previous editions that have been very successful over the years. While the classic chromecast, it has always worked a bit like a receiver to connect to the TV, so that you can stream content to the TV from your PC or smartphone.
The new Chromecast with Google TVinstead, it is a standalone streaming device, which allows you to use applications such as Youtube or Netflix on your TV, without needing it to be connected to a computer or phone.
the Chromecast with Google TV is a full-fledged streaming device with an internal operating system, a complete menu that brings together all the streaming services and a remote control. The Chromecast Google TV then allows you to transform any TV, even older ones without Smart capabilities, to become like expensive Android TVs, then adding the apps and games from the Google Play Store.
Compatible with most streaming services, the Chromecast Google TV integrates seamlessly with the Google Assistant to give voice commands and of course it also supports casting from your phone or PC like the normal Chromecast does.
However, Google TV is different from the regular home screen of the Android TV system, which contains searchable app and game icons. Google TV, on the other hand, has an interface very similar to the Amazon Fire Stick system, with the list of contents from the streaming services used. This makes it very convenient for those with multiple subscriptions, so you can start playing movies or series directly, without having to search apps like Netflix, Disney + or Amazon Prime Video. There is also a personalized section with recommended content among the services and the ability to aggregate programs by genre or content.
All of this can be managed via a remote control for Google TV, with a few direct buttons to open Youtube and Netflix and also to do voice searches.
The Chromecast with Google TV is already on sale in the country market at a price of 70 euros and can be bought from Google Store.
Personally, even if I haven't been able to try it yet, the Chromecast with Google TV would seem Google's answer to theAmazon Fire Stick, practically a perfect copy of it, even if based on Google services instead of Amazon ones.
However, being the Amazon Fire Stick really perfect in its functionality, I don't know why you should prefer the Google TV, if not to have a single device that can also integrate the classic functions of the Chromecast, that is, to receive content from PC and smartphone.
ALSO READ:
Which Chromecast to buy: differences between Ultra and normal