Regardless of the format, here's how to play all files on Android. Whether it's a video, an audio file, an image, an ebook or any other type of file, you have probably already found yourself unable to open on your Android smartphone or tablet. However, you can take all the measures to prevent this from happening.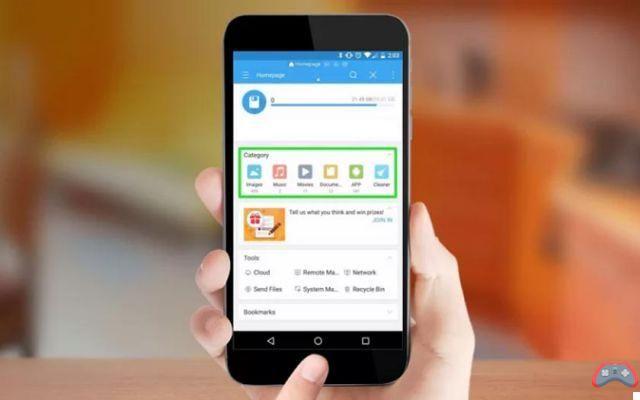 Android is the most popular operating system in the world. He is not, however, capable read any type of file presented to him. Two reasons for this: the first is that it does not natively have the necessary applications to do so and the second is that the type of file you are trying to open is not made to be opened. This is the case of bin or dat files, among other examples.
In this second case, there is not much you can do. There is also no reason that could lead you to open this type of file on an Android smartphone. In the first case on the other hand, it is enough to have the necessary applications.
Android: how to read almost any type of file?
Why wait to have to look for the necessary solution when you are faced with an urgent need? You can make arrangements now to be able to play or edit almost any type of file. We list below the applications you need according to the file categories: video/audio, ebook or text file, images, etc.
Image files
All Android smartphones have Google Photos which comes pre-installed. The native application already allows you to read the vast majority of image files. But if you want to be able to read or edit unusual formats, including the various RAW file types — especially for professional photographers — you can use the Adobe Photoshop Express application.
The latter supports the following RAW formats: arw, cr2, crw, dng, erf, raf, 3fr, fff, dcr, mrw, mos, rwl, nef, nrw, orf, rw2, pef, or even srw. Alternatively, there is the RawDroid Pro application which is chargeable (4,15 euros). It remains an excellent application, even if it no longer evolves since Android 5.0.
CLICK HERE TO DOWNLOAD ADOBE PHOTOSHOP EXPRESS FROM THE PLAY STORE
CLICK HERE TO DOWNLOAD RAWDROID PRO FROM THE PLAY STORE
Videos
Two of the most popular solutions: MXplayer and VLC. They are renowned for being able to play a very large number of video formats, so practically all the ones you could come across: mp4, mkv, 3gp, avi, wmv, flv, mov and many more.
CLICK HERE TO DOWNLOAD VLC ON PLAYSTORE
CLICK HERE TO DOWNLOAD MXPLAYER ON THE PLAYSTORE
Audio files
Google Play Music, Android's default application for audio files allows you to play the most common formats: mp3, m4a, flac, etc. For other formats such as OGG, WMA, ALAC, APE and many others, a third-party application will be required. Here too, you will be able to trust several applications. Black Player, VLC, Poweramp (paid) or Mort Player Music. Do not hesitate to consult our article on the best music players on Android.
CLICK HERE TO DOWNLOAD MORTPLAYER MUSIC FROM PLAYSTORE
Open or extract archive files on Android
Most file explorers, including EFS Explorer, allow you to extract classic archives such as Zip or Rar files. For less common archives like tar, dbz, cab, 7z, among others, you can resort to the B1 Archiver or AndroZip application.
CLICK HERE TO DOWNLOAD B1 ARCHIVE ON THE PLAY STORE
CLICK HERE TO DOWNLOAD ANDROZIP ON THE PLAYSTORE
Open or edit an Office document or text file
Several applications available on the Play Store allow you to open Office documents that include DOCX, XLSX, or even PPTX formats. These applications also allow you to read or modify text files (TXT, RTF) and other open formats: ODT, ODS, etc. Here are two of the best solutions in this category.
Google Drive: the Google Drive application which will be definitively abandoned on PC and Mac in 2018 allows you to read almost any office file on mobile. Its supported formats include: DOCX, XLSX, PPTX, ODT, RTF, ODS or even TXT. CLICK HERE TO DOWNLOAD GOOGLE DRIVE FROM THE PLAY STORE
WPS Office: This is one of the most popular solutions. It also supports DOCX, XLSX, PPTX, ODT, RTF, ODS and TXT files. CLICK HERE TO DOWNLOAD WPS OFFICE FROM THE PLAY STORE
Read eBooks on your Android smartphone or tablet
The PDF format is by far the most used for eBooks, but it is not the only one. It happens quite often that we come across eBooks in EPUB or MOBI format, but also CHM, CDR, OBDS, or even FB2. To read them, you can download one of the following two applications: Cool Reader or Aldiko Book Reader.
CLICK HERE TO DOWNLOAD COOL READER FROM PLAYSTORE
CLICK HERE TO DOWNLOAD ALDIKO BOOK READER FROM PLAYSTORE
Finally, note that Google Drive and WPS Office listed in the Office documents category also support PDF format.
The editorial advises you:
Insufficient storage: how to clean your Android smartphone
Google Maps: how to plan a road trip or add a stage to your itinerary
The best file compression software on PC and Mac
The ability to speed up or slow down a video on YouTube can be very useful. It was possible to do this in the web version of the platform for a while…Facebook allows you to deactivate the automatic playback of videos in your news feed. It's very simple, even if the path is not obvious to anyone who has never seen it...Google Chrome includes a reading mode that allows you to consult a page in optimal conditions. The functionality, however, is hidden in the bowels of the browser. In this tutorial,…It is easy to know if a contact has blocked you on WhatsApp, but some indicators can also trick you into believing it unfairly. So how do you know...