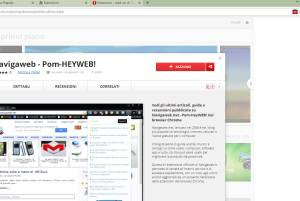 With the release of
Opera 15
the developers of one of the oldest and most popular browsers to browse the internet has changed its face by becoming very similar to Google Chrome and adopting the same rendering engine called Blink / Webkit.
Even if, as already pointed out, Opera 15 loses many of the features typical of the previous Opera 11 and 12, the browser certainly gains compatibility with web applications, including those created specifically for Google Chrome.
Google browser extensions can also be installed in Opera 15
and become the real added value of this alternative browser.
The other way around
, on Chrome it is possible to install the few but precious extensions developed for Opera.
ALSO READ:
Download Opera: the browser with more special functions and customizable interface
To install Chrome Web Store extensions on the Opera 15 browser, you need to install the extension on Opera
Download Chrome Extension
.
After installation, go to Opera extensions management page from the main menu to enable it.
Once enabled, visit the Chrome Web Store and note that all extensions can be installed by pressing the red Add to Opera button.
For example, try installing the extension
for Chrome
which is now also compatible with Opera.
If the installed extension has been disabled and does not appear, click on the Opera button in the upper left corner of the window, go to Extensions and activate it.
Only Chrome extensions are compatible with Opera, not applications.
If, on the other hand, they wanted to
install Opera extensions in Google Chrome instead you have to do some configuration
.
Start by visiting the Opera extensions page you want to add to Chrome, right-click on the green "Add to Opera" button and save the content by downloading the Opera extension as a file with the .NEX extension.
Change the name of this file
by changing the .nex to .crx
which is the format supported by Chrome.
Finally, open the extensions page in Chrome (chrome: // extensions) and drag the downloaded and renamed .crx file onto it.
In the same way you can also install scripts in Chrome.