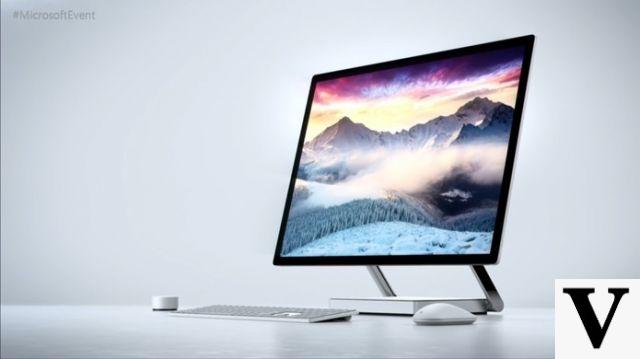 Imagine what you can do. This is the claim chosen by Microsoft for its event in New York on October 26 dedicated to Windows 10. An advertising launch that leaves room for assumptions and indiscretions, even if by now we know (even if broadly) the products that will be presented .
Creativity, three-dimensionality and Windows 10 are the center of the event conceived by Microsoft. The operating system updates will bring virtual reality and augmented reality to the center of the user experience, making it easy to create, share and "consume" three-dimensional content, be it drawings (Paint 3D), productivity tools or video games . According to the Redmond giant, in short, information technology is moving more and more towards devices such as HoloLens, capable of superimposing virtual and augmented reality on the world around us.
17:48 Surface Dial
A pen, albeit smart, does not seem to be enough to make the most of the technical characteristics of Surface Studio and all its potential. For this Microsoft introduces the Surface Dial, a much more powerful and versatile kind of mouse. This small cylinder has a tactile surface that allows us to manage multiple aspects of our activities on the company's new all-in-one computer from Redmond. With Dial it will be possible to zoom or move the view away, increase the volume or decrease it, but not only. The new device allows you to interact directly with the programs you are using, thus attempting to replace the mouse.
17:42 Surface pen
Peripherals are essential for the full functionality of the Surface Studio, not just the mouse and keyboard. There Surface Pen it is perfectly integrated into the ecosystem designed for Microsoft's new all-in-one computer: thanks to the pen, you can go back to writing, even if on a 28-inch screen instead of on paper. The Redmond house has worked to minimize the lag between the writing input and the screen output, so as to return a feeling that is as real as possible.
17:25 Surface Studio
The great protagonist of the evening is, however, the Surface Studio, an all-in-one desktop computer designed for professionals. The Surface Studio technical specifications they are top of the class: ultra-thin 28-inch monitor (thinnest LCD screen ever made, just 1,5mm), Intel Core i7 quadcore CPU, 32 Gigabytes of RAM and 2 terabyte hard drive. The Surface Studio price is $ 2.999.
17:13 The ultimate laptop
Despite the rumors, Microsoft presents the Surface Book i7, a new hybrid laptop that improves the "old" Surface Book in every possible aspect. More powerful, with better graphics, with a battery capable of lasting 30% longer than in the past and a removable screen, so you can turn it 180 ° and use the Surface Book i7 as a tablet. It can be ordered from October 26 for $ 2.399.
16:58 Unique profile
To facilitate communication, it will be possible to create a unique profile, within which you can find your email, Skype and SMS contacts and use the means you prefer to reply or send messages. From a single window it will be possible to read emails, messages and images on Skype or reply via SMS to the people who matter most to us.
16:53 Microsoft Sharing experience
With the Windows Creators Update, Windows 10 becomes the ideal tool for sharing documents, photos, videos and any other type of file with the people who matter most to us. By creating quick links to the most used and important contacts, it will be a breeze to communicate with the most important people.
16:34 - Immersive reality
By leveraging these new features and other updates, HoloLens is destined to become the center of our world. Thanks to Microsoft's smart viewers it will be possible to explore the reality that surrounds us in a different way; interact simultaneously with it and with digital and virtual objects "downloaded" from the Net to be then used as holograms in our reality (you can try, for example, some furniture items at home before being purchased). Furthermore, with HoloLens, Windows 10 takes three-dimensional forms, becoming a real and virtual space at the same time, within which to work, play or watch the most interesting programs.
16:28 – Paint 3D
At the heart of the three-dimensional creative experience we find Paint 3D. After 30 years of "honored" career, the Microsoft graphics software evolves into a three-dimensional graphics software, easy to use but at the same time very powerful and equipped with advanced tools for editing images and photos, even created with Microsoft 3D capture. Users will also be able to download elements created with Minecraft and, if desired, create models to print in 3D.
16:25 – Windows 3D capture
To ensure that creativity and three-dimensionality are truly within everyone's reach, Microsoft launches Windows 3D Capture, a cross-platform smartphone app capable of creating three-dimensional models and rendering of real objects by simply using the mobile phone's camera
16:20 - Creativity and 3D for everyone
Creativity and three-dimensionality have always been part of our life. With the new updates, Microsoft wants to make these two elements affordable for everyone. And it does so with a completely new program that will make it possible to create three-dimensional renderings in an easy and intuitive way.
16:12 – Mixed reality
At the center of the next update, which can be downloaded for free by all users who already use Windows 10, there will be mixed reality. Users will be able to create (and consume) content that combines augmented reality, virtual reality and digital holograms, so they can (literally) create "new worlds". In short, the future of information technology lies in the viewers à la HoloLens.
16:10 – Windows 10 creators update
The first part of the event is dedicated to Windows 10, destined to become the center of the user experience, both at work and at home. From spring 2017 the second major update for Windows 10 will be available, called "Creators Update" and capable of giving "free rein" to the creativity of every Microsoft user, be it a gamer or a professional.
Microsoft Event: Update for Windows 10 and Surface Studio