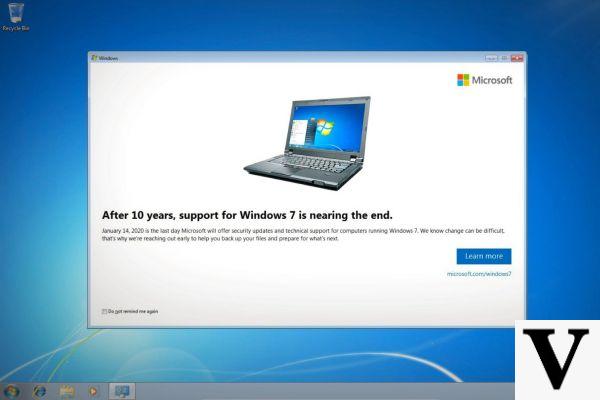 Il January 14 2020 will end support a Windows 7 from Microsoft. This is certainly not new: it has been several months since the Redmond company made the official announcement and is pushing for users and businesses to upgrade their PCs to Windows 10, the latest release of the operating system.
These days the communication business from Microsoft is increasing and released a security update that warns users that Windows 7 support is about to end: less than 300 days left. In the message that appears to users, Microsoft also offers its help to back up files and prepare the PC for updating the operating system. Support for Windows 7 ends ten years after the release of the OS which still has a 40% market share, according to the latest data from Statscounter. Within this 40% there are many companies that in recent years have not wanted to update their computers for fear of losing important information or failure Windows 10 support to specific programs.
Windows 7 will be paid
As of April 18, 2019, users of Windows 7 they will receive daily alerts reminding them that operating system support is about to end. Microsoft hopes this strategy will convince them to carry out the transition to Windows 10, an OS that offers many more features, but which above all has more advanced security systems. Especially for companies it is important that their data is protected and safe.
For companies reticent and unwilling to upgrade their PCs, Microsoft has provided support for another three years (until 2023) for a fee. The company pays an annual subscription and receives security patch support. The cost of the subscription is expected to increase over the years. According to rumors going out in recent months, the cost of the subscription to Windows 7 Extended Security Updates will dollars 25 for the first year, $ 50 for the second year will increase to $ 50. For those who still want to continue to use Windows 7 from January 2022 to January 2023 the subscription price will rise to dollars 100 for each device. A very high price.
Microsoft wants make it more convenient for businesses to upgrade computers to Windows 10, rather than continuing to pay for the Windows 7 subscription. We'll see if businesses and users decide to make the switch to Windows 10 in the coming months.
Microsoft warns users: Windows 7 support is about to end