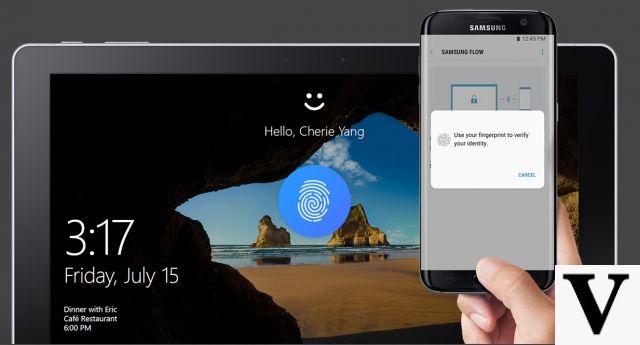 What is this Samsung Flow? It is, in a nutshell, of a service that allows one device to communicate with another. In practice, it allows phone notifications to appear on a "paired" computer - a bit like it happens between Bluetooth devices - and also to respond to these notifications from the PC, transfer content, or continue reading from a device to the other.
A system more or less similar to what Apple offers with its Continuity or the one that Microsoft is trying to implement through Cortana. Samsung Flow is nothing new and offers another unique feature: it allows users to unlock a Windows tablet using the fingerprint reader on their phone. This feature offers the tablet an additional level of security even without the presence of its own fingerprint scanner. Where is the problem, you will ask yourself: is a Galaxy TabPro S exclusive feature with Windows 10 in conjunction with some Galaxy smartphones. At least until April.
Samsung Flow will expand its reach
A Samsung manager, replying to a comment on Samsung Flow's Play Store page, revealed that compatibility with all Windows 10 PCs is on the way. How long will it take? The manager replied "we estimate at the beginning of April". Date that coincides with the date set for the release of the Windows 10 Creators Update. It is therefore possible that these two events are, in some way, related. Last year's Anniversary Update added support for fingerprint readers to Windows 10, but probably only for those installed directly on devices. Remote unlocking is a feature that only the Creators Update can add.

April is the month of truth
It should also be said that Samsung Flow will still be very limited on the smartphone side. The app currently only supports the Galaxy S6, S6 edge, S6 edge +, Note 5, S7, S7 edge, and 7 A5 and A2016 models. The Galaxy S8 and S8 Plus will most likely be added to the list at launch, coincidentally, most likely in early April.
Samsung Flow will allow unlocking of Windows 10 with Galaxy smartphones