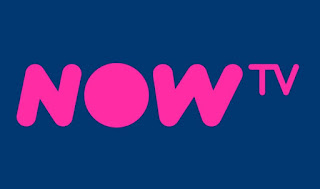 With the Sky platform we can watch many high-quality films and TV series (some of which are exclusive) and we will have many channels dedicated to sport and football. The limits of the Sky platform are well known and keep a large number of customers away: we must necessarily use a satellite dish and a satellite decoder, the subscription price can be very high and, in case of early exit, they may be required. very high cancellation costs (depends on the subscription taken out).
If we want to access the main Sky contents without all these limits, we can rely on NOW TV, which practically allows you to see
Sky online using streaming via the Internet,
without the need to use a satellite dish and without subscription restrictions (we can cancel at any time without exit costs).
In this complete guide we will show you
what we can see on NOW TV, how we can subscribe and on which devices to use
to access the streaming platform quickly and quickly.
ALSO READ:
How to see Sky without a satellite dish and a fixed subscription
Content offered on NOW TV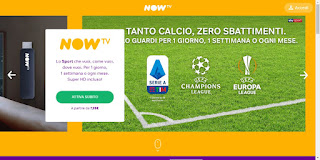 NOW TV's offer is divided into various specific tickets based on the type of content we want to view; we do not have to activate all the tickets, but we can choose whether to activate only one, only two or only three out of four, so as to customize the offer of contents and channels that we can view. The tickets currently available are:
Ticket Cinema: at a cost of € 9,99 per month, it offers access to over 1.000 on-demand films and allows you to watch 8 channels of the Sky Cinema package in live streaming (Sky Cinema 1, Sky Cinema Hits, Sky Cinema Family, Sky Cinema Passion , Sky Cinema Comedy, Sky Cinema Max, Sky Cinema Cult and Sky Cinema Classics).
TV Series Ticket: at a cost of € 9,99 per month, it allows you to view the best Sky TV series on-demand and offers access to Fox, Fox Life, Fox Crime and Sky Atlantic satellite channels in streaming.
Entertainment Ticket: always at € 9,99 per month allows us to access the documentaries and live streaming programs of some of the channels of the basic Sky package (Sky Uno, Sky TG24, MTV, Fox Life, Fox Animation, History, Nat Geo Wild, Eurosport 1, Eurosport 2, Sky Sport 24, Disney Channel, Disney Junior and Nick Junior).
Ticket Sport: at a cost of € 29,99 per month, it allows you to follow Sky channels dedicated to football and sports live. Taking advantage of this ticket we will be able to see 7 out of 10 Serie A matches per round and the matches of the UEFA Champions League, UEFA Europa League and some of the foreign football leagues (Premier League and Bundesliga). If we love other sports, we will also have the best events related to MotoGP, Formula 1, basketball, golf, tennis and rugby at our disposal. If we want to save money, we can also subscribe to cheaper sports tickets, capable of covering a day or a week (respectively at € 7,99 and € 14,99).
If we want to use Now TV on two different devices at the same time and benefit from high definition, we will have to subscribe to the
Plus option (+)
, which at a cost of € 2,99 per month (additional to the cost of the tickets) allows you to obtain the benefits mentioned above.
The Cinema, TV Series and Entertainment packages can be tried for free (all together) for 14 days
, so as to calmly decide whether to keep the service.
How to subscribe to NOW TV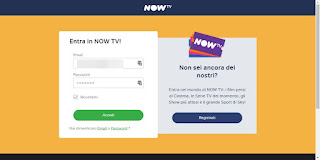 Joining NOW TV is really that simple! Let's open any browser on our computer connected to the Internet and go to the NOW TV site. Let's scroll the webpage a little, then click the button
Log in
which will appear at the top right.
In the new window that will appear, click on
Sign Up
, click on
try free
and fill in the required fields (valid email address and access password). A new page will now open where you can enter all your personal data: name, surname, telephone number, tax code, city, address, postcode and province of residence (all mandatory).
At the end of the compilation we click on
Proceed
and we set up a valid payment method to be used to pay for the tickets chosen on NOW TV; currently all major credit cards, prepaid cards and PayPal accounts are supported (we recommend using the latter). Now all that remains is to click on again
Proceed
to finish creating the account and log in for the first time.
Note
: at the end of the trial period, we will be asked which ticket to keep active for subsequent renewals. To change active tickets, click on at the top
My Account
and let's bring it to the voice
My offer
, so you can view the active offers and modify those already present.
How to watch NOW TV on PC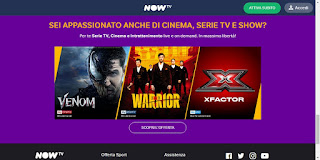 To watch NOW TV on a PC, simply use one of the compatible web browsers (Chrome 47 or later, Internet Explorer 9 or later, Mozilla Firefox or Safari for Mac) and access the NOW TV site, entering the access credentials created in phase d 'registration.
All contents and channels will be viewable in streaming directly from the browser, with the possibility of viewing in full screen at any time.
How to watch NOW TV on smartphones and tablets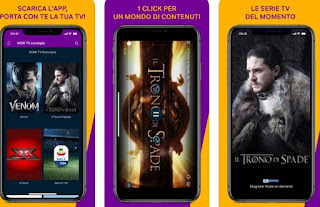 To be able to watch NOW TV on a smartphone or tablet, make sure the device has iOS 9 or later or Android 4.1 or later, then download the NOW TV app for Android or iOS.
To view NOW TV content, simply enter your login credentials and tap on the movie, the episode of the TV series or the channel to be viewed live. Due to security limitations, NOW TV cannot be used on devices with unlocked root permissions (on Android) and on devices with active jailbreak (on iOS).
How to watch NOW TV on TV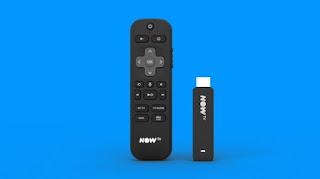 To watch NOW TV contents on our TV, we will have several methods available, so that we can access the platform quickly and easily:
App for Smart TV: the most convenient method, since it is sufficient to install or start the NOW TV app from the Smart section of the TV and enter the access credentials to access all the contents of the active ticket. All Smart TVs manufactured by LG, Samsung Smart TVs from 2012 onwards and other recent Smart TVs manufactured by Sony and Philips are currently supported.
NOW TV Smart Stick: if our TV does not have the Smart features or the NOW TV integrated app is not present, we can point to the dedicated Smart Stick. It connects to an HDMI port on the TV, connects to the Internet via the home Wi-Fi connection and allows you to view all NOW TV content at the highest quality.
Google Chromecast: if we have a chromecast connected to the TV, we can use it to watch NOW TV in live streaming, just start the cast from the app for Android and iOS (as seen in the previous chapter).
Game console: NOW TV app is currently available for Sony PlayStation 3, Sony PlayStation 4, Microsoft Xbox 360 and Microsoft Xbox One consoles, so you can view all movies, TV series and live streaming broadcasts using the connected console to the TV.
Vodafone TV: if we have the Vodafone set-top box, we can access the NOW TV app without problems to watch our favorite programs; it is currently included in the Vodafone TV offer.
As we can see we have so many different devices with which to access our NOW TV subscription on the TV, we will only have to choose the one that best suits our needs.
Conclusions
NOW TV is probably the best way to access Sky's best content without necessarily having to use a satellite dish and decoder. The channels available in streaming are of excellent quality, as are the contents available on-demand (we are on Netflix levels, at least with high definition).
Since NOW TV works via the Internet, we will need to make sure that our connection speed is adequate, otherwise we risk seeing sudden freezes, freezes and buffering. To use the NOW TV service it is sufficient to have an ADSL or fiber optic line of at least
2.5 Mbps in download
(standard definition).
To access the
high definition content
the bandwidth demand rises up to
at least 3.5 Mbps in download
, while to take advantage of the channels and films broadcast in
Super HD a 1080p e 50FPS
you must have a connection for at least
10 Mbps in download
.
In this regard, I invite you to read our guides for the
Check your internet connection speed
and how to choose the
Best Optical Fiber: check coverage and offers
.
If you use the Smart TV app or a game console for NOW TV, we recommend that you take advantage of the connection via Ethernet (more stable than Wi-Fi), perhaps helping us with the
Powerline technology
.