Recording a phone call can be useful in many ways. A feature of Android also allows you to keep your conversations. However, this is not yet deployed on all smartphones. Fortunately, there are free applications capable of storing a telephone exchange in memory. We detail all this in this guide.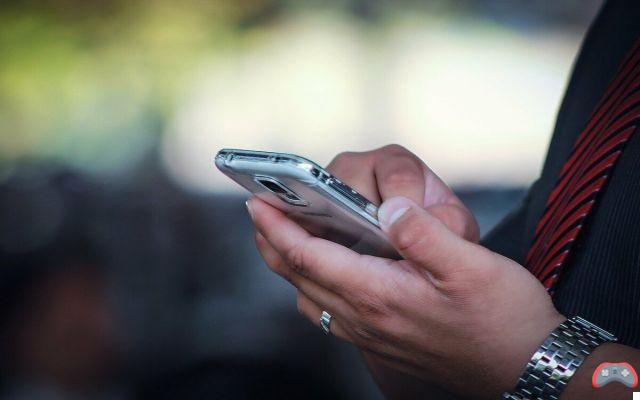 Several reasons can lead you to record a phone call. It can be a one-time need, like in the case of a professional conversation of which you don't want to forget any detail. The reasons can also be personal. And for those who wonder about the legality of this practice, the question does not arise if the interlocutor is warned and gives his consent, confers article 226-1 of the penal code relating to the invasion of privacy. .
Lire aussi >> iPhone: How to Record a Phone Conversation
How to Record a Phone Conversation on an Android Smartphone
Recently, it is possible to record a call natively on Android. To do this, you must ensure that the Phone application has been pre-installed and updated. You must also have Android 9 or another newer version. Recording a call is not rocket science. Here's how:
Go to the Phone app.
Make a phone call or wait to receive one.
Once the call starts, select Record (dot surrounded by a circle). You will then hear a voice indicating that the call is recorded.
Once you want to stop recording, press Stop recording (red square surrounded by a circle).
To find your recordings, go to Phone > Recents or click on History.
Note, however, that this feature is only available on certain smartphones and certain operators. It is also not accessible "in all countries or in all regions", specifies Google. Do not panic, the Play Store has several apps for recording phone conversations. Thus, we have selected for you two applications that play this role perfectly. And this for free!
Note in the preamble that the Google Play Store does not allow third-party applications to have access to the phone number during a call. This prevents recording a conversation with the corresponding telephone number. Nevertheless, the following two applications each have an editing tool, just to see more clearly in your recordings. In addition, be aware that the two apps will carry advertising if you do not opt ​​for the pro version.
Automatic call recorder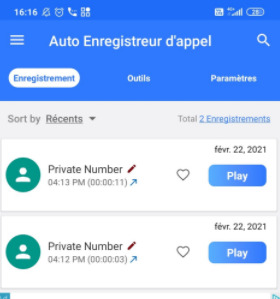 Automatic Call Recorder or "Call Recording" in the Spanish version on the Play Store is remarkably efficient. It is a free application which, as the name suggests, allows you to record phone calls. All incoming and outgoing calls are recorded by default. An option in the settings allows you to disable automatic recordings.
You can also set which calls to record and which to ignore. Conversations are kept in an inbox which takes up a certain amount of space on the smartphone's storage memory. It is possible to change the location of the audio files created by moving them to another folder or, for example, to the SD Card by going to the app settings, Recording Path section.
Once the limit is reached, the application automatically deletes old recordings to replace them with new ones. But you can choose to save the conversations that are most important to you to avoid deletion. Simply select each of the calls concerned and press Save. And finally, the application also allows calls to be saved in the Cloud (Google Drive and Dropbox) to free up space locally.
Click here to download "Call Recording" (free) from Play Store
Call Recorder ACR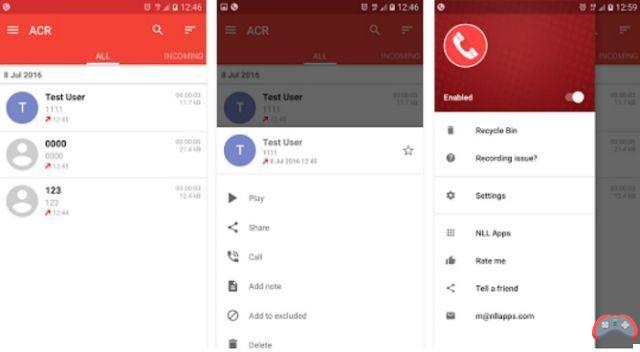 This is another phone call recorder that does the job very well. Its principle is very similar to that of Automatic Call Recorder. The application allows to record telephone conversations in different formats to choose from. Here too calls are recorded until the maximum allocated storage capacity is reached. To save an important conversation so that it is not automatically deleted, simply save it.
Call Recorder ACR also offers the possibility of saving certain conversations in the cloud, more precisely in Google Drive or Drop Box. This feature is only available in the Pro version.
Click here to download Call Recorder ACR from Play Store
Read also >> Android 12: release date, design, news, all about the next version of the OS
The editorial advises you:
Android: alternative launchers to test urgently
Android 12: release date, news, all you need to know
The OPPO Find N, the very first foldable smartphone from the Chinese manufacturer, is having a huge success in China. It's now out of stock as a million users have...The Google Pixel Fold might not have been discontinued after all. A newly discovered benchmark suggests it's still in the works. Google's first foldable smartphone may even be released soon.…A very handy Google Photos feature has quietly disappeared. Android users can no longer disable video backup via mobile data in the Google Photos app. A…Version 97 of Google Chrome is available today. However, one notable feature is a new attribute within the Keyboard API, which turns out to be quite controversial. Up to…