Transferring SMS and MMS to a new Android smartphone is easier than it seems. This is one of the first things to consider when buying a new smartphone. There are many apps that make this task easier for all versions of Android. In this tutorial, we will see how to easily save and then transfer your SMS and MMS to a new cell phone.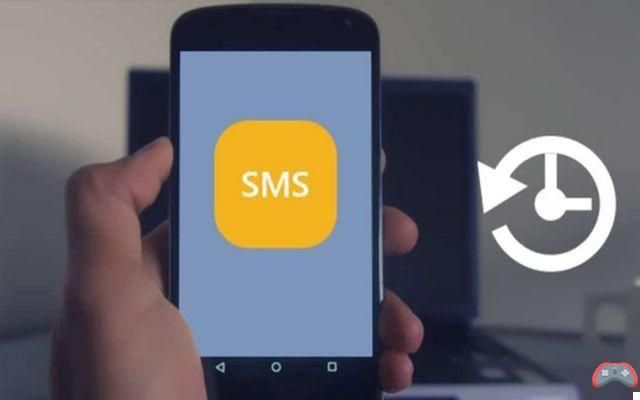 You have just purchased a brand new Android smartphone. You're excited to hold one of the latest tech toys in your hands. Then comes the slightly less cheerful moment when you have to configure it and start from scratch. You must install your favorite applications, recover your backups, but also proceed to the transfer SMS and MMS to your new smartphone.
Yes, SMS is not dead yet. It continues to withstand the onslaught of instant messaging apps. Data transfers usually require a lot of hassle, although cloud services now make backups and restores easier.
On Android, it is possible since several versions to back up contacts, Calendar, application data, photos, etc. through Google synchronization. But there was no option to back up his text messages to the cloud for future restoration.
This is possible since version 7.1.2 of Android (Nougat). Note that this does not save MMS. So all media contents in your messages will be lost. To transfer your SMS and MMS more simply, we recommend the application SMS Backup & Restore which is one of the most used. And it's not for nothing.
Android: how to transfer your SMS and MMS easily to a new mobile
SMS Backup & Restore is indeed very easy to use. You can proceed directly to the transfer of SMS and MMS via the Wifi Direct feature. The app also offers a gateway to backup SMS/MMS, but also call history for future restoration. Only downside, the Spanish translation is incomplete in some places.
But this is in no way a hindrance. Start by installing SMS Backup & Restore from the Play Store on both smartphones first. If it is not possible to have both phones at the same time, you must necessarily have made a backup on the old one before selling it. Go directly to the indications given in the following subtitle in this case. If you have both phones, follow these steps.
Make sure you have Wifi enabled on both phones.
Enable MMS forwarding. To do this, go to the application settings, then to backup settings and swipe the "MMS" option.
On the old smartphone, tap on the three horizontal lines in the upper left corner and then on Transfer.
Then tap "Send from this phone"
Follow the same procedure on the new smartphone, this time pressing "Receive on this phone"
The application carries out an automatic search and asks to establish a link between the two smartphones. On the old device, select the new one whose name will show on the screen once it has been identity. An "Invitation to connect" message will automatically appear on the new smartphone. Press Accept.
On the new screen that appears on the old smartphone, select "Transfer current text messages and call logs from your phone" and press OK.
The message "Do you accept the transfer" is now displayed on the new phone. Tap Accept and Restore.
SMS and MMS will be automatically transferred to the new phone after a backup. It now displays the message "Transfer successful". But that's not all.
The final step is to restore the SMS to the new phone. The application will precede the restore, but will first ask to be chosen as the default application. All you have to do is follow the instructions that appear on the screen.
Finally, restore your default SMS app by going to Android settings > Apps & notifications > Advanced settings > Default apps. Tap the default app you want to change, then tap the one you want to use as default.
Back up and then restore your SMS and MMS on a new smartphone
The first method poses a problem. You've probably thought about it. The old smartphone could already be sold before buying the new one. It could also be an exchange. In either of these cases, SMS Backup & Restore lets you save your SMS in the Cloud (Google Drive or Dropbox) for future restoration on another smartphone.
And if like some, you do not want to store your SMS on the web, you can also do it locally on your smartphone. You can then recover the data on a PC and then transfer it to a new phone later. An option in SMS Backup & Restore allows you to restore SMS very easily.
On the old smartphone:
Tap the three horizontal lines in the upper left corner and then tap "Back Up Now".
The application allows you to backup your SMS/MMS and call history. Tap Advanced Settings.
Then on "Media, images, videos and group messages" for MMS
Further down, in "Save location", tap MORE LOCATION OF SUVEGUARD. Choose Google Drive or Dropbox if you want to do it in the cloud. If, on the other hand, you want to store your SMS or MMS locally, activate the "Your phone" option instead. Then click Save.
The application will save your SMS, MMS in the folder reserved for it on your internal memory or SD card. Retrieve the SMSBackupRestore folder and copy it to a PC, external hard drive or USB key so that you can later transfer it to your new smartphone.
On the new smartphone:
Install SMS Backup & Restore, replace the SMSBackupRestore folder with the old one that was backed up on your storage media.
Open the app and go to the Restore tab
The application will ask you to restore the found backups. Tap "Restore" at the bottom right.
Follow the steps to the end. Your SMS and MMS will be automatically restored. As in the case of transfers by Wifi Direct, the application will first ask to be set as default for SMS. Accept and then redefine your preferred application afterwards.
The editorial advises you:
Android: how to program the sending of an SMS
Insufficient storage: how to clean your Android smartphone
How to transfer data from PS4 to PS5?
The ability to speed up or slow down a video on YouTube can be very useful. It was possible to do this in the web version of the platform for a while…Facebook allows you to deactivate the automatic playback of videos in your news feed. It's very simple, even if the path is not obvious to anyone who has never seen it...Google Chrome includes a reading mode that allows you to consult a page in optimal conditions. The functionality, however, is hidden in the bowels of the browser. In this tutorial,…It is easy to know if a contact has blocked you on WhatsApp, but some indicators can also trick you into believing it unfairly. So how do you know...