Starting with Android 5.0, the default Google Clock alarm app now allows you to wake up to music directly with Spotify. A new, completely integrated functionality which is therefore very easy to activate, alarm by alarm. We explain everything in this quick tutorial!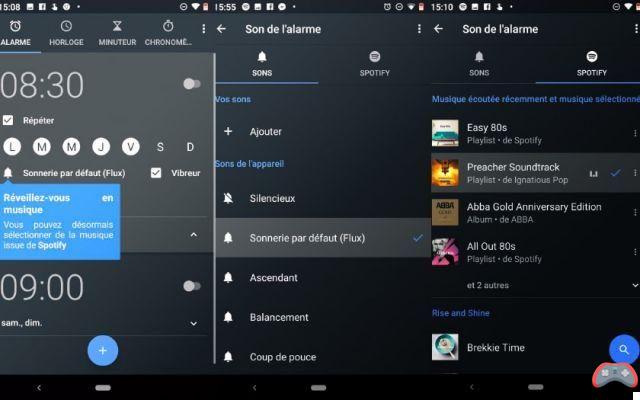 Google has just added a new feature to the default alarm clock app on Android smartphones: the app can now wake you up to music with Spotify! So you can start your day with a smile on your face with Devendra Banhart, Franck Sinatra, Janis Joplin and many more...
Android: how to put a wake-up call from Spotify
To wake up to songs or playlists on Spotify of your choice:
First of all, check that the official Google app and Spotify are up to date.
Open Clock
Touch tab Alarm on the top corner left
Select an alarm from the list, or create a new one
Touch the ? under the days of the week
Select the tab Spotify top right
Select a song or playlist
Click on the arrow at the top left to return to the list of alarms
Until now, you had to go through a third-party application to wake up to music from Spotify. This capability is part of the Google Clock v5.3 update that went live in early August in tandem with Spotify Music version 8.4.66.733. The change is available on all Android smartphones from version 5.0 and we can therefore only welcome the efforts of Google and Spotify to allow users to wake up to the rhythm in this way.
Have you noticed this feature before? What are your favorite songs to wake you up full of energy right now? Share your feedback in the comments of this article!