Here is our selection of the best weather apps on Android! To choose the right clothes before going out or to prepare your leisure activities beforehand, the selection we have concocted for you will help you spend the summer in a more serene way.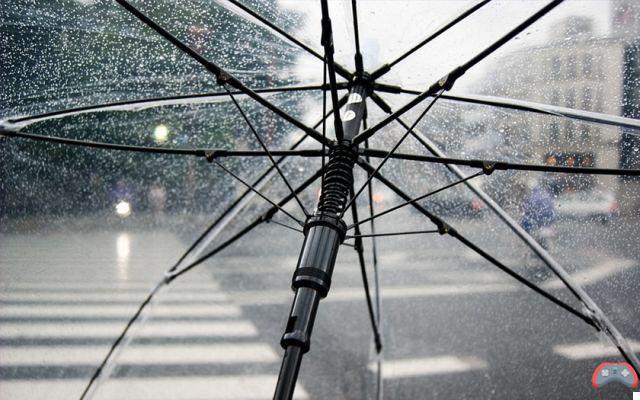 First reflex before putting on your shorts or your most beautiful tank top: we take a look at the weather! To help you see more clearly during this heat wave period, we have concocted a top best weather apps. The list below is obviously not exhaustive but it identifies the best proposals Android from the Google Play Store! If you want your precious phone to also survive the heat, we invite you to discover our other article talking about some tips if your smartphone is exposed to the sun.
Summary
Spain weather
Weather and Radar
Dark Sky
Klara Weather
1Weather
AccuWeather
WeatherSky
Yahoo weather
Meteo60
Go weather forecast
Amber Weather
Weather Today
Comments
Spain weather
Weather Spain is one of the most downloaded applications on the Google Play Store as well as on the App Store. Very complete and intuitive, the application offers you a detailed overview of the evolution of weather conditions hour by hour depending on where you are. Its radar mode, precise and based on real-time data, makes it possible to identify which areas will be affected by rain or snow. It is a real must both for localized and more global forecasts.
Cherry on the cake : Spain weather will also alert you to unexpected rainfall. Thanks to a detailed map of expected precipitation, the application will allow you to anticipate your outings and your journeys. Météo Spain also offers a collaborative mode that allows you to participate in the relevance of the information identified. Compatible with Android Wear, the application will also warn you of the city where you are at risk of flooding!

Weather and Radar
The Weather & Radar app gives you today's weather at a glance, anywhere in the world: quality hourly and daily forecasts, accompanied by the best real-time weather animation radar. You will thus have weather forecasts hour by hour and up to 15 days in Spain and around the world, access to a live global weather radar, bad weather alerts in the event of a dangerous phenomenon, the temperature of the water at the edge of sea, snow weather. The icing on the cake, this application comes with a very practical weather widget.

Dark Sky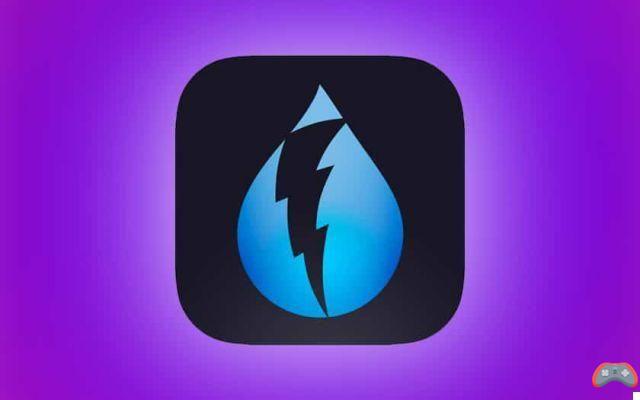 Dark Sky is the most accurate source of hyperlocal weather forecasts. The app offers up-to-the-minute weather forecasts. What to know if it will rain, and exactly when it will stop. The app is free and includes a full 24 hour forecast, detailed 7 day forecast, current conditions, multiple saved locations, historical data and beautiful weather maps.

Klara Weather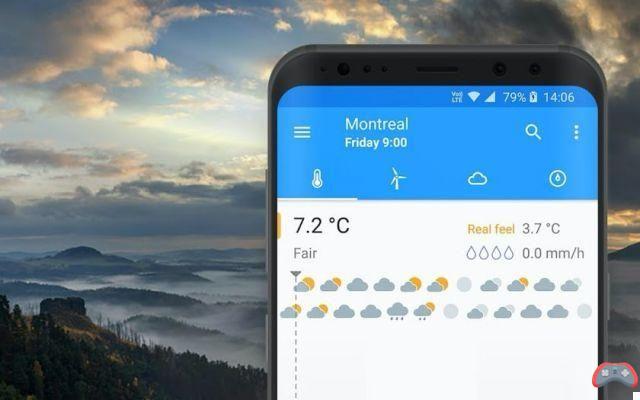 Klara has a very attractive interface using the codes introduced by Google. The graphs are also provides very precise data. The forecast goes up to 10 days and it is possible to select preferred locations. Several different color color themes are also available. We will especially appreciate its widget, very complete and clear.
The app is not as popular as those of some competitors. It recently passed the one million download mark. After staying for a while without an update, the application has been evolving regularly for a few months. It is worth a look and moreover it is free, so why deprive yourself of it?

1Weather
Here the emphasis is on the aesthetics of the application and in particular on its widgets which integrate very well with any desktop and agree with any launcher. The app is really very ergonomic. You can get around easily and you don't get lost looking for the information you want. Little more of this application, an educational side that will explain the meteorological terms that we do not always understand. In addition, it also offers some explanatory videos.

AccuWeather
Initially, AccuWeather was none other than the # 1 website for weather forecasts. Based in America, the private service comes in a multitude of languages ​​and keeps improving to maintain its leadership. The application itself is really very well done, it's rather beautiful, it's well thought out, you can easily navigate between the menus and the weather is really precise. Little more, the minutecast, that is to say a two-hour forecast to tell you if it's going to rain and if so at what intensity, really practical!
Finally it also offers very simple widgetss that allow you to have all the information you want in front of you. It's probably one of the best weather apps if not the best, and it's not for nothing that manufacturers like Samsung or HTC base their weather apps on AccuWeather.

WeatherSky
If you want precision above all else, why not turn to MétéoCiel? The Météociel application offers you weather forecasts from A to Z: short or long term, accompanied by forecast maps and live on many elements. What sets it apart from the others is the fact that it is extremely complete, and offers hour-by-hour forecasts from Weather Spain directly in its interface. Unlike other applications, MétéoCiel has many weather models to learn about.

Yahoo weather
We stand with Yahoo the most beautiful weather app that exists, if the aesthetics of an application are essential for you then you need Yahoo Weather as the weather application. Of course the weather forecast is also very reliable, because it is based on Weather Underground an personal weather station network. In addition to the weather, Yahoo offers to have a photo behind the weather related to the city where you are located, this photo is taken from Flickr, Yahoo's photo sharing service.

Meteo60
Most weather applications follow one another and look alike… Why not test the alternative? With Meteo60, it's real-time monitoring of rainfall and bad weather, access to satellite maps directly on your smartphone and 10-day forecasts for your region. The interface is not the most beautiful, even if it is extremely complete...
But then, what does the application do in this top? The asset of Metro 60 is to be community. These are in fact enthusiasts around the world which provide you with the information, in the purest spirit of Android. And you can participate in this effort! For this, the application includes a interactive map on which you can prevent ongoing weather incidents. But good !

Go weather forecast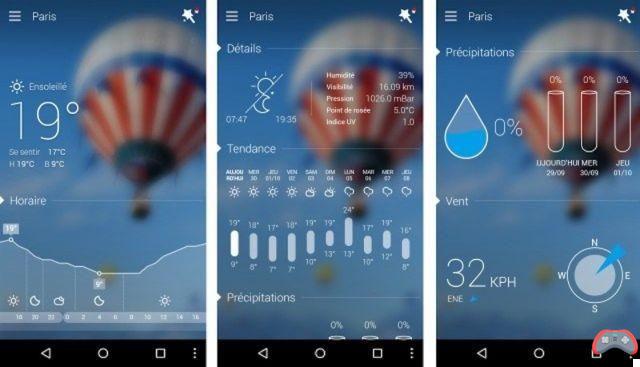 The Go app suite is very popular with Android smartphone users. This is a safe bet for those looking for a certain complementarity with other applications from the developer. The widgets provided enjoy a high level of customization, the weather is communicated hour by hour and it is possible to display satellite and radar images.
The app has been downloaded over 50 millions of times and has an overall rating of 4,5/5. This is a sign that this weather application satisfies the vast majority of users without forgetting that it is undoubtedly one of the most downloaded in the Play Store.

Amber Weather
Amber Weather offers a sober design with weather forecasts up to 7 days. Many details are communicated like the competition. The graphics are quickly understandable and attractive to use. Amber Weather is very popular on the Play Store and visibly inspires trust among users. At the time of writing, there are 256 reviews with an average rating of 000 / 4,4 and more than 5 million downloads through the search giant's application store are recorded.

Weather Today
Appreciated by Internet users, the Today Weather application offers a sober and complete interface. Elected among the best applications of the Play Store 2017 by Google, it stands out thanks to its neat interface, its very practical features (you will be warned in the event of rain, for example) and the accuracy of its forecasts. The icing on the cake: it's free!