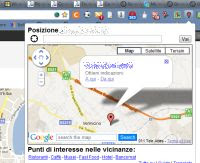 The most used application in the world to get directions on the fly and check addresses on the internet is Google Maps and, since Chrome is the Google browser, it becomes logical and obvious
Google Maps integration in Chrome
.
Google Maps already allows different customizations from the interface of its website, where you can save your favorite addresses to get directions faster, without having to manually type and always the home or office address. With Google Chrome and several extensions dedicated to Google Maps, you can instead do much more to improve the tool and use it for
get more information and faster
.
In this post then we see some of the
best extensions
, downloadable for free from the Chrome web Store, for
improve Google Maps on Chrome
.
ALSO READ:
20 Most useful and hidden Google Maps functions
1)
Google Maps in Chrome
is the application to quickly launch maps from the home card or from the application menu.
2)
Carbon Footprints per Google Maps
(disappeared)
Whenever you look for directions, at the bottom, Google Maps, also shows the cost in Euros of gasoline for that route. After installing this extension, for each route, the estimated CO2 consumption is also shown and, therefore, how much is polluted, including the number of trees that need to be planted to offset carbon emissions.
3)
Quick Maps
is a tool for searching for addresses found on websites, to see their position quickly in a box.
4)
Yelp to Google Maps
to search for places recommended by Yelp, including the top review sites for restaurants, hotels and tourist spots.
5)
Scroll Maps
it is useful on Macs, to move with two fingers on the touchpad and to zoom by holding only the Command key.
6)
Send To Google Maps
This extension for Google Chrome instead allows you to immediately search for a street address that is on an internet page, simply by selecting it. After selecting an address, you can right-click and then choose the new menu item "send to Google Maps" to get directions or to see the address on the map.
7)
Scribble maps
Anyone who makes a lot of use of Google Maps, especially to indicate road routes to others, should use Scribble to improve maps and draw on them. With this extension, you can draw lines with the mouse on the map opened in Google Chrome and create different types of markers, both graphic and textual. Any map drawn using Scribble can be exported as a Google Earth file or saved on your PC as a JPG image. To use Scribble without registration, you can install the application to be launched from the Chrome application board. Scribble is a very powerful web application for creating maps, even in the country.
8)
QR Code Generator
In fact, on Google Maps you can
generate the QR code of the directions
or relatively a position. Once the QR code has been obtained, it can be read by the camera of the Android smartphone or iPhone to save the address on the mobile phone and immediately obtain the driving directions on the navigator.
See in another post how to create QR codes for any information.
9)
GEO+
Using this extension on Chrome, a button is added to search for addresses on Google Maps.
Unlike Mini Maps, however, what you are looking for are photos of the street, the area sought or a particular place.
The photos are viewed in continuous scrolling in a slideshow and are taken by the Panoramio service to which anyone can add photos visible to all (See how to publish photos on Google Earth). To work, GEO + requires you to restart your browser.