From ActivationTrouble, we want to give you information on how to disable Play Protect. It is a Software dedicated to Computer Security and Privacy of your data for cell phones and tablets (Android). We recommend you to have located some Apps as well as the Google Play mobile App and your device settings.
How to Remove Play Protect
How to Disable Antivirus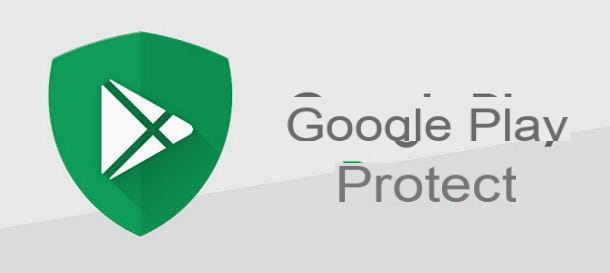 Before we get to the heart of this guide and explain in practice, how to disable Play Protect on Android smartphones and tablets, let me provide you with more information about this tool.
Play Protect is a security mechanism, integrated and active "as standard" on the vast majority of devices equipped with the Android operating system (and Google services, of course), with the aim of protecting the device and related data from potentially harmful applications, in multiple ways.
To begin with, Play Protect performs a security check of apps in the Play Store, immediately before downloading; it also periodically checks for the presence of harmful apps from sources outside Google's "marketplace" and, if the check yields a positive result, reports them. If the apps in question are already known, the tool automatically deletes them (then sends a notification about the operation just performed).
Play Protect can also quickly recognize and report apps that violate Google's policies for potentially unwanted software (i.e. apps that hide or provide important information in a misleading manner) and those that contravene developer policies (requesting permissions to acquire, in a veiled manner, the user's personal information).
Malicious apps such as those just described are generally not available in the Play Store, as they are discarded during the monitoring phase (even if there is some episode of distraction by "Big G"). However, Play Protect can also analyze apps downloaded in APK format, regardless of the market they come from.
I also want to clarify that Play Protect only performs the control and removal of harmful applications, but does not prevent you from downloading apps from unknown sources from the Play Store; therefore, if you want to install apps from unknown sources (an operation that I advise you not to do, in any case), you do not necessarily have to disable Play Protect, but act in the Android menu. Play Protect only analyzes and verifies the downloaded applications during installation, blocking them if they are harmful.
In light of what has been explained so far, personally, I advise you not to disable Play Protect protection, as it could seriously jeopardize the information residing on your device, unless you know exactly what you are doing and you are absolutely sure of the good quality of the apps you will install once the system is disabled.Understood? Well, then let's proceed.
How to disable Play Protect on Android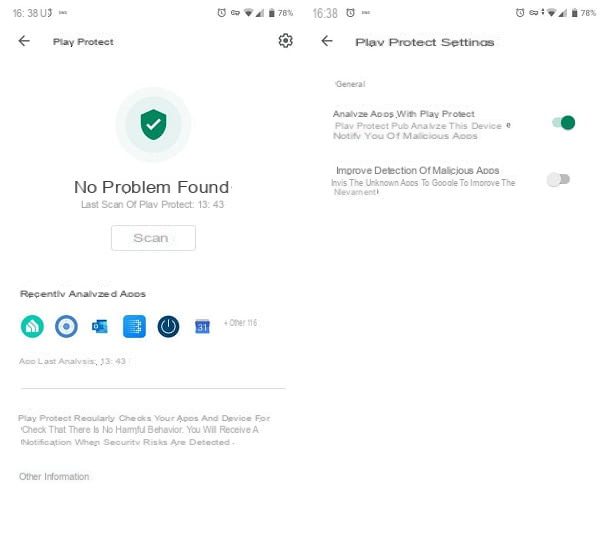 Are you well aware of the risks you face and want to know how to disable Play Protect on Android? If so, let me tell you how to proceed.
First, open the operating system settings by tapping the gear-shaped icon found on the home screen or in the app library, go to the security and location section and tap the item related to Google Play Protect. Alternatively, you can access the same menu by launching the Play Store (the colored ▶ ︎ symbol), tapping the button of your Gmail image located at the top left and selecting Play Protect from the displayed panel.
The main Google anti-malware screen, as you can easily see, displays a summary of the security issues identified on the device, along with the icons of the most recently scanned apps; when you see it, tap the gear symbol located at the top right, to access the utility's settings.
If you want to completely disable the security system, move to OFF the lever corresponding to analyze applications with Play Protect and tap the Disable button, to complete the operation. To prevent unknown installed applications from being sent to Google servers (in order to improve malware detection), move to OFF the lever to improve the detection of malicious applications.
I recommend: immediately after performing any operation that Google anti-malware could have prevented, reactivate it: to do this, go back to the Settings menu> Security & Location> Android Play Protect, tap on the gear wheel located at the top right and move to ON the switch located next to scan apps with Play Protect.
Other ways to disable app scanning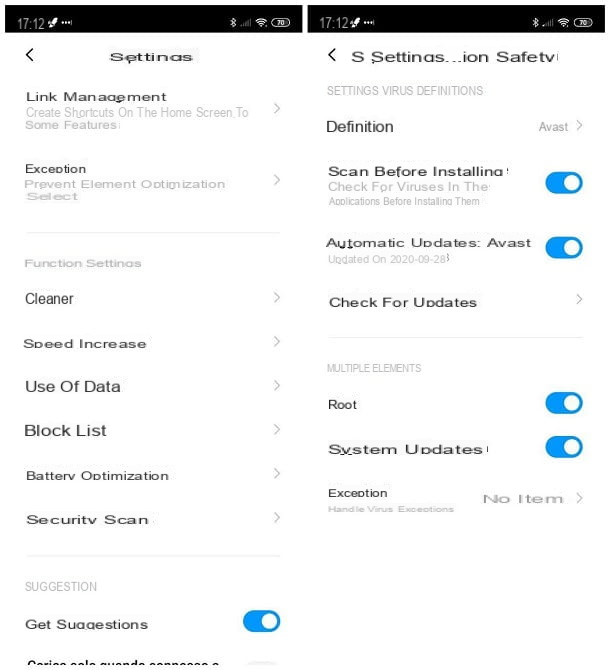 As an additional security measure, some versions of Android highly customized by manufacturers (such as Xiaomi's MIUI, Samsung's UI or Huawei/Honor's EMUI) have next to Play Protect, a proprietary security system, able to verify the quality and integrity of applications and, if they are harmful, quickly block their installation and / or execution.
Needless to say, if you need to install an application that is not "frowned upon" by certain protection systems, you will have to disable them in advance. Generally, the option to do this is found within the security panel built into the device, which is called device service/device maintenance, on terminals like Samsung, and on Huawei and Honor it will be phone optimizer/management.
On Xiaomi devices, however, it is possible to manage the application control settings using the security option, which can be opened via the icon (in the form of green shield) resident in the MIUI library: once open the aforementioned application, tap the gear symbol at the top right, select the item security scan from the menu that appears and move to OFF the corresponding toggle to scan before installing.
Also in this case, my recommendation is not to proceed with disabling scanning in applications for security reasons or, if it is really necessary, re-enable it as soon as possible.
Google Play Protect For PC
As far as I understand, Play Protect is only available for Android mobile devices or tablets, so unfortunately, it is not available for PC.
Google Play Protect Disable Android TV
To disable Google Play Protect on an Android TV device, you simply have to replicate the same steps that we discussed above, as if it were a mobile or tablet. Therefore, you will have to go to thePlay Store(the symbol ▶ ︎ colored), and tap the button of your Gmail image located at the top left. Next, you will need to selectPlay Protect from the panel displayed. After hitting the gear icon, you will have to move to OFF the toggle toscan apps with Play Protect and tap thedisable button, also, you will have to move toOFF the toggle toimprove the detection of malicious apps.