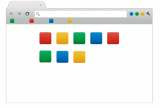 When a new version of Google Chrome browser comes out, most people don't even notice because the update is silent and without warnings. Honestly, it would be useful at least a notification to notify users of any new functions so as to allow them to use them.
In
Google Chrome
there is a function that allows you to
create multiple profiles for using the web browser
. These profiles can be linked to
different Google accounts
therefore, those who have multiple accounts and those who share the use of the computer and Chrome, can
browse with your own settings, with your favorites and installed extensions
.
This means that if two people use the same PC, they can browse Chrome using two different profiles with two different Google accounts and all settings synchronized.
To create new profiles in Chrome
you can press on the little man icon at the top right where you can add a new user by giving him a name, choosing a symbol icon and use the option to add a desktop shortcut that opens Chrome directly in that profile.
When adding a new user, a new browser window opens from which you can customize Chrome, choose the apps to be displayed for quick access, choose the background of the first tab and then, optionally,
log in with your Google account
e
synchronize all settings
, installed applications and bookmarks saved on that Google or Gmail account. To switch from one profile to another, just click on the icon at the top right and switch accounts. Each profile can also be edited by changing the name and icon.
A profile may also not be linked to a Google account and remain only local, on that computer.
From the Google Chrome blog you can read that this function is not a security setting anyway and that, although you can change your profile, nothing prevents you from browsing the browsing history of other accounts. So, if you are using a PC that is not your own, you must never log in to Chrome because the account password remains stored.
ALSO READ:
How to use the login menu on Chrome with guest mode
.
You can go here for
download or update Chrome
manually.