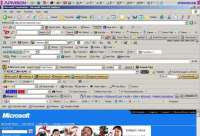 Your Internet Explorer
there has always been the possibility of installing new ones
toolbar
, that is, of the
menu bar
with buttons dedicated to the use of a particular website. Any site can create toolbars very easily and can advertise them on their own web pages. The most famous Toolbar is that of Google which allows you to search on the search engine without having to access the main Google homepage.
Toolbars are a great way to force inexperienced web surfers, who still use Internet Explorer as their browser, to visit their site and are one of the most notorious deceptions to bring visits, absolutely
to delete
.
With modern browsers such as Firefox, Chrome and even Internet Explorer, toolbars have essentially become obsolete, but programs, so-called
crapware
, which modify the behavior of browsers, for example by changing the homepage or the default search engine or by showing more advertisements, are presented in the form of hidden extensions and plugins.
Toolbars often cause Internet Explorer and other browsers to slow down, take up space and sometimes even open
security flaws
very dangerous. The most popular toolbars, often included in free program downloads, are Yahoo !, Google, Facebook, AOL, Ask, Nero, Wikipedia, and many more. Most of the time, users are notified that a toolbar has been installed; other times, however, they are installed without users' approval.
In these cases it comes to
real malware, spyware and viruses
who steal information about internet browsing and transmit it elsewhere.
To remove toolbars and crapware
quickly and painlessly, they are there
external tools that automatically scan and remove any unwanted toolbar or program
.
1) In the guide for
remove Babylon toolbar, Ask, Facemoods and other adware
the program is reported
Adwcleaner
, one of the best for removing all adware programs and toolbars.
2)
Junkware Removal Tool
, by MalwareBytes (it has now been abandoned and integrated into ADWCleaner) is a security utility that searches for and removes adware, toolbars, and potentially unwanted programs from your computer.
The program is fully automatic, operates aggressively and leaves no choice as to whether or not to keep what is detected and removed.
Junkware Removal Tool has the ability to remove the following types of toolbars or programs: Ask Toolbar, Babylon, Claro / iSearch, Conduit, Facemoods / Funmoods, Ilivid, Iminent, IncrediBar, MyWebSearch, Searchqu, Web Assistant, Hola, Alexa as well as extensions of Chrome that do monitoring.
3)
Crap Killer
is a mini-tool that detects crapware programs, ie those considered useless that activate themselves and modify the behavior of web browsers, to give the user the possibility to quickly remove them.
Tried, it proved to be excellent, fast and effective.
4) The portable tool, which does not require installation,
Multi-Toolbar Remover
allows you to delete multiple toolbars completely and instantly. It supports the removal of many popular toolbars, including Google, Yahoo !, AOL, Comcast and the Ask Bar.
5) The program, on the other hand, is very effective and complete
Smart Toolbar Remover
which can uninstall several toolbars in Internet Explorer.
This time the program is not just an uninstaller with only default settings but one
scanner
aimed at
find and remove toolbars installed on Internet Explorer
.
After the automatic search, the names of all the menu bars appear and click the Uninstall button to those to be removed.
6) Great too
Toolbar Cleaner
capable of removing all the toolbars installed on Internet Explorer in one go.
7)
Per Chrome
, there are tools to check for dangerous extensions installed.
Browser toolbars are a real nuisance, they don't add any utilities, mess them up, slow down internet loading, change settings, and are often viruses.
Toolbars are one of the types of programs that should never be installed on your computer
Dangerous toolbars are usually found and removed even with malware removal tools such as MalwareBytes or Superantispyware.