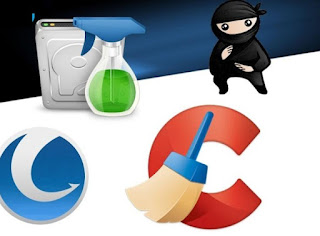 One of the most debated and requested topics in computer forums and blogs is certainly that of
privacy
, which is very difficult to obtain on the internet, but which needs to be fully protected, without giving up the main services. From the moment you turn on your computer,
all your IT activity is tracked
and when browsing the web, this activity can also be seen from the outside.
Not only does the PC itself continuously store data that allow us to precisely trace everything that has been done in the past, but with the online tracking tools even the websites and applications used are able to monitor our activities on the internet with a data collection more or less declared.
While we had seen in another article how to prevent the collection of personal data online with some anti-tracking tools, in this case we focus on
PC privacy
of the data stored on the disk, for
clear traces of use from a computer
, in order to hide, from those who use it after us, everything that has been done, which programs have been opened, which files have been modified and created.
ALSO READ:
Clear web browsing tracks from all browsers
To delete personal traces
from a computer it is necessary to install an external program because Windows does not have an integrated tools to clean up the traces of use of the computer.
What you can do from Windows is the operation of deleting temporary files, which mainly serves to free up space from obsolete files.
In Windows 10 it is also possible to disable the activity history, a recent function that allows you to resume past work and find what has also been seen on the web.
Regarding internet browsing
, we have seen several articles in which it is explained, how to delete the internet browsing history and also how to prevent browsers from memorizing the sites visited.
To do an overall job to maintain full privacy on how the PC is used
, however, it is worthwhile to download one of these
programs
which are specially designed for the purpose of
eliminate all traces of use of the computer
.
1) The most popular and famous program of this type is surely
CCleaner
which has the function to eliminate the traces of use of the programs.
The cleaning function is the one to use to clean up Windows and the traces of use of the main programs.
This tool is also one of the best because it is possible to expand the cleaning rules of Ccleaner.
2)
Privazer is the program to clean up Windows and remove traces
, described in detail in another article.
It is a program specially designed to delete website cookies, clear the history of recent and temporary files, remove the cache of image previews and much more, going all the way.
3)
Glary Utilities
is a computer optimization program that has a very complete privacy section, excellent for eliminating all files created while using programs on a PC.
4)
Comodo System Cleaner
is a program similar to Glary utilitis, with many tools to optimize the PC, which also has a section called Privacy Cleaner, with three levels of cleaning, one soft, one normal and one aggressive that resets practically every setting changed on the system and eliminates the history of used programs and the internet.
5)
System ninja
is the program to use for those who are not satisfied with a basic cleaning and really want to delete any temporary or history file, removing all traces of use.
6)
privacy eraser
is available as a free version with a beautiful easy-to-use interface with which you can do a full system scan. The program scans the usage traces of many important programs and folders. As for web browsers, there is the removal of cache, passwords, history information, cookies, typed URLs and Internet Explorer, Firefox, Chrome, Safari and Opera preferences.
The program supports 50 programs including Adobe Reader, 7-zip, Malwarebytes Anti-Malware, Foxit Reader, Evernote, Windows Media Player and if you use Windows 8 also the Store apps. There is also the option to add registry locations to check.
Privacy Eraser comes with a set of additional tools including:
- File Shredder to delete files and folders permanently;
- Clear drive free space;
- Startup Manager to disable startup programs.
7)
Free Privacy Editor
is a program for Windows 10 and Windows 7 and 8.
It eliminates and
it removes the data left over after using the pc
deleting those references to the documents and files used and to the sites visited on the internet.
This does not mean that the files created or modified are deleted but only that the evidence of what has been done is destroyed, removing traces, for example, from the recent documents folder.
With Free Privacy Eraser you can therefore delete them all with a click
temporary files
, the internet addresses entered, the cookies,
the chronology
and any
passwords used and autocomplete data
stored on Internet Explorer, Firefox, Chrome and Opera browsers. On Windows you can delete traces of recent documents, logs, temporary files, copy and paste data and what is inside the recycle bin. You can then delete the temporary data of all the programs used on your computer such as, for example, Emule, 7Zip or WinZip or Winrar, Windows Media Player or Real Player, Google Earth, Safari, Quicktime and several others.
If there is no program whose traces you want to delete, you can add it by clicking on "Custom List" where you can configure various programs whose usage data you want to remove. In this case, however, it is necessary to indicate the folder of temporary files generated by that program and the path on the system registry where any passwords or login data are saved. After choosing what to delete, you can press the "Test" button to check precisely what is being removed and how much data would be deleted.
8)
MRU Blaster is the program to clean up MRU lists (recently used)
, simple and dedicated to automatically generated lists showing recently used files.
9)
Privacy Cleaner
is a complete program that allows you to delete all traces and the history of use of the computer and internet browsing.
It deletes temporary files and recent Windows files, browser cache and history (Opera, Internet Explorer, Firefox), documents opened with Office (Word, Excel, Powerpoint), Java and Flash references and the history of music and Windows Media Player video.
ALSO READ:
Protect internet privacy and see what the web knows about us