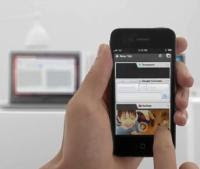 The Google Chrome browser becomes universal and after that the version for Android phones and tablets has arrived
Chrome also for iPad and iPhone
and it works very well even if there is a premise to do.
Since Apple restricts how applications open the web, the different browsers that can be installed on iPhones and iPads still have to rely on the default Safari browser. Like the others, therefore, Chrome also provides practically only a different navigation interface, based on the rendering engine of Safari Mobile.
However, this is not a problem, both because Safari works well and is fast, and because Chrome adds all those functions that Safari lacks, including data synchronization. While at the first versions Chrome on the iPhone was slower, now it is as fast as Safari, canceling that initial deficit.
Install Google Chrome on iPhone or iPad?
If, therefore,
you are used to using Chrome on your computer
, you can take advantage of the
card synchronization and visit the same sites from your pc and phone
. In fact, when you log into Chrome on iPad and iPhone, you immediately get access to your favorites, passwords, search history and open tabs on other devices, including computers. You can also choose what to synchronize in the app settings, for example excluding the import of favorites. In Chrome there is the
synchronization of open tabs between devices
, really useful and practical in everyday computer life.
As for the graphics, both on iPhone and iPad, Google Chrome has its own distinctive design identical to the Android version. On Chrome there is also the mode of
browsing in incognito
to avoid saving the sites you visit in the history.
Chrome per iOS (
Apple link
to download it) is an excellent alternative browser that has the distinctive feature of the competition in synchronization with the PC, especially recommended for those who already use this browser in the version for the computer.
In another article, others
10 free browsers for iPad and iPhone alternative to Safari
.
Below, the video presentation of the synchronization function between Chrome devices.