Google Photos is currently testing new search filters. With this novelty, Google wants to facilitate the search for photos within the application. In particular, it is possible to search for photos showing a particular person. To take advantage of this new feature as soon as possible, we encourage you to update the Google Photos application.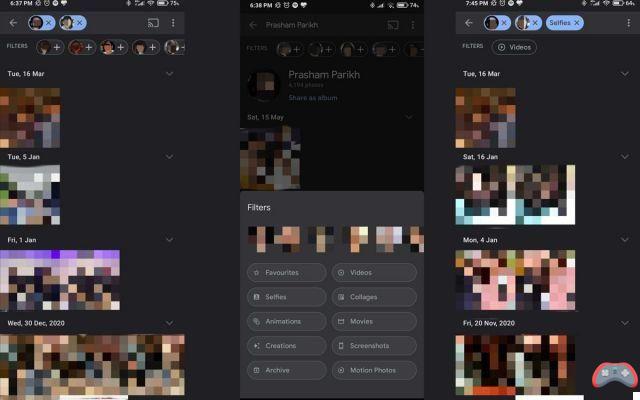 According to our colleagues from Android Police, Google is currently testing a new system to easily search for images within the Google Photos Android application. This system of filters, similar to that deployed recently on the Apple App Store or on the Play Store, improves the operation of the search bar.
Google now displays a row of filters just below the search box. To refine the image search, just select the terms corresponding to what you are looking for. In particular, it is possible to filter selfies, videos or even screenshots. Properly used, these filters speed up the search for a specific image.
Google Photos will make it easy to find a person's photo
Search filters also make it easier to find the photo or video of someone you know. The Google Photos application indeed displays filters with the image of a person. By clicking on the corresponding filter, the search bar will display only the photos where the chosen person is present. By choosing several filters, you can easily find a group photo where several individuals are featured.
According to Android Police, the search filters are part of a small-scale server-side test. Nevertheless, Google should not delay in offering the novelty to all users. To take advantage of the filters as soon as they are deployed, we advise you to update the Google Photos app via the Play Store.
If no update is available, it is also possible to install the latest Google Photos APK by going to APK Mirror. If you don't know how to go about it, we advise you to take a look at our file how to download an APK on Android. What do you think of this novelty? We are waiting for your opinion in the comments.
Source : Android Police