Vodafone TV: what it is and how much it costs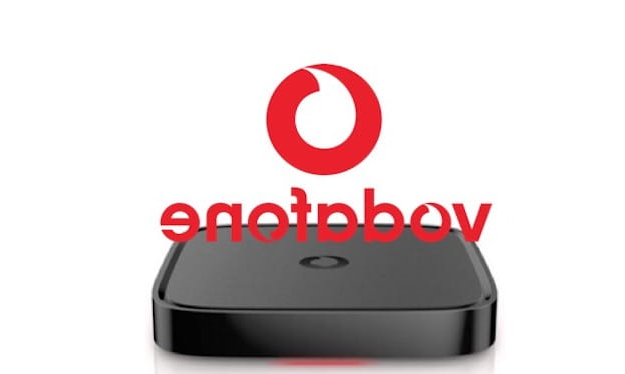 As I mentioned in the introduction, Vodafone TV is an exclusive service reserved for Vodafone customers who have signed up for an offer for optical fiber, thanks to which it is possible to watch content from various platforms, such as NOW TV, Netflix, CHILI, Infinity and YouTube. Users who decide to subscribe to this service are provided with a small black set-top-box (complete with remote control), equipped with HDMI port, Ethernet port and Wi-Fi support, which must be connected to the TV to lose viewing the content available on the basis of your subscription.
There are various subscription plans to the Vodafone TV service, each of which has different costs and allows you to view various types of content: below, you can find summarized the plans that you can subscribe to when I write this guide.
Vodafone TV + NOW TV Entertainment and TV Series - This plan includes all the shows, TV series and other contents of the NOW TV Entertainment Tickets and TV Series, as well as digital terrestrial channels and you have many other on-demand content designed for the family. The NOW TV Entertainment Ticket includes 13 channels so you don't miss the Sky Uno shows, as well as Eurosport TV series, news, documentaries, and sporting events, children's programs to watch even on demand and much more. Also included is 12 months of Amazon Prime with Prime Video. This plan costs money 10 € per month.
Vodafone TV Sport Plus and NOW TV Sport - this plan allows you to watch all the sport of Sky in Super HD, taking advantage of the vision of 23 channels to follow the Serie A live with 7 matches out of 10 for each round, the entire UEFA Champions League and the UEFA Europa League exclusively, the Premier League, the Bundesliga, MotoGP, Formula 1 and the main tennis, golf and much more tournaments. Also included are 12 months of Amazon Prime with Prime Video and 6 months of DAZN. It costs 30 € per month. By activating the plan it is possible to have a discount of 10 euros per month if you are a Vodafone Fibra customer.
Vodafone TV Sports Plus and Entertainment and NOW TV Sports, Entertainment and TV Series - for those who want to "merge" the plans listed in the previous lines, it is possible to activate this offer which, for a monthly cost of 40 €, includes all the benefits included in Vodafone TV Sport Plus and NOW TV Sport, Entertainment and TV Series. Also in this case, 12 months of Amazon Prime with Prime Video and 6 months of DAZN are included and it is possible to have a 10 euro discount on the fee of your Vodafone Fibra offer.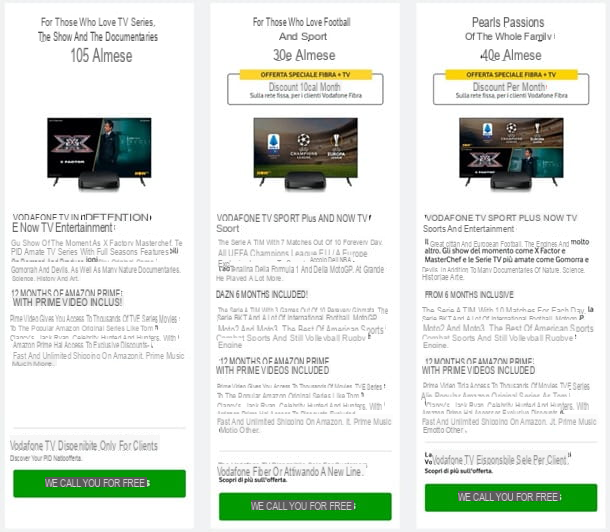 Furthermore, at the time of writing, those who subscribe to one of the aforementioned Vodafone TV plans can take advantage of the free viewing (for a certain period of time) of the contents on Infinity and CHILI, as indicated below.
Infinity - by subscribing to Vodafone TV it is possible to take advantage of 6 months of free subscription, then it is possible to continue watching the contents of Infinity at the price of 4,99 euros / month instead of 7,99 euros / month for another 6 months.
CHILI - by subscribing to Vodafone TV it is possible to take advantage of the viewing of some films in the CHILI catalog.
It must be said that, in some promotional periods, those who activate a fiber offer FTTH (Fiber to the Home) it is possible to receive a monthly discount on the activation of the Vodafone TV service. Furthermore, it is possible to try the Vodafone TV service for free for three months and, once the trial is over, choose whether to continue using it or not (valid only for new activations). More info here.
Offers to activate Vodafone TV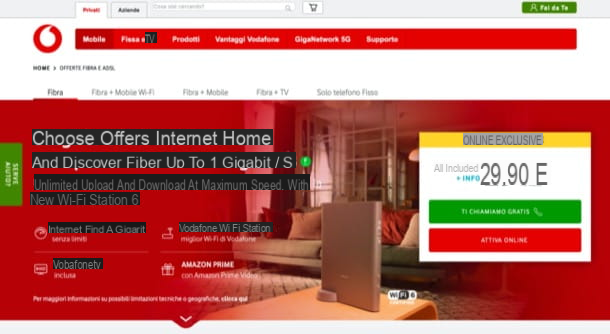 Now, after considering Vodafone TV's plans and costs, it's time to see in detail what the Offers which include this service. I repeat again that for activate Vodafone TV, you must have a fiber offer or, in any case, an Internet line that has a speed greater than 8 Mega. Here are some examples.
Unlimited internet - this package consists of an Internet line up to 1 Gbps in download and 200 Mbps in upload, calls to all national fixed and mobile numbers. Also, the plan includes Vodafone Ready, to receive immediate activation, assistance and remote configuration; the modem Vodafone Station, the option Safe Network Plus for the first 3 months (then it deactivates automatically) and, of course, Vodafone TV.
Giga Family Infinito Edition - it is an all-in-one bundle for calls, Internet and mobile lines, as it allows you to take advantage of the advantages made available by Vodafone's fixed and mobile networks. As for the fixed part, it includes unlimited calls to national mobile and fixed numbers, the activation included in the fee (1 euro / month for 24 months), 6 months of Amazon Prime with Prime video and a data SIM with 30 GB of data traffic + Vodafone Ready included in the fee (6 euros / month for 48 months), modem with Wi-Fi optimizer and Vodafone TV. On the mobile side, however, the offer includes a SIM with unlimited Giga at the maximum speed of 10 Mbps + SMS and unlimited minutes to everyone. The cost of activating the SIM is 5 euros in promotional periods, otherwise it is 31 euros.
Fixed + Mobile Wi-Fi - this plan, in addition to including everything that is present in the Internet Unlimited offer (therefore also Vodafone TV), includes a data-only SIM with 150 GB per month. Usually the purchase of a portable router is also included in the offer fee (provided that the offer is activated online).
As far as the 'activation, all offers have an activation fee of 24 € which is usually reset during promotional periods. Unless otherwise stated, a contractual obligation of 24 months: in case of early termination, it is necessary to add to the cost of deactivating the service, which amounts to 28 €, the amount of any promotional discounts that you have benefited from and / or any installment amounts that have not yet been paid.
By activating the aforementioned offers with the Vodafone TV option included, the Vodafone TV Box is sold free of charge in merchandise discount. Within 90 days from the activation of the service it is possible to withdraw without receiving any charge of the residual installments of the activation cost and of the Vodafone TV Box, provided that it is returned within the following 30 days. If the return does not take place, Vodafone will require the payment of a penalty of 90 €. Furthermore, after 90 days from activation, if the withdrawal is made, any residual installments of the cost of activating Vodafone TV must be paid, equal to 2 euros for the number of remaining months up to a maximum of 48 months.
To proceed with the activation of the promotion, then, follow the guided procedure that is proposed to you indicating yours common,address and House number, then presses the button NEXT and, on the page that opens, provide the other requested data.
On the page that opens, you will be shown the type of line that can be activated at the address you provided: press the button Activate online and follow the on-screen instructions to complete the subscription to the plan you have chosen, combined with the Vodafone TV offer.
Have you already subscribed to one of the Vodafone offers I mentioned earlier and would like to know if it is possible to combine it with one of the aforementioned Vodafone TV plans? Of course it is possible! To do this, you need to log into your area do-it-yourself and subscribe there to the Vodafone TV option you prefer. Then connect to this page and, after providing your account credentials in the appropriate text fields, click on the button viol Log in to log in.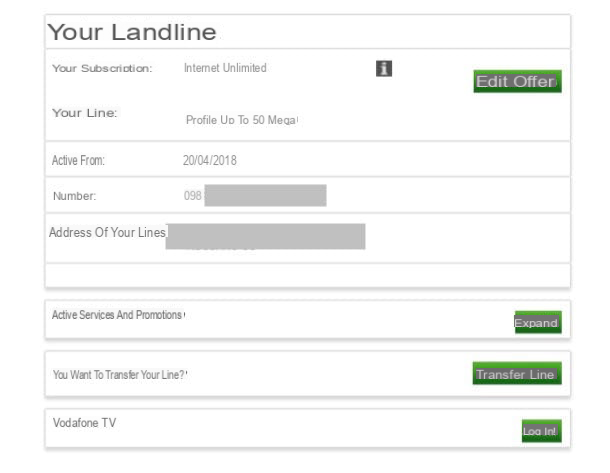 Finally, press the tab Proposal located at the top, click on the link Active offers and, under the box Your offer, locate the button Log in placed next to the wording Vodafone TV and follow the instructions on the screen to activate the plan you prefer.
How to activate Vodafone TV