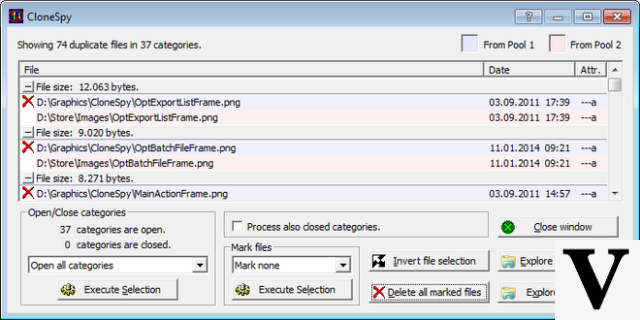 I duplicate files they are a real problem. They take up unnecessary space in the computer memory and also make the regular backups. Tracking them down and eliminating them is one of the tasks to be done to restore speed and momentum to our PCs.
We often do not know why our computer can no longer load programs or the performance is noticeably worse. In most cases, the reason is to be found in the duplicate files present inside the our Windows pc. Being able to find them can be complicated, fortunately there are several programs that analyze the hard disk of the computer and go in search of the duplicate files. Each software has its own characteristics and functionality and you will need to find the one that best suits your needs. Here you are the best programs to delete duplicate files on Windows.
Duplicate Cleaner Pro 4
One of the best solutions to find and delete duplicate files is the Duplicate Cleaner Pro 4. This solution has one flaw: it is not free. However, it offers an optimal cleaning system and has several very specific features, useful for restoring speed and excellent performance to our Windows computer. There is also the trial version, which we can test before completing the purchase.
dupeGuru
If we look for one free solution one of the best is dupeGuru which is divided into three versions based on the tasks it performs: dupeGuru, dupeGuru Music Edition and dupeGuru Pictures Edition.
As mentioned, it is a service totally free which, as you can guess from the names, also has two versions dedicated to the exclusive cleaning of music and photo files and videos. Music Edition can find the same MP3 even if encoded differently. Just as Pictures Edition finds the same photo even if it has been cropped or rotated in a different way. DupeGuru is a sistema open-source and it won't install malware, junk files or annoying toolbars on your PC. One of its strengths is the very intuitive interface. Even those who have never used such systems will instantly understand how to start the cleaning of their files. Finished the analysis we will see all duplicate files and we can decide whether to delete them all or select them manually.
Duplicate Cleaner Free
This solution, made by DigitalVolcano, is a free version of a paid package. During the installation no malware and no junkware will be downloaded. In short, it is reliable. The interface is very clean and easy to use. The developers have come up with a great product with the hope that the user will then buy the paid package.
VisiPics
As the name suggests this solution is perfect for performing a scan of the photos very similar and eliminate the duplicates that weigh down the memory of our computer. The photos with different filters, resized or rotated are reported to us as duplicates and we will decide whether to keep them or whether to permanently delete them. If we often work with many photos, or if we are photography enthusiasts this is probably the most suitable solution. VisiPics is free.
Duplicate File Finder
Duplicate File Finder is free software, but it uses a different system from the others. Scan all files and separate those that are identical in size. At this point he checks them to see if they are duplicates or not. This means that Duplicate File Finder may not be as reliable as other solutions already mentioned but it sure is the faster method to perform a scan, quite accurate, if we have a large amount of files. It also has an unattractive interface, but it is easy to use.
How to find duplicate files on Windows