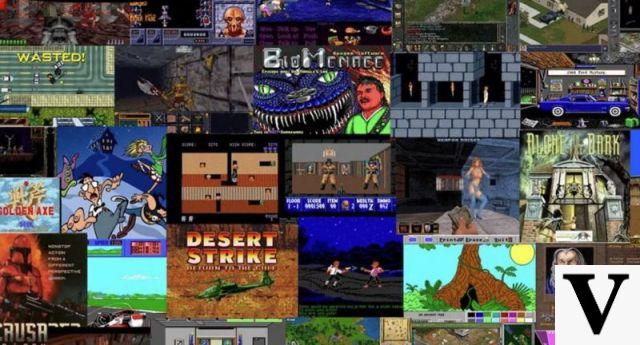 Il retrogaming, or the passion for classic videogames, is experiencing a second youth. Thanks above all to the various consoles of the past that Nintendo is deciding to revive. Fans of old PC video games, on the other hand, can rely on DOSBox, a platform that offers the games that made history.
In recent years, the rediscovery of the games of the past has become a real passion. Nintendo itself recently presented the mini SNES. That is the legendary console of the nineties revisited in a modern key and with 21 classic titles inside. But this is just a drop in a sea of ​​news for video game enthusiasts. On different Stores of smartphones there are the classic games Atari and Sega. And to play with it, all we have to do is install an application. The speech becomes complicated if we are passionate about video games for old Windows systems. But with DOSBox they can finally go back to playing old video games.
DOSBox
How it works DOSBox? Simple, it is a program that allows you to play on recent Microsoft operating systems (from Windows XP upwards) titles designed for old versions of Windows, and now no longer compatible. In practice it will be like having a games room on your home computer. To start playing just download the program and install the latest version of DOSBox from the official website. The software is compatible not only with Windows 10 but also with Linux and Mac operating systems. And there are also three applications for Android smartphones. AFreeBox is the only free one.
Front End
The fundamental problem of DOSBox is that to use it you need minimal computer knowledge. Therefore it is not really recommended for all users. Fortunately though to allow all people, even for those with less knowledge about it, front ends have been created. Nothing complicated. These are some graphical interfaces that allow for a simple one video game management. These Front Ends have been developed for both Windows and Mac and Linux. On Windows the most used is LaunchBox while on Mac Dapplegrey. On Linux the reference front end is DBoxFE. These are also used to save progress made in the game.
Bring them for abandonware
The easiest way to find games is to go to a site where you can download a abandonware. That is a game to which the license has not been renewed. The risk of installing these files is to find malware inside them. This is why it should be done only from reliable sites. Among these we surely find Abandon. Abandonia collects all that series of videogames whose copyrights have expired. And even those that are no longer supported by the manufacturer. The site was founded in 1999 and after a few years of anonymity it has really started to have great success. So much so that today Abandonia collects more than a thousand different video game titles and has over 100 thousand registered users. The site focuses on DOS games which can be chosen by name, release date, rating or category. Also Abandonware DOS it is a reliable site and as you can guess from the name it specializes in DOS titles. It also has a good archive of old video games for Windows. But, of course, nothing recently. The site is very active and has reviewed every title within it to help the user make the right choice. You can browse games by title, rating or release date. You can also see specific information and previews of the game before downloading it. Another reliable site is RGB Classic Games. The portal has a wide range of classic DOS games, even unreleased titles, and there are even some "modern" DOS titles. Obviously always dated when compared to video games of recent times. The site's goal is to preserve games made in the past for operating systems that are no longer available, such as CP / M-86, OS / 2, Win16 and Win9x, to name a few. In the end Remain in Play is a site that differs, in part, from the others listed so far because it refuses to include titles that were released for free since their launch. This site therefore has several titles marketed for years and which are now no longer found because they have been abandoned by the manufacturer. The interface of the site is really annoying, with a black background and bright writing, but Remain in Play will give you several satisfactions if you are a nostalgic gamer.
LaunchBox
So far we have seen the theoretical part. Now let's see in practice how installare LaunchBox to use the DOSBox front end on Windows computer. And then to finally be able to play the classic video game titles of many years ago also on today's PC. First we go to the official website of the program and download LaunchBox. IS compatible with all Windows higher than 7. Once the graphical interface is installed, we will have a relatively modern program available. For those used to Steam it is a platform that more or less performs a similar task. To choose the categories of games just browse from the platforms present (in this case if we are interested in the old PC games we choose the Windows item). In this section we will have to add the game code that we downloaded from one of the previously listed portals where abandonware is located.
How to play old pc games with DOSBox for Windows