Several software allow you to take video screen captures on both PC and Mac. But did you know? Thanks to the powerful VLC player, it is also possible to achieve the same without installing anything else. In this article, we'll show you how.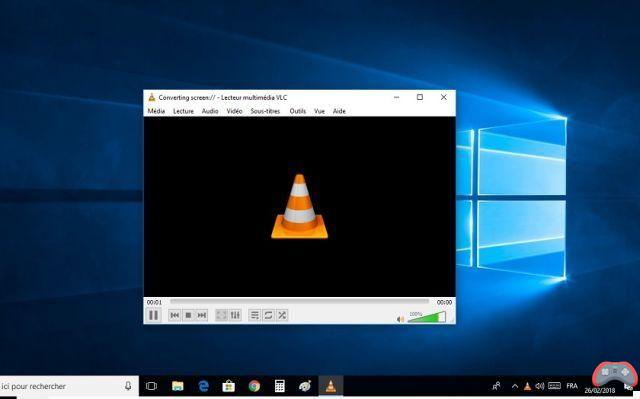 VLC is a veritable Swiss army knife in the media player market. In addition to being able to read any video format that you present to it, it has other unsuspected skills. Like the ability to record the contents of your computer screen, just like you would with any other video screen capture software. And the icing on the cake, VLC also allows you to do live streaming or alternatively save the captured content locally on your hard drive.
VLC: how to take a video screenshot
Nothing like a capture video screen to share your knowledge and experiences with friends or a wider audience. The need is for example very common among gamers. But it is useless to invest in an application which will cost several tens of euros. If you have VLC, you can do this for free. The recorded file can then be shared. Here is how to record your computer screen with VLC software.
It is assumed that the player is already installed. Otherwise, do it. It is available for download on the publisher's website
Open VLC. Click on "Media" in the Menu bar, then on Open a capture device
A window opens and is by default positioned in the "Playback device" tab. Change the DirectShow capture mode to "Desktop"
At the "Frame rate for capture" option, change the framerate to your liking. For example, you can set it to 30 or 60 frames per second, or even more if you wish.
At the bottom, click the drop-down box around "Read" and select the "Convert" option. Set your output preferences, choose a destination folder, then click Start
When done, click on the stop button and the video file is automatically saved in the chosen location.

To live stream the screen content, the process is slightly different. Instead of the "convert" option, choose "Stream" from the drop-down list and fill in the streaming preferences. We will come back to this in a more complete article.
The editorial advises you:
How to take a screenshot
How to take a screenshot on Windows 10?
How to change the default screenshot location on Mac?
The ability to speed up or slow down a video on YouTube can be very useful. It was possible to do this in the web version of the platform for a while…Facebook allows you to deactivate the automatic playback of videos in your news feed. It's very simple, even if the path is not obvious to anyone who has never seen it...Google Chrome includes a reading mode that allows you to consult a page in optimal conditions. The functionality, however, is hidden in the bowels of the browser. In this tutorial,…It is easy to know if a contact has blocked you on WhatsApp, but some indicators can also trick you into believing it unfairly. So how do you know...