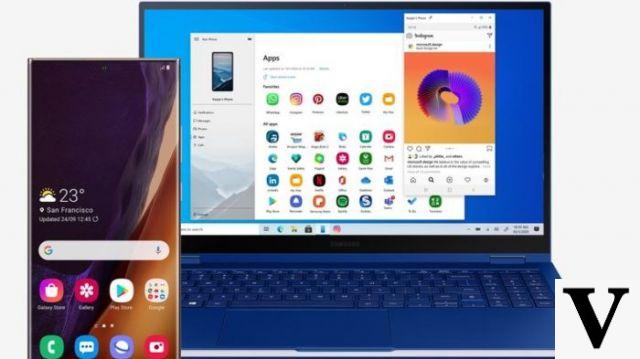 You may not know, but starting with Windows 1803 Update 10 (i.e. the 2018 April Update) you have the ability to use your Android apps on your PC desktop or notebook. To do this, you just need to install the Your Phone app on Windows, which you can find in the Microsoft Store.
Microsoft has made this feature and this app available for bridge the gap between the mobile galaxy and windows created with the withdrawal from the market of Windows Phone, substantially abandoned by Microsoft itself for over a year but officially deceased only in January of this year. After a first presentation of Your Phone in early October 2018, Microsoft has now started making it available for the first smartphone models. Thanks to the Your Phone app, it is now possible mirror your smartphone in a Windows window to use your Android apps on a Windows 10 device with a mouse and keyboard. Convenient, isn't it?
Check compatibility with Your Phone
First of all, we must point out that Your Phone's mirroring functionality is currently very limited: only very few smartphones can use it: Samsung Galaxy S8, S8 +, S9 and S9 +. In the future it will also be brought to other mobile phone models, as long as they have two features: Android 7 or higher operating system and supporto al Bluetooth Low Energy Peripheral Role. Of course, the PC must also support this Bluetooth functionality. To check this last requirement on your computer just open Device Manager by searching for it in the Start menu, then go to Bluetooth, select the Bluetooth controller of our PC and right click> Properties. In the list of Properties we will have to search for and select "The Bluetooth radio supports the low consumption peripheral role": if the value will be , then our PC will not be able to mirror the smartphone, otherwise it will.
How to activate Your Phone mirroring
If both our PC and our smartphone are compatible with the Bluetooth Low Energy Peripheral Role and with the Microsoft app, then we can mirror your mobile on Windows 10. After downloading and installing Your Phone we will need to activate Bluetooth on your computer and smartphone and pair the devices. At this point, just open the Your Phone app to see the mobile phone screen reproduced on our PC or laptop monitor. Now we will be able to use the mouse and keyboard to open and use the smartphone apps and, when we're done, just close the Your Phone app to go back to using the phone normally.
How to use Android apps on Windows 10