The App Store refuses to install an application on your iPhone or your iPad because your version of IOS is too old? With a little tweaking, you can grab and use the latest version of the app compatible with your device.
Electronic products are not eternal. Especially in the world of mobile where everything ends up being obsolete, even unusable. And when it's not for a hardware problem – dead battery, damaged connectors, broken screen, etc. –, it is because of the software, in particular the operating system which has become too old. Apple does things pretty well in this area by providing its iPhones and iPads with iOS updates for five or six years after they are on the market. But once this period has passed, the device no longer benefits from new versions of the operating system. As a result, it is no longer possible to install certain applications directly from the App Store that require a recent version of iOS. When we try, we get a message like: "This article requires iOS 13.0 or later. To download this article, you must update your device to iOS 13.0."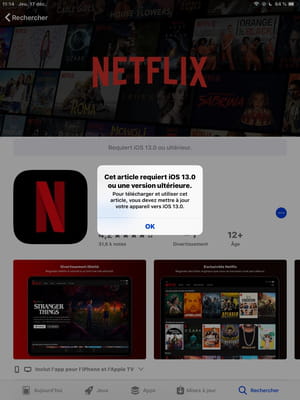 Should we therefore condemn an ​​"old" iPhone or iPad to the scrap? No ! Because even if it can no longer receive iOS updates, it's a safe bet that a smartphone or tablet over five years old still works very well. So an iPad mini from 2013 – this is just one example among many – still has an excellent Retina display, ideal for reading e-books or watching videos on YouTube or Netflix. The problem is that this model is limited to iOS 12 and that Netflix, precisely, now requires iOS 13 at least. Hence the error message that appears when trying to download the app. And the most frustrating thing is that the App Store is perfectly capable of offering the very latest version of the application compatible with an older version of iOS – one wonders why it is not offered by default: Apple would he like to push us to change the device?
Still, with a little trick, you can easily recover a previous version of an application still compatible with your somewhat old device. There are three simple ways to do this, all based on the same principle: to make the app you are looking for appear in your list of purchases on the App Store. Keep in mind, however, that "latest version compatible with your system" does not mean "latest version". In other words, the application that you can install on your device will probably not offer you all the latest functions. And if you miss these, you will have no other solution than to invest in a more recent model...
How to recover an old version of an application already installed on iPhone or iPad?
If you have already installed an application on your iPhone or iPad at least once, you can reinstall it without any problem. To do this, simply display the list of all the applications that have already been installed via your Apple account.
On your mobile connected to the Internet, open the App Store.
In our example with iOS 12, press at the top right of the screen on silhouette ou on your photo, if you have one. Then press Shopping in the panel that opened.

If you have adopted the Family Sharing function, the list of all family members is displayed. Choose the name from the person who has already, at least once, installed the application you need.

Find the app by scrolling down the list or use the search box at the top to type in its name.

Then press cloud icon displaying an arrow pointing down, located to the right of the icon of the application concerned.

And there, miraculously, a message offers you to download a previous version of this app. Press on Download.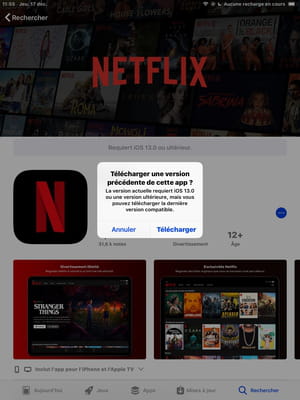 Once the installation is complete, you can use the app in its version compatible with your device.
How do I temporarily use a newer iPhone or iPad to recover an app?
If you never installed an app before it became incompatible with your iPhone or iPad, one solution is to temporarily use a newer device to recover it. Indeed, it will then be part of the applications associated with your Apple account and you can reinstall it via the My purchases list, as explained above. If you don't have a sufficiently recent device, ask around: a friend, a family member or even a colleague may be able to lend you their device using iOS 13 or 14 for the few minutes needed to complete the operation. .
Here again, we are going to retrieve an old version of Netflix to install it on an old iPad, but via an iPhone with iOS 14. The method is identical regardless of the app sought, as long as it is referenced on the 'AppStore.
On the recent device – here an iPhone – go to the Settings, then press the name of its owner at the very top.

On the next screen, tap Multimedia content and purchases.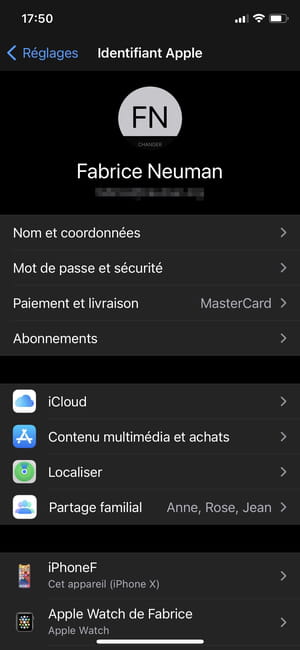 In the pane that slides out from the bottom of the device, choose Sign out. Confirm by tapping a second time on Sign out in the message that appears in the middle of the screen.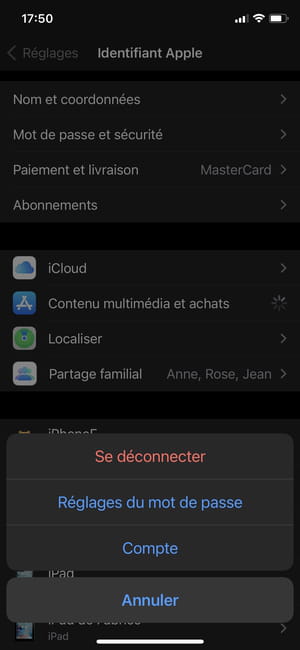 Then tap again Multimedia content and purchases, to sign in to your own Apple account.

If your Apple account is protected by two-factor authentication, which it most likely is, look on your own device for the message that tells you about a request to sign in to your ID on a new device. To push on To allow to display the validation code. Enter this code on the device you were lent.

You can now go to the App Store through the recent device to search there for the app you need on your older device.

Install the app on the recent device. It will now be part of the list of applications linked to your own Apple account. You can immediately uninstall it from the recent device – especially if you have been lent it – via a long press on its icon on the home screen.
Once done, go back to the Settings, Press on the name of the owner, then again on Multimedia content and purchases. And log out of your account.
You can now return the device he lent you to the owner while you add this app to your own list. He will be able to reconnect to his own account without any problem.
Go back to your shopping list on your older device: the app you were looking for is there. All you have to do is download it in a previous version, as explained above. That's it !
How to use an old version of iTunes on computer to recover an application?
If you can't install the desired application directly on an iPhone or iPad – old or new – as explained above, all is not lost. You can use another technique using a computer (Mac or PC) by installing iTunes on it. Or, more accurately, an old iTunes version. Indeed, the most recent versions of Apple's software for Windows no longer allow you to manage iOS applications. As for the macOS environment, iTunes simply no longer exists there: the application has been split into several independent modules to manage music, podcasts, etc. Please note that the Mac version also requires a relatively old version of macOS: iTunes 12.6.4 will not work with Mojave (10.14), Catalina (10.15) or Big Sur (version 11). And, therefore, not on the brand new Macs with Apple M1 chip either.
In our example, we're using the PC version, which works great with Windows 10 to recover an older version of the Netflix app.
Download the 12.6.4 version suitable for your computer via one of the following links.
Download iTunes for 32-bit Windows
Download iTunes for 64-bit Windows
Download iTunes for macOS
If you have already installed iTunes on your PC, via the Microsoft Store as shown here, consider setting aside the file beforehand. iTunes Library.itl, located in the folder Music/iTunes from your PC.

This file contains the index of your entire current iTunes library, which an older version will not be able to read. For example, drag it to the Desktop.

If you forget to do this before installing version 12.6.4 via the link above, don't panic: an error message will tell you that you cannot use this version precisely because of this library file.

Proceed to install the old version of iTunes.

Once the installation is complete, launch iTunes. In the search box at the top right, type the name of the application you are looking to install (Netflix in our example) and choose Store, so that the search is carried out in the Apple store and not on your PC.

In the list of results, click Netflix app icon.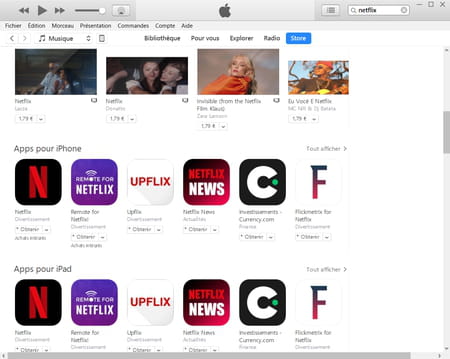 Click on Obtain in the next screen.

Then sign in to your Apple account, with your username and password and, if applicable, the validation code sent to your device if your account is protected by the two-step verification system. Once done, the Netflix app for iOS will be downloaded to your PC. You won't do anything about it, but now this application is part of your collection.

On your old iPad or iPhone, go to your shopping list to find it there and install the latest version compatible with your system, as indicated above.
Install apps on iPhone or iPad with an older version of iOS
Contents Via the App Store Via a recent device Via iTunes Electronic products are not eternal. Especially in the world of mobile where everything ends up being obsolete, even unusable. And when it's not...