The iOS 15 update comes with an overhaul of the interface of Safari on iPhone. Apple has notably relocated the search bar at the top of the screen. To go back, and not change your habits, just follow the tutorial below.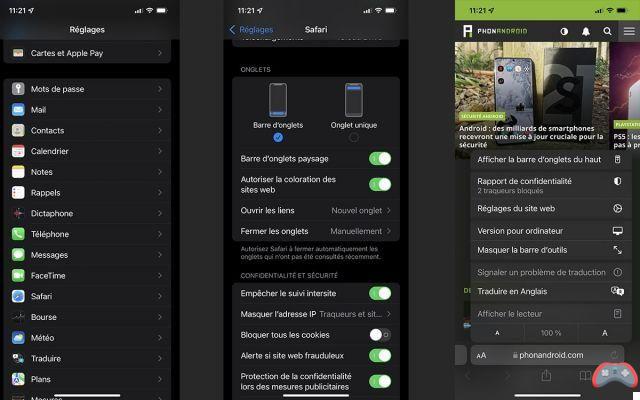 Apple has just started rolling out the iOS 15 update to all compatible iPhones. The update includes a series of new features, such as spatial audio on FaceTime or the SharePlay function. The Cupertino giant also offers Safari a bold new design.
Now Apple places the search bar at the bottom of the screen with tools like tabs, bookmarks and history access. To switch between tabs, just swipe the touchscreen with your finger.
Also read: How to install iOS 15?
How to keep Safari design after iOS 15 update?
This new location is more convenient to use Safari with one hand, especially on larger iPhones like the iPhone 12 Pro Max or iPhone 13 Pro Max. Apple has also skipped the usual color of Safari. From now on, the web browser is based on the color of the interface of the web pages consulted. This mode is more immersive.
However, this drastic change is not to the liking of all iPhone users. Some prefer to stay true to their habits and keep the traditional interface of the web browser, with the search bar and all control buttons at the top of the touch screen.
Fortunately, Apple allows you to restore the old design of Safari, even on iPhones that have upgraded to iOS 15. To undo this change, just follow the steps below:
See you in the Settings from your iPhone
Go to Safari (between FaceTime and Bourse)
Go to the section tabs
Check layout Single tab to bring the search bar back to the top
uncheck Allow website colorization so that Safari regains its original color
Note that it is also possible to revert to the old layout directly from the Safari interface. To do this, simply press the aA button at the bottom left of the screen. A menu will then appear on the iPhone screen. Simply choose Show Top Tab Bar. To return the bar to the bottom, click aA again.