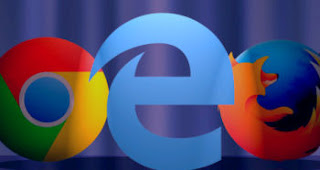 Internet Explorer, rightly or wrongly, had come to represent a symbol of bad work for Microsoft and, even with the most recent versions, the reputation was so compromised that it forced Microsoft to build a whole new browser, starting from scratch.
With the release of Windows 10, Microsoft has therefore decided to give up making a new Internet Explorer and try it instead
Microsoft Edge
, completely different from IE, both in graphics and in internal design. After several years, given that Edge use never took off, mainly due to the lack of extensions and the fact that it could only be used on Windows 10, Microsoft made another important change, releasing a completely new version in 2022. , based on Chromium, the same project that is behind Google Chrome.
As seen, it is therefore possible to download Microsoft Edge Chromium for Windows 10, Windows 7, 8 and also for Mac as well as for Android and iPhone.
It then becomes interesting to see how the new behaves
Edge 2022 compared with the two most used browsers in the world, Chrome and Firefox
.
ALSO READ:
guide, features and tricks for Microsoft Edge
1)
Speed ​​and performance
Any speed differences between web browsers are small by now, so it's not really to be considered as a variable of choice. We certainly can
run the performance test and benchmarking of browsers on our computer to find that, almost irrelevantly, Chrome and Edge are faster at loading websites than Firefox. The speed speech is also very related to the extensions used and all three browsers can slow down their performance a lot if there are many active extensions.
The fact remains that Edge and Chrome, if they are set to run in the background (it's one of the advanced settings), are faster to open than Firefox. Edge and Chrome also have a built-in task manager, absent in Firefox, which allows you to
The options to speed up Edge loading are a plus absent in Chrome and Firefox.
2)
Initial card
The default home tab, the one that appears when you open a new tab and without the use of extensions, is super minimal in Chrome and Firefox, while in Edge it's more beautiful, modern and customizable. Edge shows today's news at the bottom, which can be something of a welcome addition to just the most visited site boxes that are in Chrome and Firefox. Obviously, we cannot forget that for Chrome and Firefox there are extensions to have a more personalized start page than ever, depending on your preferences.
3)
Reading mode
In Edge and Firefox, just press a button to activate the reading mode of an article in order to eliminate all the unnecessary, including advertisements. Read mode also has a button to have the content of a web page read aloud, which works very well. A read mode for articles is also present in Chrome, but it's still an experimental feature right now.
4)
Security and Privacy
Browsers are the most vulnerable programs to hacker and virus attacks because they are exposed on the internet. Both Firefox and Chrome and Microsoft Edge (which are now based on the same design) receive constant security updates and integrate isolation technologies that make it harder for malicious sites to infect PCs. As for privacy, however, it is a question of choosing the company to which to entrust your internet browsing data, including Google Chrome, Microsoft Edge and Mozilla Firefox. Obviously, since Mozilla is a non-profit organization, it is normal that it is much more reliable than multinationals like Google and Microsoft that do business at all levels.
5)
Simplicity
Modern browsers are all quite simple to use and configure, with a single menu of options divided into various categories. The Microsoft browser will be very familiar to anyone coming from Chrome, as they will find almost the same options.
Do not underestimate the possibility that only in Edge is natively present, to activate the vertical tabs.
6)
Extensions
The new Edge is compatible with Chrome extensions, thus closing the gap that the old Edge had. In terms of extensions, the Chrome Web Store is certainly richer than the Firefox extension store, which is much more limited today than in the past.
Edge also has its own Extensions store and we have seen in another article, the best extensions for Edge.
7)
Sharing of web pages
Most people, when they find an interesting article, would like to share it today on Facebook and Twitter or send it via Email.
The share button is native to Firefox and Edge, but is missing in Chrome (where there is instead a button to send the page you are looking at to your smartphone or other devices).
The advantage of Edge in sharing features is that links can be sent to other applications, a bit like on Android smartphones and iPhones.
10)
Content synchronization
This is a feature that has always led me to prefer Chrome over any other browser. In fact, if you use Chrome with the connected Google account, I can change computers and even browse from my smartphone, taking all my favorites, history and even passwords with me.
In Edge there is the same functionality, identical, only that instead of making a backup and synchronization on a Google account, it is done on the Microsoft account. Both Edge and Chrome, if you use the same browser on your smartphone and on your PC, synchronize your history and favorites data so that they are available in the same way.
ALSO READ:
Which is better between Firefox and Chrome?
In conclusion, Edge 2022 certainly becomes a valid option, on every PC and also on Mac, comparable to Chrome for all internal functions, while Firefox has, more and more, a user who wants to keep away from the hands of large companies such as Google and Microsoft.