Connected to the Internet, smartphones and tablets are a gateway to a universe where you can find everything. Left unrestricted within the reach of children, it is highly to be feared that they will be used for purposes that are far from appropriate. To have peace of mind, parents can use applications specially designed to monitor the use of mobile devices. Discover our selection of the best parental control apps for Android.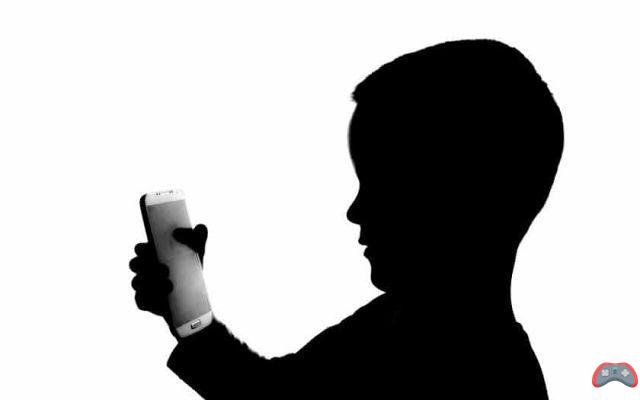 There is more than one reason to control the use of smartphones among the little ones. It is not only a question of preventing access to adult content or any other content that may prove to be compromising for their safety. Some parental control applications allow, for example, to limit the time spent on other applications or on video games. Also, in case you share a device with your offspring, never lose sight of the fact that you could end up with exorbitant expenses with games that are heavily loaded with in-app purchases. Because you don't have to live in constant worry, we're going to show you 5 apps to set up parental controls on Android devices.
Family Link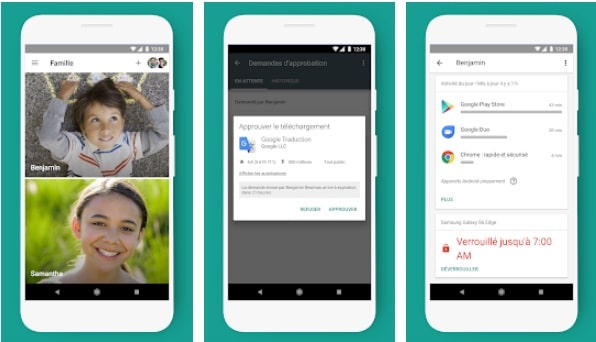 Family Link is a new parental control app from Google. It was designed to help parents define strict rules to control children's habits on Android smartphones and tablets, but also iOS. Create a Google Account for your child (under 13), sign in, and manage which apps your child can use or how much screen time they can spend. You also have the option to lock the device remotely when it's time for homework or bedtime, among other things. All activities can be controlled from another Android or iOS device.
Download Google Family Link from Play Store
Kaspersky Safe Kids
The publisher is no longer to be presented. But what few people know is that Kaspersky also offers a cross-platform parental control app. Also available on the Play Store, it offers many free features: blocking access to content and applications for adults in addition to other web filtering options, creation of a list of sites and applications that can be blocked or authorized, limitation of the time of use of the device, etc. The application also offers paid options, including a geolocation option that allows you to track the position of your children on a map using the GPS function. Receive alerts when they leave defined areas, etc.
Download Kaspersky Safe kids from the Play Store
Locategy
A very complete parental control application, one of the main features of which is to track the location of your child. Like the solution offered by Kaspersky, you can also receive alerts when the child arrives or leaves the defined places (home, school, etc.). The application also includes a web filter to block access to pornographic content or other sites deemed dangerous, in addition to the possibility of having a view of the history of the web pages consulted. Like the other parental control apps in our selection, you can limit the hours of use of each app, define when nothing works (time to go to bed, to do homework, etc.).
Download Locategy from the Play Store
Qustodio Parental Control
Like Locategy and Kaspersky, Qustodio also allows you to track the geolocation of your children. A premium feature to which are added many other options such as a web filter to prevent access to pornographic and harmful content. Track kids' web activity, decide which games and apps they can use and when, limit screen time, and more.
Download Qustodio from Play Store
Kids place
Kids Place is a simple yet effective parental control app. It allows you to create a secure area on the smartphone via a kind of launcher on which the applications authorized to be launched are displayed. Calls, texts, installations from the Play Store and other functions are blocked by default. You can add as many authorized applications as you wish, the others are de facto inaccessible. An excellent way to confine your child to the use of the applications you have chosen. A function also allows you to set a usage time limit for each app. Some options are chargeable.
Download Kids Place from the Play Store