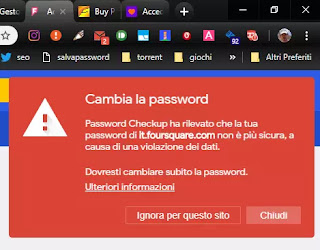 In an effort to protect its users' data, Google has launched a new one
Chrome extension
which works automatically and
check that the password used to access any website is not compromised
.
A compromised password means
a password that has already been discovered by hackers or included in lists circulated on the internet. It is not certain that our password has been discovered for that account we try to access, but that, being linked to an account of a website whose data has ended up in the hands of hackers or which have been disseminated in lists that all can download, it becomes completely ineffective.
Thanks to automatic tools, in fact, it becomes possible for anyone to try that password on all the most important sites that can be accessed via an email address. If that same password is used on multiple sites, then anyone can access our web accounts on Facebook, Gmail, Youtube, Poste and any other.
While, as already explained, it is possible
check if your email address and password have been stolen
and disseminated in public lists, now with this Google extension it will be possible
receive a real-time warning to change your password if the one entered to access a site has been compromised
.
Google
provides one
automatic tool to check for compromised passwords
Internet accounts stored in your manager (You can save passwords to your Google account for automatic login).
By opening the site passwords.google.com, you will find the list of all passwords saved by Google when using Chrome or an Android smartphone.
At the top of the page it is possible to run the Password Checkup tool, which does a complete check of all stored passwords, highlighting in red those that need to be changed immediately because they are compromised, that is, because they are passwords that are widespread in the now public lists of stolen passwords. In addition, the tool also warns about web accounts where the same password has been used, which is something to always avoid.
Password Checkup is also the name of the password check feature included in Google Chrome. From Chrome, go to Settings> Privacy and Security, then click on Security to activate and make sure that at least Standard protection is active. With this option enabled, you can receive a warning to change your password when it is known and easy for anyone to discover. Once the extension is installed, it turns green until you log in using a compromised password.
In this case, when you try to log in, a red colored warning will appear inviting you to change the password you entered because it could be at risk. By pressing the extension button, when colored red, you will be able to see all the accounts that are at risk, of which it is strongly recommended to change their password.
If you are concerned about the privacy of Google-controlled credentials, Google itself is keen to point out that all your information is private and anonymous.
There is also a Google extension that checks passwords (now superfluous), called
Password Alert
, which serves to
protect your Google account
.
The extension is therefore only to be installed and activated on your account, then it disappears and is no longer seen except when you have to enter the password to log in with the Google account or if you have to create a new account on another site. . In this case the extension warns the user to change the password if it is the same as the Google account, even if a password already used in the past on Google is used. Password Alert is an attempt to improve protection against password theft attacks and the extension alerts users who have installed it, whether they have entered a legitimate or a fake page. If you enter your password on a non-Google site that is attempting to steal our account, Password Alert displays a warning about a phishing attempt. At that point, Google recommends resetting the password immediately so as not to take any risks, even if the connection to that site is immediately blocked.
The option to do this is on the right when the prompt appears. Alternatively, you can choose to ignore the warning if you are sure it is a mistake.
ALSO READ:
Do the Google account security check