Plex is a powerful media player that lets you manage your media library with a host of handy features. Plex is cross-platform and can be installed on a smartphone (Android or iOS), a computer under Windows, Mac and Linux, or even on a NAS for the server part. We cover all these aspects in this guide dedicated to the installation and operation of Plex Media Player and Plex Media Server.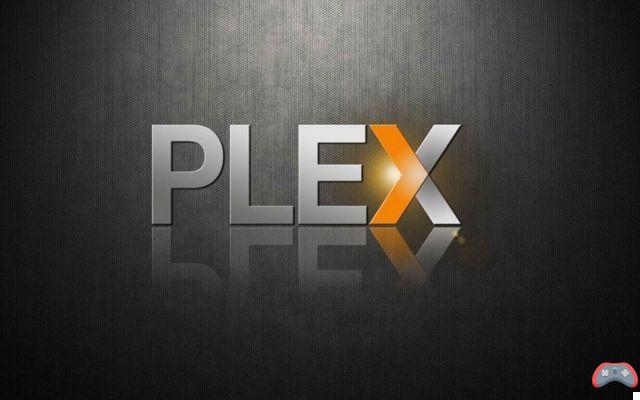 Having a good media player like VLC is good, but for advanced users, nothing beats a full-featured media center that can nicely manage your media library content. Albums, movies and series: everything is presented with metadata such as covers, information sheets, synopsis, etc. That's for the frontend part, that is to say the user interface whose user-friendliness is an important criterion of choice and this is not what is lacking in Plex.
Plex: how does it work?
All traditional Media Centers make it easy to play content stored locally on your smartphone, PC or tablet. Plex works differently. The application requires a server hosting your files. In this, Plex is different from its competitor Kodi which can play content directly on your hard drive or internal storage without setting up a server first.
Fortunately, Plex has everything you need to easily configure both aspects: the Player and the Server. And the good news is that the player and the server can be set up on the same device.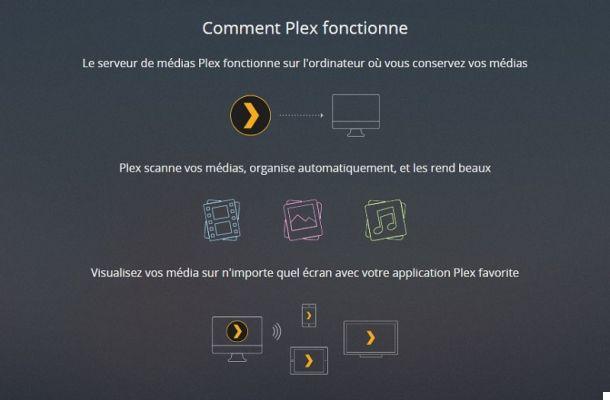 The principle is therefore simple. Many users have at least two devices from which they play their films, series and music tracks. Whether from a smartphone, a PC, a tablet, the ideal is that you can access all of your content from any device. To do this, the best solution is to configure a server to centralize all your data.
Plex is entirely designed for this. It is possible to create a server on a computer, a NAS (there are several inexpensive ones like Synology NAS), or even a TV box like Nvidia Shield TV on which Plex is available as an all-in-one solution (client and server). It will be better to have a large storage space to house your entire media library.
Plex media Player et Server : installation et configuration
Installation and configuration de Plex are very easily done in a few minutes. Note that the Player and Server & Hosting are two different apps. The first, as its name suggests, is the media player that allows you to manage your media library in a pleasant and intuitive way. As for the server, it can be configured using the application Plex Media Server.
As part of this tutorial, we will configure the server on a PC running Windows 10 and access it from Plex Media Player on Android.
Installation et configuration de Plex Media Server
The first step is – obviously – that of downloading the Plex application from the publisher's site. Go to the Servers tab and choose the version that corresponds to your device and your operating system.
Once the software has been downloaded and installed on your computer, you will see an icon appear on the right in the Windows taskbar or in the hidden icons (press the arrow pointing up to the left of the date and time).
Click on the Plex Media Server icon and it will automatically open in your web browser
It's time to register (mandatory) by choosing one of the options presented (Google, Facebook or by filling in your e-mail address).
Once your account is created, click the Plex icon again from the Windows taskbar. You will be redirected to the Plex server configuration web interface.
The software proposes to configure your PC as a server. It's easy, you just have to give a name to the server in the input box. Then click Next.
You will now have to configure a Library (Movies, Series, Music, Photos, etc.)
Click on the desired category. For example: Movie. Set the language to Spanish (important to have the metadata in the correct language) then click on Add folders from the left menu.
Click on Navigate to a media folder in the window that opens to add a folder containing your movies. Navigate to the corresponding directory. You can of course add several by clicking each time on the Navigate to a multimedia folder button.
Do the same for the TV Shows, Music and Photos category
Plex Media Server will automatically scan your content and add it to the corresponding categories. Your films, series, your music albums will be automatically organized in an ergonomic way with all the information (metadata). When you add new content to your folders, remember to update the library on Plex. To do this, click on the three horizontal dots to the right of the category (Movies, Series, etc.) then on scan files from the library.
Installation de Plex Media Player
Once the Plex server is configured, you can now install the player that will fetch content from the server. If the latter is on the same computer as in the present case, the connection with the player will be done automatically to allow you to enjoy your content. To access it from another device, like your smartphone for example, we will see how to proceed.
Install Plex from the Play Store or App Store.
The application will ask you for a connection. Log in with your Google account, Facebook or with your e-mail address as during the configuration of the server.
The magic of Plex is that you don't have to do much every time. If you are connected to the same WiFi network as the server, content synchronization is done automatically. And icing on the cake, you can continue following your favorite movies and series where you left off previously, regardless of the device used.
Although this all looks complicated on the surface, Plex is relatively easy to set up. Once the server is in place, you have easy access to your films, series and music tracks. And as mentioned above, both parts can be configured on the same device. But the advantage of setting up a server is to allow you to read your content from any terminal.
The editorial advises you:
Windows 10: How to connect to a free VPN without software
How to set up a VPN on iPhone?
How to configure Windows 10 firewall
The ability to speed up or slow down a video on YouTube can be very useful. It was possible to do this in the web version of the platform for a while…Facebook allows you to deactivate the automatic playback of videos in your news feed. It's very simple, even if the path is not obvious to anyone who has never seen it...Google Chrome includes a reading mode that allows you to consult a page in optimal conditions. The functionality, however, is hidden in the bowels of the browser. In this tutorial,…It is easy to know if a contact has blocked you on WhatsApp, but some indicators can also trick you into believing it unfairly. So how do you know...