FreeRAM XP Pro
Fortunately, in Windows 7 and Vista that has changed, but Windows XP has one RAM management which has several gaps. This causes some closed programs to leave some data in memory which unnecessarily occupies RAM space. FreeRAM XP Pro is a free program that avoids this by optimizing and cleaning the computer's RAM when the user wishes or when a certain memory occupation threshold is reached. Between the programs for Windows XP it's almost a must-have, especially for those with a rather dated PC. Download from here.
Iobit Smart Defrag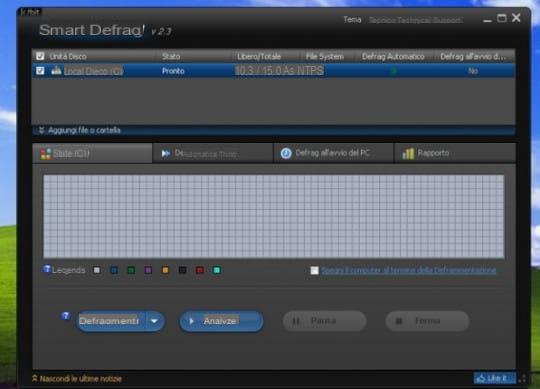 Also with regard to the hard disk defragmentation, Windows XP does not shine for efficiency. Compared to the functions included in Windows 7 and Vista, the disk defragmentation utility included in XP does not perform maintenance work automatically and, even when operated manually, fails to optimize system performance to the maximum. Iobit Smart Defrag solves this problem by offering an extremely efficient and effective free solution to defragment your hard drive. He sits in the notification area and automatically optimizes the system in moments of inactivity. Download from here.
Safe XP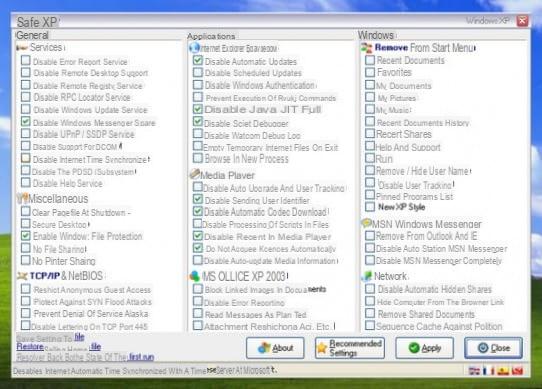 Safe XP is a small free and no-install program that allows you to optimize Windows and make the system safer by adjusting parameters relating to functionality, services, media players and everything that can represent a nuisance or even a threat to the user. The program is presented as a screen that lists all the functions that can be disabled to optimize Windows XP, the user can manually choose which ones to tick or rely on the settings recommended by the software by clicking on the Reccomended Settings button located at the bottom right. To be used with caution. Download from here.
Windows Live Essentials
This is the very famous suite of free programs created by Microsoft to meet the needs of users in the field of multimedia and the Internet. Includes a photo viewer and editor (Photo Collection), an instant messaging program (Windows Live Messenger), a blogging program (live Writer), an email client (live Mail) and more. Compared to the version for Windows 7 and Vista, unfortunately, the excellent software for editing videos is missing Windows Live Movie Maker which has not been made compatible with good old Windows XP. All software is in town and you don't have to install all of them. Download from here.
WinXP Manager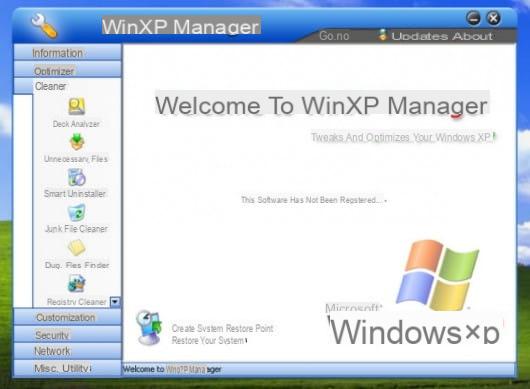 As its name suggests quite easily, WinXP Manager is an all-in-one program that allows you to manage every aspect of the Microsoft operating system. It provides detailed information about the system in use and the hardware from which the PC is made, optimizes the computer by acting on the hard disk, RAM and registry, increases system security by disabling privacy-risky features and much more. The software is paid but is available in one free trial version which allows you to test its functionality for a period of 15 days. Unfortunately it is only in English. Download from here.
xp-AntiSpy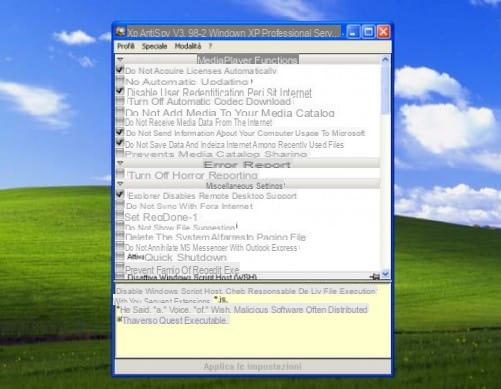 One of those programs for Windows XP that should never be missing on a PC. it is in fact a small utility (also available in a no-install version) that allows you to make Windows XP faster and safer disabling some of the operating system features. It acts on the registry, services, media player, Internet Explorer and many other departments of the system. It is completely in town and to use it just put the check mark next to the desired options. It is important to accept the request made by the startup program to create a restore point. Download from here.
Programs for Windows XP