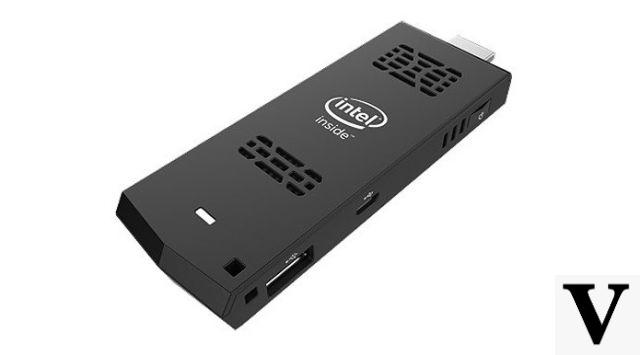 Little more than a USB stick, PC sticks are mini machines Android equipped with a connection Wi-Fi, but also Bluetooth and an Ethernet port to physically connect them to the home network are almost never missing. Still not very common in Italy, they are an excellent solution if you travel often.
These devices are set up in a snap and you can easily connect them to a monitor, or other wireless accessories such as a keyboard, mouse or joystick. The latest models, compatible with Windows and Linux, they can become excellent ready-to-use workstations when connected to a display. This way you can browse the web, check your mail, or distribute your multimedia content on your TV, all without giving up the wide range of Android applications. All in all, it is an economical and energy efficient solution.
Intel Compute Stick
This PC - unveiled last year by Intel at the CES (Consumer Electronics Show) in Las Vegas, is a rather bulky USB stick that houses, inside, an Atom Z3735F 1.33GHz processor. It works with Windows 10 or Linux systems , connects to any display via the HDMI port and is powered by a micro USB. Intel Compute Stick - equipped with 2GB of RAM - is capable of running the Office suite or streaming video in full HD. It is also equipped with Bluetooth and Wi-Fi. The Windows version costs around € 150, while the Linux version costs around € 110.
MeeGOPad T07 Windows 10
Here is a Pocket PC coming from China designed to run on systems Windows 10, but it can also work on other platforms like Android on Ubuntu (Linux). MeeGOPad T07 is equipped with an Intel Atom x5-Z8300 processor at 1.84 GHz, has 2 GB and 32 GB of storage space and is able to transform your monitor into a computer all-in-one. Among other things, it offers a number of other uses for your television such as web browsing, e-mail services and office applications. It is also equipped with Bluetooth and WiFi. The price is around 160 euros.
Beelink BT3 II Mini PC
Beelink BT3 is a compact mini PC with Intel Atom x5 Z8300 Quad Core processor at 1.84 GHz and Windows 10. Its ace in the hole, which guarantees it an edge over the competition, is storage space. This box has two partitions, one 40GB for Windows 10, and another 20GB empty: for a total of 38 GB for programs and data. The rest of the specifications include 2 GB DDR3 RAM, WiFi / Bluetooth 4.0 / Gigabit Ethernet connections, to which are added a USB 3.0 port (2 USB 2.0) and an HDMI 1.4. Another aspect that denotes the quality of the product is the presence of a copper heatsink to protect the most sensitive chips, and that of ventilation compartments also laterally. Beelink BT3 costs around 120 euros online if purchased directly in China, or a little in Europe.
Ugoos UM2
Connect the UM2 to your TV via HDMI to turn it into one Smart TV. You can use all Android applications to play games, watch movies or post tweets via the living room screen comfortably sprawled on the sofa. Yes why Ugoos UM2 comes with a useful remote control for navigation and control, but you can also connect a keyboard and mouse to the two USB ports.
Tronsmart Draco H3
It is an Android mini PC in the format of a key with a removable Wi-Fi antenna, in addition to the Bluetooth 4.0 connection, and is equipped, among the few low cost models, with a porta HDMI per video 4K a 30 fps and it is also capable of playing back movies in the H.265 format. The technical specifications of the Tronsmart Draco H3 also include an Allwinner H3 Quad-Core Cortex-A7 1.2GHz processor, a Mali-400 GPU and 1 GB of DDR3 RAM, 8GB of expandable storage (eMMC Flash) via MicroSDHC memory cards and two USB ports. The device is compatible with the application Droidmote, lets you use a other android device as remote control and to use the touch-screen functions on a TV.
Rikomagic V5
A model with Android 4.4 on board, equipped with a Quad-Core Cortex A17 @ 1.8 GHz processor and a 16-Core Mali T764 3D @ 600 MHz graphics card, which offers the advantage of both a high-speed broadband connection and a wired Gigabit Ethernet both via WiFi using the external antenna. It allows to play 3D titles on your TV and easily access all your media whether stored on your home network or in the cloud. The rest of the features include HDMI technology, Bluetooth 4.0, USB ports, MicroSDHC card reader and an infrared input. Complete the picture of the specifications 2 GB DDR3 of RAM memory and 16 GB of internal storage.
GK525 RK3188
This Android mini machine offers the same performance as a tablet. GK525 RK3188 has a 2 megapixel camera, microphone and external WiFi antenna. A portable videoconferencing system, in short, which if necessary also becomes an excellent tool for streaming content on a TV using Miracast, AirPlay and DLNA compatibility.
PQ Labs iStick A350
The iStick A350, in addition to the standard functions, also features the possibility (optional) to connect a SSD which comes in very handy for storing a large volume of data such as HD movies and images or your own music library. It is also equipped with a WiFi connection and an Ethernet port, making it an excellent solution for streaming. A real pocket PC on Android, also compatible with Linux.
Put your computer in your pocket: the best Windows and Linux stick computers